Secologanic acid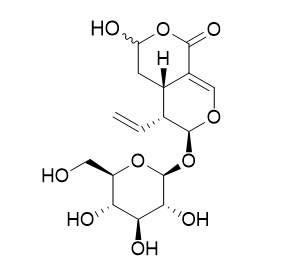 Secologanic acid is a plant growth inhibitor, it shows inhibition of nitric oxide production in lipopolysaccharide-activated macrophages.
Inquire / Order: manager@chemfaces.com
Technical Inquiries: service@chemfaces.com
Tel: +86-27-84237783
Fax: +86-27-84254680

Address:
1 Building, No. 83, CheCheng Rd., Wuhan Economic and Technological Development Zone, Wuhan, Hubei 430056, PRC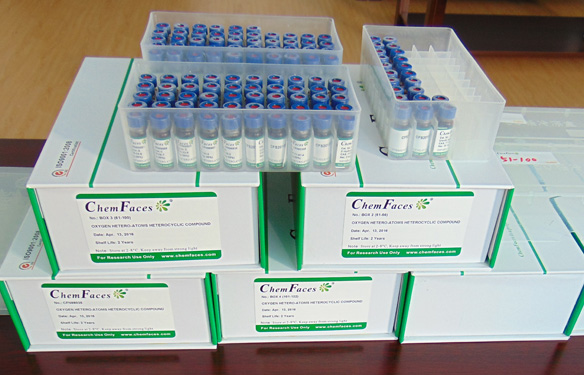 Providing storage is as stated on the product vial and the vial is kept tightly sealed, the product can be stored for up to
24 months(2-8C)
.
Wherever possible, you should prepare and use solutions on the same day. However, if you need to make up stock solutions in advance, we recommend that you store the solution as aliquots in tightly sealed vials at -20C. Generally, these will be useable for up to two weeks. Before use, and prior to opening the vial we recommend that you allow your product to equilibrate to room temperature for at least 1 hour.
Need more advice on solubility, usage and handling? Please email to: service@chemfaces.com
The packaging of the product may have turned upside down during transportation, resulting in the natural compounds adhering to the neck or cap of the vial. take the vial out of its packaging and gently shake to let the compounds fall to the bottom of the vial. for liquid products, centrifuge at 200-500 RPM to gather the liquid at the bottom of the vial. try to avoid loss or contamination during handling.
Food Res Int.2018, 106:909-919
Industrial Food Engineering2015, 19(4):408-413
Phytother Res.2019, 10.1002
Plant Physiol Biochem.2019, 144:355-364
Molecules.2019, 24(17):E3127
Acta Agriculturae Scandinavica2015, 381-383
Saf Health Work.2019, 10(2):196-204
Pharmacogn Mag.2015, 11(43):562-6
Int J Mol Sci.2018, 19(9):E2601
Biosci Biotechnol Biochem.2020, 84(3):621-632
Phytochemistry. 2006 Jul;67(14):1534-8.
Modified secoiridoid from Acicarpha tribuloides and inhibition of nitric oxide production in LPS-activated macrophages.[Pubmed:
16808936
]

METHODS AND RESULTS:
Bioassay-guided fractionation of Acicarpha tribuloides Juss. resulted in the isolation of an uncommon non-glycosylated secoiridoid, tribulolide (1), two known secoiridoid glycosides named Secologanic acid (2) and vogeloside (3) as well as two natural chromones, 6,7-dimethoxychromone (4) and 7-hydroxy-6-methoxy-chromone (5).
CONCLUSIONS:
Compounds 1-3 showed inhibition of nitric oxide production in lipopolysaccharide-activated macrophages; their activity is comparable to that of aminoguanidine, a classic inhibitor.
Phytochemistry. 2000 Sep;55(2):131-40.
Allelochemicals of the tropical weed Sphenoclea zeylanica.[Pubmed:
11065289
]
Nine plant growth inhibitors were isolated from the tropical weed Sphenoclea zeylanica, which shows allelopathic properties.
METHODS AND RESULTS:
Those compounds hitherto not reported from any plant source were the isomers of cyclic thiosulfinate, (1S,3R,4R)-(+)- and (1R,3R,4R)-(+)-4-hydroxy-3-hydroxymethyl-1,2-dithiolane-1-oxides, and (2R,3R,4R)-(-)- and (2S,3R,4R)-(+)-4-hydroxy-3-hydroxymethyl-1,2-dithiolane-2-oxides. These were named zeylanoxide A, epi-zeylanoxide A, zeylanoxide B and epi-zeylanoxide B, respectively. The absolute configurations at C-3 and C-4 were elucidated by chemical synthesis of both enantiomers from L- and D-glucose. Two of the inhibitors were Secologanic acid and secologanoside. and three other inhibitors were by known secoiridoid glucosides formed as artifacts during extraction with methanol.
CONCLUSIONS:
The cyclic thiosulfinates and secoiridoid glucosides completely inhibit the root growth of rice seedlings at 3.0 mM. While the specific activity of the inhibitors was not high, since they accumulated to circa 0.61% S. zelanica by dry weight, this suggests that the inhibitors are nervertheless potent allelochemicals in this weed.
Molecules. 2014 Oct 15;19(10):16640-55.
Influence of sulfur fumigation on the chemical constituents and antioxidant activity of buds of Lonicera japonica.[Pubmed:
25342552
]
Lonicera japonica flos is widely used as a pharmaceutical resource and a commonly-employed ingredient in healthy food, soft beverages and cosmetics in China. Sometimes, sulfur fumigation is used during post-harvest handling.
METHODS AND RESULTS:
In this study, a comprehensive comparison of the chemical profile between sun-dried and sulfur-fumigated samples was conducted by HPLC fingerprints and simultaneous quantification of nine constituents, including Secologanic acid, along with another eight usually-analyzed markers. Secologanic acid was destroyed, and its sulfonates were generated, whereas caffeoylquinic acids were protected from being oxidized. The residual sulfur dioxide in sulfur-fumigated samples was significantly higher than that in sun-dried samples, which might increase the potential incidence of toxicity to humans. Meanwhile, compared with sun-dried samples, sulfur-fumigated samples have significantly stronger antioxidant activity, which could be attributed to the joint effect of protected phenolic acids and flavonoids, as well as newly-generated iridoid sulfonates.