Thevetiaflavone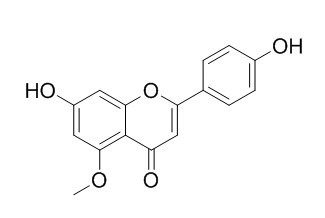 Thevetiaflavone ameliorates PC12 cells injury induced by OGD/R via improving ROS‑mediated mitochondrial dysfunction, it can upregulate the expression of Bcl‑2 and downregulate that of Bax and caspase‑3.
Inquire / Order: manager@chemfaces.com
Technical Inquiries: service@chemfaces.com
Tel: +86-27-84237783
Fax: +86-27-84254680

Address:
1 Building, No. 83, CheCheng Rd., Wuhan Economic and Technological Development Zone, Wuhan, Hubei 430056, PRC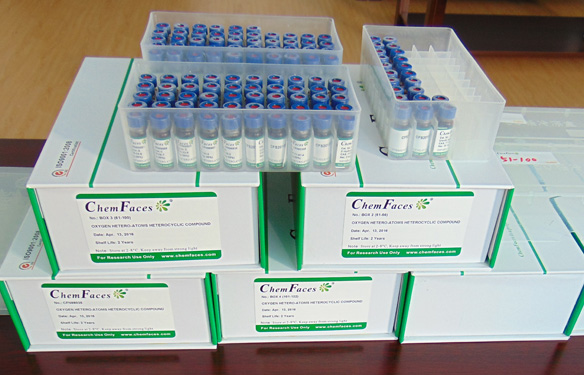 Providing storage is as stated on the product vial and the vial is kept tightly sealed, the product can be stored for up to
24 months(2-8C)
.
Wherever possible, you should prepare and use solutions on the same day. However, if you need to make up stock solutions in advance, we recommend that you store the solution as aliquots in tightly sealed vials at -20C. Generally, these will be useable for up to two weeks. Before use, and prior to opening the vial we recommend that you allow your product to equilibrate to room temperature for at least 1 hour.
Need more advice on solubility, usage and handling? Please email to: service@chemfaces.com
The packaging of the product may have turned upside down during transportation, resulting in the natural compounds adhering to the neck or cap of the vial. take the vial out of its packaging and gently shake to let the compounds fall to the bottom of the vial. for liquid products, centrifuge at 200-500 RPM to gather the liquid at the bottom of the vial. try to avoid loss or contamination during handling.
J Ethnopharmacol.2020, 254:112733.
Integr Med Res.2021, 10(3):100723.
TCI CO.2019, US20190151281A1
Anal Chim Acta.2021, 1180:338874.
Molecules.2017, 22(11)
Front Immunol.2017, 8:1542
Molecules.2018, 23(2)
British Jou. Med.&Med. Research2014, 1802-1811
Oncotarget.2017, 8(64):108006-108019
Korean J. Medicinal Crop Sci.2021, 29(1):45-50.
BMC Complement Altern Med. 2017 May 2;17(1):241.
Anticancer potential of Thevetia peruviana fruit methanolic extract.[Pubmed:
28464893
]
Thevetia peruviana (Pers.) K. Schum or Cascabela peruviana (L.) Lippold (commonly known as ayoyote, codo de fraile, lucky nut, or yellow oleander), native to Mexico and Central America, is a medicinal plant used traditionally to cure diseases like ulcers, scabies, hemorrhoids and dissolve tumors. The purpose of this study was to evaluate the cytotoxic, antiproliferative and apoptotic activity of methanolic extract of T. peruviana fruits on human cancer cell lines.
METHODS AND RESULTS:
The cytotoxic activity of T. peruviana methanolic extract was carried out on human breast, colorectal, prostate and lung cancer cell lines and non-tumorigenic control cells (fibroblast and Vero), using the MTT assay. For proliferation and motility, clonogenic and wound-healing assays were performed. Morphological alterations were monitored by trypan blue exclusion, as well as DNA fragmentation and AO/EB double staining was performed to evaluate apoptosis. The extract was separated using flash chromatography, and the resulting fractions were evaluated on colorectal cancer cells for their cytotoxic activity. The active fractions were further analyzed through mass spectrometry. The T. peruviana methanolic extract exhibited cytotoxic activity on four human cancer cell lines: prostate, breast, colorectal and lung, with values of IC50 1.91 ± 0.76, 5.78 ± 2.12, 6.30 ± 4.45 and 12.04 ± 3.43 μg/mL, respectively. The extract caused a significant reduction of cell motility and colony formation on all evaluated cancer cell lines. In addition, morphological examination displayed cell size reduction, membrane blebbing and detachment of cells, compared to non-treated cancer cell lines. The T. peruviana extract induced apoptotic cell death, which was confirmed by DNA fragmentation and AO/EB double staining. Fractions 4 and 5 showed the most effective cytotoxic activity and their MS analysis revealed the presence of the secondary metabolites: Thevetiaflavone and cardiac glycosides.
CONCLUSIONS:
T. peruviana extract has potential as natural anti-cancer product with critical effects in the proliferation, motility, and adhesion of human breast and colorectal cancer cells, and apoptosis induction in human prostate and lung cancer cell lines, with minimal effects on non-tumorigenic cell lines.
Mol Med Rep. 2017 Dec;16(6):9197-9202.
Thevetiaflavone from Wikstroemia indica ameliorates PC12 cells injury induced by OGD/R via improving ROS‑mediated mitochondrial dysfunction.[Pubmed:
28990067
]
Cerebral ischemia and following reperfusion affects many people worldwide. To discover efficient therapeutic approaches, numerous natural products have been investigated.
METHODS AND RESULTS:
The current study investigated the protective effects of Thevetiaflavone, a natural flavonoid obtained from Wikstroemia indica, and the associated mechanisms using PC12 cells induced by oxygen and glucose deprivation. As a result, Thevetiaflavone improves cell viability and suppresses the leakage of lactate dehydrogenase from the cytoplasm. Further investigation of the mechanisms demonstrated that Thevetiaflavone decreases overproduction of ROS and ameliorates ROS‑mediated mitochondrial dysfunction, including collapse of mitochondrial membrane potential and mitochondrial permeability transition pore opening.
CONCLUSIONS:
Thevetiaflavone reduces the intracellular Ca2+ level, which is closely associated with mitochondrial function and interplays with ROS. Furthermore, Thevetiaflavone inhibits apoptosis in PC12 cells through upregulating the expression of Bcl‑2 and downregulating that of Bax and caspase‑3 in addition to increasing the activity of caspase‑3. These results further indicate the protective effects of Thevetiaflavone in vivo and its application in the clinic.
J Agric Food Chem. 2014 Dec 24;62(51):12377-83.
Metabolism of Kaempferia parviflora polymethoxyflavones by human intestinal bacterium Bautia sp. MRG-PMF1.[Pubmed:
25437273
]
Poylmethoxyflavones (PMFs) are major bioactive flavonoids, which exhibit various biological activities, such as anticancer effects. The biotransformation of PMFs and characterization of a PMF-metabolizing human intestinal bacterium were studied herein for the first time.
METHODS AND RESULTS:
Hydrolysis of aryl methyl ether functional groups by human fecal samples was observed from the bioconversion of various PMFs. Activity-guided screening for PMF-metabolizing intestinal bacteria under anaerobic conditions resulted in the isolation of a strict anaerobic bacterium, which was identified as Blautia sp. MRG-PMF1. The isolated MRG-PMF1 was able to metabolize various PMFs to the corresponding demethylated flavones. The microbial conversion of bioactive 5,7-dimethoxyflavone (5,7-DMF) and 5,7,4'-trimethoxyflavone (5,7,4'-TMF) was studied in detail. 5,7-DMF and 5,7,4'-TMF were completely metabolized to 5,7-dihydroxyflavone (chrysin) and 5,7,4'-trihydroxyflavone (apigenin), respectively. From a kinetics study, the methoxy group on the flavone C-7 position was found to be preferentially hydrolyzed. 5-Methoxychrysin, the intermediate of 5,7-DMF metabolism by Blautia sp. MRG-PMF1, was isolated and characterized by nuclear magnetic resonance spectroscopy. Apigenin was produced from the sequential demethylation of 5,7,4'-TMF, via 5,4'-dimethoxy-7-hydroxyflavone and 7,4'-dihydroxy-5-methoxyflavone (Thevetiaflavone).
METHODS AND RESULTS:
Not only demethylation activity but also deglycosylation activity was exhibited by Blautia sp. MRG-PMF1, and various flavonoids, including isoflavones, flavones, and flavanones, were found to be metabolized to the corresponding aglycones. The unprecedented PMF demethylation activity of Blautia sp. MRG-PMF1 will expand our understanding of flavonoid metabolism in the human intestine and lead to novel bioactive compounds.