Acacetin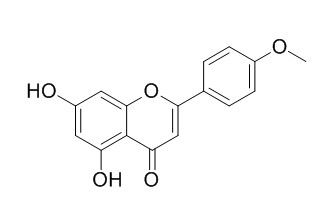 Acacetin is an atrium-selective agent that prolongs the atrial effective refractory period without prolonging the corrected QT interval and effectively prevents atrial fibrillation (AF) in anesthetized dogs after intraduodenal administration. Acacetin has anti-cancer, anti-mutagenic, spasmolytic and antinociceptive, anti-inflammatory and anti-peroxidative effects.
Inquire / Order: manager@chemfaces.com
Technical Inquiries: service@chemfaces.com
Tel: +86-27-84237783
Fax: +86-27-84254680

Address:
1 Building, No. 83, CheCheng Rd., Wuhan Economic and Technological Development Zone, Wuhan, Hubei 430056, PRC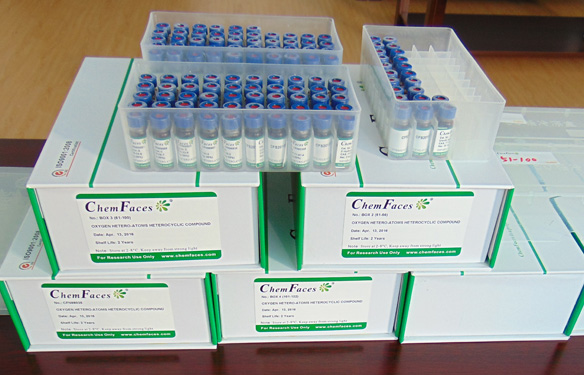 Providing storage is as stated on the product vial and the vial is kept tightly sealed, the product can be stored for up to
24 months(2-8C)
.
Wherever possible, you should prepare and use solutions on the same day. However, if you need to make up stock solutions in advance, we recommend that you store the solution as aliquots in tightly sealed vials at -20C. Generally, these will be useable for up to two weeks. Before use, and prior to opening the vial we recommend that you allow your product to equilibrate to room temperature for at least 1 hour.
Need more advice on solubility, usage and handling? Please email to: service@chemfaces.com
The packaging of the product may have turned upside down during transportation, resulting in the natural compounds adhering to the neck or cap of the vial. take the vial out of its packaging and gently shake to let the compounds fall to the bottom of the vial. for liquid products, centrifuge at 200-500 RPM to gather the liquid at the bottom of the vial. try to avoid loss or contamination during handling.
Asian Pac J Cancer Prev.2019, 20(1):65-72
J Food Sci Technol.2019, 56(5):2712-2720
Evid Based Complement Alternat Med.2020, 2020:8582318.
Korean Journal of Medicinal Crop Science2018, 26(5):382-390
Int J Mol Med.2016, 37(2):501-8
Foods.2020, 9(10):1348.
Asian Journal of Chemistry2014, 26(22):7811-7816
Biochem Systematics and Ecology2017, 11-18
Pharmaceutical Chemistry Journal2019, 52(12):986-991
Biology (Basel).2020, 9(11):363.
Cancer Prev Res (Phila). 2013 Oct;6(10):1128-39.
Acacetin inhibits in vitro and in vivo angiogenesis and downregulates Stat signaling and VEGF expression.[Pubmed:
23943785
]
Angiogenesis is an effective target in cancer control. The antiangiogenic efficacy and associated mechanisms of Acacetin, a plant flavone, are poorly known.
METHODS AND RESULTS:
In the present study, Acacetin inhibited growth and survival (up to 92%; P < 0.001), and capillary-like tube formation on Matrigel (up to 98%; P < 0.001) by human umbilical vein endothelial cells (HUVEC) in regular condition, as well as VEGF-induced and tumor cells conditioned medium-stimulated growth conditions. It caused retraction and disintegration of preformed capillary networks (up to 91%; P < 0.001). HUVEC migration and invasion were suppressed by 68% to 100% (P < 0.001). Acacetin inhibited Stat-1 (Tyr701) and Stat-3 (Tyr705) phosphorylation, and downregulated proangiogenic factors including VEGF, endothelial nitric oxide synthase (eNOS), inducible nitric oxide synthase (iNOS), matrix metalloproteinase-2 (MMP-2), and basic fibroblast growth factor (bFGF) in HUVEC. It also suppressed nuclear localization of pStat-3 (Tyr705). Acacetin strongly inhibited capillary sprouting and networking from rat aortic rings and fertilized chicken egg chorioallantoic membrane (CAM; ∼71%; P < 0.001). Furthermore, it suppressed angiogenesis in Matrigel plugs implanted in Swiss albino mice. Acacetin also inhibited tyrosine phosphorylation of Stat-1 and -3, and expression of VEGF in cancer cells.
CONCLUSIONS:
Overall, Acacetin inhibits Stat signaling and suppresses angiogenesis in vitro, ex vivo, and in vivo, and therefore, it could be a potential agent to inhibit tumor angiogenesis and growth.
J Cell Mol Med. 2015 Aug;19(8):1910-5.
Acacetin inhibits expression of matrix metalloproteinases via a MAPK-dependent mechanism in fibroblast-like synoviocytes.[Pubmed:
25856795
]
It is well known that rheumatoid arthritis (RA) is an autoimmune joint disease in which fibroblast-like synoviocytes (FLSs) play a pivotal role.
METHODS AND RESULTS:
In this study, we investigated the anti-arthritic properties of Acacetin in FLSs. The expression of matrix metalloproteinase (MMP)-1, MMP-3 and MMP-13 were investigated by quantitative RT-PCR and western blot at gene and protein levels. At the same time, the phosphorylation of mitogen-activated protein kinases (MAPK) was investigated. The DNA-binding activity of NF-κB was investigated by electrophoretic mobility shift assay. We found that Acacetin inhibits p38 and JNK phosphorylation and reduces MMP-1, MMP-3 and MMP-13 expression in interleukin-1β-induced FLSs.
CONCLUSIONS:
Our results suggest that Acacetin has antiarthritic effects in FLSs. Thus, Acacetin should be further studied for the treatment of arthritis.
Circulation. 2008 May 13;117(19):2449-57.
Acacetin, a natural flavone, selectively inhibits human atrial repolarization potassium currents and prevents atrial fibrillation in dogs.[Pubmed:
18458165
]

METHODS AND RESULTS:
The effects of Acacetin on human atrial ultrarapid delayed rectifier K(+) current (I(Kur)) and other cardiac ionic currents were studied with a whole-cell patch technique. Acacetin suppressed I(Kur) and the transient outward K(+) current (IC(50) 3.2 and 9.2 mumol/L, respectively) and prolonged action potential duration in human atrial myocytes. The compound blocked the acetylcholine-activated K(+) current; however, it had no effect on the Na(+) current, L-type Ca(2+) current, or inward-rectifier K(+) current in guinea pig cardiac myocytes. Although Acacetin caused a weak reduction in the hERG and hKCNQ1/hKCNE1 channels stably expressed in HEK 293 cells, it did not prolong the corrected QT interval in rabbit hearts. In anesthetized dogs, Acacetin (5 mg/kg) prolonged the atrial effective refractory period in both the right and left atria 1 to 4 hours after intraduodenal administration without prolongation of the corrected QT interval, whereas sotalol at 5 mg/kg prolonged both the atrial effective refractory period and the corrected QT interval. Acacetin prevented AF induction at doses of 2.5 mg/kg (50%), 5 mg/kg (85.7%), and 10 mg/kg (85.7%). Sotalol 5 mg/kg also prevented AF induction (60%).
CONCLUSIONS:
The present study demonstrates that the natural compound Acacetin is an atrium-selective agent that prolongs the atrial effective refractory period without prolonging the corrected QT interval and effectively prevents AF in anesthetized dogs after intraduodenal administration. These results indicate that oral Acacetin is a promising atrium-selective agent for the treatment of AF.
PLoS One. 2014 Feb 10;9(2):e88644.
Acacetin inhibits glutamate release and prevents kainic acid-induced neurotoxicity in rats.[Pubmed:
24520409
]
An excessive release of glutamate is considered to be a molecular mechanism associated with several neurological diseases that causes neuronal damage. Therefore, searching for compounds that reduce glutamate neurotoxicity is necessary.
METHODS AND RESULTS:
In this study, the possibility that the natural flavone Acacetin derived from the traditional Chinese medicine Clerodendrum inerme (L.) Gaertn is a neuroprotective agent was investigated. The effect of Acacetin on endogenous glutamate release in rat hippocampal nerve terminals (synaptosomes) was also investigated. The results indicated that Acacetin inhibited depolarization-evoked glutamate release and cytosolic free Ca(2+) concentration ([Ca(2+)]C) in the hippocampal nerve terminals. However, Acacetin did not alter synaptosomal membrane potential. Furthermore, the inhibitory effect of Acacetin on evoked glutamate release was prevented by the Cav2.2 (N-type) and Cav2.1 (P/Q-type) channel blocker known as ω-conotoxin MVIIC. In a kainic acid (KA) rat model, an animal model used for excitotoxic neurodegeneration experiments, Acacetin (10 or 50 mg/kg) was administrated intraperitoneally to the rats 30 min before the KA (15 mg/kg) intraperitoneal injection, and subsequently induced the attenuation of KA-induced neuronal cell death and microglia activation in the CA3 region of the hippocampus.
CONCLUSIONS:
The present study demonstrates that the natural compound, Acacetin, inhibits glutamate release from hippocampal synaptosomes by attenuating voltage-dependent Ca(2+) entry and effectively prevents KA-induced in vivo excitotoxicity. Collectively, these data suggest that Acacetin has the therapeutic potential for treating neurological diseases associated with excitotoxicity.
Int J Mol Med. 2014 Feb;33(2):317-24.
Acacetin (5,7-dihydroxy-4'-methoxyflavone) exhibits in vitro and in vivo anticancer activity through the suppression of NF-κB/Akt signaling in prostate cancer cells.[Pubmed:
24285354
]
Acacetin (5,7-dihydroxy-4'-methoxyflavone) is a flavonoid compound with antimutagenic, antiplasmodial, antiperoxidant, anti-inflammatory and anticancer effects. However, the molecular targets and pathways underlying the anticancer effects of Acacetin are yet to be elucidated.
METHODS AND RESULTS:
In this study, we investigated whether Acacetin induces apoptosis in the human prostate cancer cell line, DU145. The results of 3-(4,5-dimethythiazol-2-yl)-2,5-diphenyl tetrazolium bromide (MTT) assays revealed that cell viability decreased in a dose- and time-dependent manner in response to Acacetin. 4',6-Diamidino-2-phenylindole (DAPI) staining revealed that chromatin condensation significantly increased in a dose-dependent manner. Flow cytometric analysis indicated that Acacetin suppressed the viability of DU145 cells by inducing apoptosis. Western blot anlaysis of various markers of signaling pathways revealed that Acacetin targets the Akt and nuclear factor (NF)-κB signaling pathways by inhibiting the phosphorylation of IκBα and NF-κB in a dose-dependent manner. Consistent with its ability to induce apoptosis, the Acacetin-mediated inhibition of the pro-survival pathway, Akt, and of the NF-κB pathway was accompanied by a marked reduction in the levels of the NF-κB‑regulated anti-apoptotic proteins, Bcl-2 and X-linked inhibitor of apoptosis protein (XIAP), as well as of the proliferative protein, cyclooxygenase (COX)-2. We further evaluated the effects of Acacetin on prostate cancer using mice subcutaneously injected with DU145 prostate cancer cells. The Acacetin-treated nude mice bearing DU145 tumor xenografts exhibited significantly reduced tumor size and weight, due to the effects of Acacetin on cancer cell apoptosis, as determined by terminal deoxyribonucleotide transferase-mediated dUTP nick end-labeling (TUNEL) assay.
CONCLUSIONS:
Our findings suggest that Acacetin exerts antitumor effects by targeting the Akt/NF-κB signaling pathway. Rurther investigations on this flavonoid are warranted to evaluate its potential use in the prevention and therapy of prostate cancer.
Carcinogenesis. 2014 Jan;35(1):123-30.
The P110 subunit of PI3-K is a therapeutic target of acacetin in skin cancer.[Pubmed:
23913940
]
The identification of primary molecular targets of cancer-preventive phytochemicals is essential for a comprehensive understanding of their mechanism of action.
METHODS AND RESULTS:
In the present study, we investigated the chemopreventive effects and molecular targets of Acacetin, a flavonoid found in Robinia p seudoacacia, also known as black locust. Acacetin treatment significantly suppressed epidermal growth factor (EGF)-induced cell transformation. Immunoblot analysis revealed that Acacetin attenuated EGF-induced phosphorylation of Akt and p70(S6K), which are downstream effectors of phosphatidylinositol 3-kinase (PI3-K). An immunoprecipitation kinase assay of PI3-K and pull-down assay results demonstrated that Acacetin substantially inhibits PI3-K activity by direct physical binding. Acacetin exhibited stronger inhibitory effects against anchorage-dependent and -independent cell growth in cells expressing higher PI3-K activity compared with those exhibiting relatively low PI3-K activity. Binding assay data combined with computational modeling suggest that Acacetin binds in an adenosine triphosphate (ATP)-competitive manner with the p110α subunit of PI3-K and interacts with Val828, Glu826, Asp911, Trp760, Ile777, Ile825, Tyr813, Ile910 and Met900 residues. Acacetin was also found to significantly reduce SK-MEL-28 tumor growth and Akt phosphorylation in vivo.
CONCLUSIONS:
Taken together, these results indicate that Acacetin is an ATP-competitive PI3-K inhibitor and a promising agent for melanoma chemoprevention.
Biochem Pharmacol. 2006 Nov 15;72(10):1293-303.
Acacetin suppressed LPS-induced up-expression of iNOS and COX-2 in murine macrophages and TPA-induced tumor promotion in mice.[Pubmed:
16949556
]
Acacetin (5,7-dihydroxy-4'-methoxyflavone), a flavonoid compound, has anti-peroxidative and anti-inflammatory effects.
METHODS AND RESULTS:
In this study, we investigated the inhibitory effects of Acacetin and a related compound, wogonin, on the induction of NO synthase (NOS) and COX-2 in RAW 264.7 cells activated with lipopolysaccharide (LPS). Acacetin markedly and actively inhibited the transcriptional activation of iNOS and COX-2. Western blotting, reverse transcription-polymerase chain reaction (PCR), and real-time PCR analyses demonstrated that Acacetin significantly blocked protein and mRNA expression of iNOS and COX-2 in LPS-inducted macrophages. Treatment with Acacetin reduced translocation of nuclear factor-kappa B (NF kappa B) subunit and the dependent transcriptional activity of NF kappa B. The activation of NF kappa B was inhibited by prevention of the degradation of inhibitor kappa B (I kappa B). Furthermore, Acacetin inhibited LPS-induced phosphorylation as well as degradation of I kappa B alpha. We further investigated the roles of tyrosine kinase, phosphatidylinositiol 3-kinase (PI3K)/Akt and mitogen-activated protein kinase (MAPK) in LPS-induced macrophages. We found that Acacetin also inhibited LPS-induced activation of PI3K/Akt and p44/42, but not p38 MAPK. After initiation of 7,12-dimethlybene[a]anthracene (DMBA), applying acacentin topically before each 12-O-tetradecanoylphorbol 13-acetat (TPA) treatment was found to reduce the number of papillomas at 20 weeks.
CONCLUSIONS:
Taken together, these results show that Acacetin down regulates inflammatory iNOS and COX-2 gene expression in macrophages by inhibiting the activation of NF kappa B by interfering with the activation PI3K/Akt/IKK and MAPK, suggesting that Acacetin is a functionally novel agent capable of preventing inflammation-associated tumorigenesis.
Planta Med. 2012 May;78(8):793-6.
Spasmolytic and antinociceptive activities of ursolic acid and acacetin identified in Agastache mexicana.[Pubmed:
22473340
]
Agastache mexicana is a plant in high demand that has long been used in Mexican folk medicine to treat anxiety, insomnia, and stomachache, among other afflictions. Ursolic acid and Acacetin were isolated and identified as two possible active compounds of A. mexicana aerial parts.
METHODS AND RESULTS:
An antinociceptive response was demonstrated in a significant and dose-dependent manner with ursolic acid and Acacetin (i. p. and p. o.) in comparison to the analgesic diclofenac by using the writhing test in mice. Moreover, Acacetin also produced a significant concentration-dependent spasmolytic response with major efficacy compared to ursolic acid and papaverine by using rings from the isolated guinea pig ileum.
CONCLUSIONS:
These results provide evidence of the presence of two active constituents of Agastache mexicana reinforcing its utility as a therapy for visceral pain as used in traditional medicine.
Evid Based Complement Alternat Med. 2012;2012:910520.
Dietary acacetin reduces airway hyperresponsiveness and eosinophil infiltration by modulating eotaxin-1 and th2 cytokines in a mouse model of asthma.[Pubmed:
23049614
]
A previous study found that eosinophil infiltration and Th2 cell recruitment are important causes of chronic lung inflammation in asthma. The plant flavonoid Acacetin is known to have an anti-inflammatory effect in vitro. This study aims to investigate the anti-inflammatory effect of orally administered Acacetin in ovalbumin- (OVA-) sensitized asthmatic mice and its underlying molecular mechanism.
METHODS AND RESULTS:
BALB/c mice were sensitized by intraperitoneal OVA injection.
OVA-sensitized mice were fed Acacetin from days 21 to 27. Acacetin treatment attenuated airway hyperresponsiveness and reduced eosinophil infiltration and goblet cell hyperplasia in lung tissue. Additionally, eotaxin-1- and Th2-associated cytokines were inhibited in bronchoalveolar lavage fluid and suppressed the level of OVA-IgE in serum. Human bronchial epithelial (BEAS-2B) cells were used to examine the effect of Acacetin on proinflammatory cytokines, chemokines, and cell adhesion molecule production in vitro. At the molecular level, Acacetin significantly reduced IL-6, IL-8, intercellular adhesion molecule-1, and eotaxin-1 in activated BEAS-2B cells. Acacetin also significantly suppressed the ability of eosinophils to adhere to inflammatory BEAS-2B cells.
CONCLUSIONS:
These results suggest that dietary Acacetin may improve asthma symptoms in OVA-sensitized mice.