Trimethylapigenin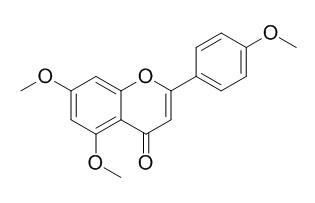 Trimethyapigenin has anti-inflammatory activity, it can moderately inhibit production of TNF-α. ,iNOS mRNA and iNOS protein in a dose-dependent manner. It may be a potential candidate for anti-atrial fibrillation, it can significantly inhibit the atrial potassium currents hKv1.5/I(Kur) and I(KACh).
Inquire / Order: manager@chemfaces.com
Technical Inquiries: service@chemfaces.com
Tel: +86-27-84237783
Fax: +86-27-84254680

Address:
1 Building, No. 83, CheCheng Rd., Wuhan Economic and Technological Development Zone, Wuhan, Hubei 430056, PRC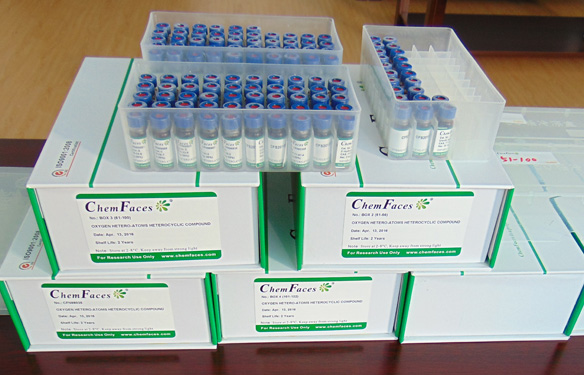 Providing storage is as stated on the product vial and the vial is kept tightly sealed, the product can be stored for up to
24 months(2-8C)
.
Wherever possible, you should prepare and use solutions on the same day. However, if you need to make up stock solutions in advance, we recommend that you store the solution as aliquots in tightly sealed vials at -20C. Generally, these will be useable for up to two weeks. Before use, and prior to opening the vial we recommend that you allow your product to equilibrate to room temperature for at least 1 hour.
Need more advice on solubility, usage and handling? Please email to: service@chemfaces.com
The packaging of the product may have turned upside down during transportation, resulting in the natural compounds adhering to the neck or cap of the vial. take the vial out of its packaging and gently shake to let the compounds fall to the bottom of the vial. for liquid products, centrifuge at 200-500 RPM to gather the liquid at the bottom of the vial. try to avoid loss or contamination during handling.
Phys Chem Chem Phys.2018, 20(23):15986-15994
Arch Pharm Res.2015, 38(6):1080-9
Planta Med.2019, 85(9-10):766-773
Sci Rep.2021, 11(1):11936.
The Journal of Phytopharmacology2020, 9(1): 1-4
J Sci Food Agric.2018, 98(3):1153-1161
Int J Mol Sci.2018, 19(9):E2825
Evid Based Complement Alternat Med.2021, 2021:6687513.
Analytical sci. & Tech2020, 33(5):224-231
Research Square2021, 10.21203.
Biochem Pharmacol. 2012 Aug 15;84(4):498-506.
Effects of the natural flavone trimethylapigenin on cardiac potassium currents.[Pubmed:
22583923
]
The natural flavones and polymethylflavone have been reported to have cardiovascular protective effects.
METHODS AND RESULTS:
In the present study, we determined whether quecertin, apigenin and their methylated compounds (3,7,3',4'-tetramethylquecertin, 3,5,7,3',4'-pentamethylquecertin, 7,4'-dimethylapigenin, and 5,7,4'-Trimethylapigenin) would block the atrial specific potassium channel hKv1.5 using a whole-cell patch voltage-clamp technique. We found that only Trimethylapigenin showed a strong inhibitory effect on hKv1.5 channel current. This compound suppressed hKv1.5 current in HEK 293 cell line (IC₅₀=6.4 μM), and the ultra-rapid delayed rectify K⁺ current I(Kur) in human atrial myocytes (IC₅₀=8.0 μM) by binding to the open channels and showed a use- and frequency-dependent manner. In addition, Trimethylapigenin decreased transient outward potassium current (I(to)) in human atrial myocytes, inhibited acetylcholine-activated K⁺ current (IC₅₀=6.8μM) in rat atrial myocytes. Interestingly, Trimethylapigenin had a weak inhibition of hERG channel current.
CONCLUSIONS:
Our results indicate that trimethyapigenin significantly inhibits the atrial potassium currents hKv1.5/I(Kur) and I(KACh), which suggests that Trimethylapigenin may be a potential candidate for anti-atrial fibrillation.
J Ethnopharmacol. 2011 Jul 14;136(3):488-95.
Suppressive effects of methoxyflavonoids isolated from Kaempferia parviflora on inducible nitric oxide synthase (iNOS) expression in RAW 264.7 cells.[Pubmed:
21251970
]
Previously, we reported that the chloroform fraction of a Kaempferia parviflora extract had an inhibitory effect on rat paw-edema. In the present study, we isolated the constituents of this fraction and investigated the anti-inflammatory mechanism against nitric oxide (NO) production, tumor necrosis factor-α (TNF-α) and the expression of inducible nitric oxide synthase (iNOS) as well as phosphorylated extracellular signal-regulated kinase (p-ERK), and phosphorylated c-Jun N-terminal kinase (p-JNK). In addition, effects of Trimethylapigenin (4) on the enzyme activities of protein kinases possibly leading to iNOS expression were examined to clarify the targets.
METHODS AND RESULTS:
The chloroform fraction was isolated using silica gel column chromatography and HPLC. Isolated compounds were tested against NO and TNF-α using RAW264.7 cells. Cytotoxicity and iNOS, p-ERK and p-JNK expression were also examined. Three active components, 5,7-dimethoxyflavone (2), Trimethylapigenin (4), and tetramethylluteolin (5), markedly inhibited the production of NO in lipopolysaccharide (LPS)-activated RAW264.7 cells. Compounds 2, 4, and 5 moderately inhibited production of TNF-α. Compounds 2, 4, and 5 strongly inhibited expression of iNOS mRNA and iNOS protein in a dose-dependent manner, but did not inhibit p-ERK or p-JNK protein expression. The most active compound, 4, did not inhibit the enzyme activity of inhibitor of κB kinases or mitogen-activated protein kinases, but inhibited that of spleen tyrosine kinase (SYK).
CONCLUSIONS:
The mechanism responsible for the anti-inflammatory activity of methoxyflavonoids from the chloroform fraction of the rhizomes of Kaempferia parviflora is mainly the inhibition of iNOS expression, and the inhibition of SYK by 4 may be involved in the suppression of LPS-induced signaling in macrophages.