Isothymusin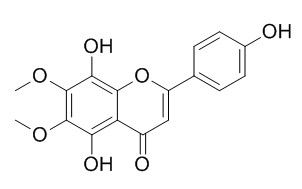 Isothymusin( MIC= 200 microg/mL) exhibits inhibition activity against Mycobacterium tuberculosis. It ( IC50=7.7 microg/mL ) exhibits antioxidant activity against the radical scavenging ability of DPPH.
Inquire / Order: manager@chemfaces.com
Technical Inquiries: service@chemfaces.com
Tel: +86-27-84237783
Fax: +86-27-84254680

Address:
1 Building, No. 83, CheCheng Rd., Wuhan Economic and Technological Development Zone, Wuhan, Hubei 430056, PRC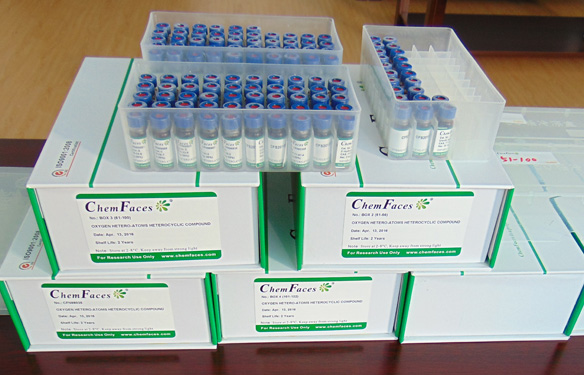 Providing storage is as stated on the product vial and the vial is kept tightly sealed, the product can be stored for up to
24 months(2-8C)
.
Wherever possible, you should prepare and use solutions on the same day. However, if you need to make up stock solutions in advance, we recommend that you store the solution as aliquots in tightly sealed vials at -20C. Generally, these will be useable for up to two weeks. Before use, and prior to opening the vial we recommend that you allow your product to equilibrate to room temperature for at least 1 hour.
Need more advice on solubility, usage and handling? Please email to: service@chemfaces.com
The packaging of the product may have turned upside down during transportation, resulting in the natural compounds adhering to the neck or cap of the vial. take the vial out of its packaging and gently shake to let the compounds fall to the bottom of the vial. for liquid products, centrifuge at 200-500 RPM to gather the liquid at the bottom of the vial. try to avoid loss or contamination during handling.
Separations2021, 8(1), 1.
Drug Chem Toxicol.2020, 1-12.
Biochem Biophys Res Commun.2021, 534:802-807.
Int J Mol Sci.2019, 20(8):E1855
Dicle Tip Dergisi2020, 47(2),423-430.
Food Research International2016, 106-113
Talanta.2022, 249:123645.
J of Health Science and Alternative Medicine2019, 1(1)
Phytomedicine.2019, 57:95-104
Korean Journal of Pharmacognosy2018, 49(1):76-83
Arch Pharm Res. 2003 Oct;26(10):816-20.
Antimycobacterial and antioxidant flavones from Limnophila geoffrayi.[Pubmed:
14609129
]
The chloroform extract of the aerial part of Limnophila geoffrayi showed antimycobacterial and antioxidant activities.
METHODS AND RESULTS:
Bioassay-guided fractionation has led to the isolation of the flavones nevadensin (5,7-dihydroxy-6,8,4'-trimethoxyflavone, 1) and Isothymusin (6,7-dimethoxy-5,8,4'-trihydroxyflavone, 2). Both compounds 1 and Isothymusin exhibited inhibition activity against Mycobacterium tuberculosis, with equal MIC value of 200 microg/mL. Only Isothymusin exhibited antioxidant activity against the radical scavenging ability of DPPH, with the IC50 value of 7.7 microg/mL.
CONCLUSIONS:
The crude hexane, chloroform and methanol extracts as well as the pure compounds 1 and Isothymusin did not exhibit mutagenic activity in the Bacillus subtilis recassay.
Phytochemistry. 1998 Mar;47(5):779-82.
An 8-hydroxylated external flavone and its 8-O-glucoside from Becium grandiflorum.[Pubmed:
9542170
]

METHODS AND RESULTS:
The major vacuolar flavonoid of a greenhouse-grown plant of Becium grandiflorum has been identified as the 8-O-glucoside of Isothymusin (5,8,4'-trihydroxy-6,7-dimethoxyflavone), while the major external flavonoids in the diethyl ether surface wash of the same plant are found to be Isothymusin and cirsimaritin (5,4'-dihydroxy-7,8-dimethoxyflavone).
CONCLUSIONS:
Although Isothymusin is already known as a conversion product of thymusin (5,6,4'-trihydroxy-6,7-dimethoxyflavone) formed by means of the Wessely-Moser rearrangement, this is the first report of Isothymusin as a plant constituent, both as aglycone and glycoside. The biogenetic and chemotaxonomic implications of the occurrence of these flavonoids in B.grandiflorum are briefly discussed.