Isololiolide
Isololiolide has phytotoxicity, it inhibited seedling growth of cress and barnyard grass. It also showed in vitro activity against both trypomastigote and intracellular amastigotes of Trypanosoma cruzi, with IC50 values of 32 μM and 40 μM, respectively. Isololiolide is an antioxidant response element (ARE) inducer, it has anti-inflammatory activity. It can exert a selective cytotoxic activity on hepatocarcinoma HepG2 cells as well as induce apoptosis through the modulation of apoptosis-related proteins.
Inquire / Order: manager@chemfaces.com
Technical Inquiries: service@chemfaces.com
Tel: +86-27-84237783
Fax: +86-27-84254680

Address:
1 Building, No. 83, CheCheng Rd., Wuhan Economic and Technological Development Zone, Wuhan, Hubei 430056, PRC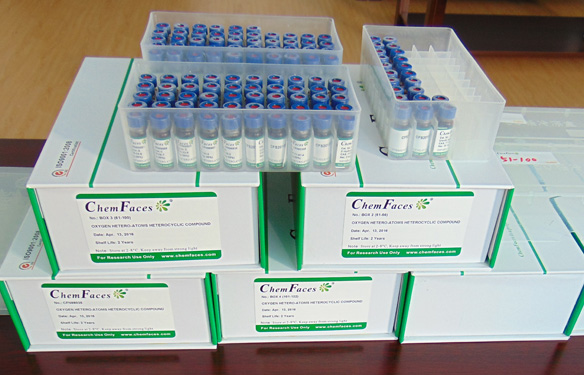 Providing storage is as stated on the product vial and the vial is kept tightly sealed, the product can be stored for up to
24 months(2-8C)
.
Wherever possible, you should prepare and use solutions on the same day. However, if you need to make up stock solutions in advance, we recommend that you store the solution as aliquots in tightly sealed vials at -20C. Generally, these will be useable for up to two weeks. Before use, and prior to opening the vial we recommend that you allow your product to equilibrate to room temperature for at least 1 hour.
Need more advice on solubility, usage and handling? Please email to: service@chemfaces.com
The packaging of the product may have turned upside down during transportation, resulting in the natural compounds adhering to the neck or cap of the vial. take the vial out of its packaging and gently shake to let the compounds fall to the bottom of the vial. for liquid products, centrifuge at 200-500 RPM to gather the liquid at the bottom of the vial. try to avoid loss or contamination during handling.
Enzyme Microb Technol.2022, 153:109941.
J Chromatogr B Analyt Technol Biomed Life Sci.2019, 1113:1-13
Int J Mol Sci.2017, 18(12)
Mol Pharm.2017, 14(9):3164-3177
The University of Manitoba2021, 35690.
Appl. Sci. 2021, 11(23),11099.
Int J Mol Sci.2019, 20(16):E4015
J Food Sci Technol.2022, 59(1):212-219.
Kor. J. Pharmacogn.2016, 47(1):62-72
Gene.2022, 815:146178.
Journal of Plant Biology, 2017, 60(1):75-81.
Isolation and identification of two potential phytotoxic substances from the aquatic fern Marsilea crenata.[Reference:
WebLink
]
Organic agriculture emphasized using of biologically originated herbicides and phytotoxic substances are being considered as a replacement to chemical herbicides. Marsilea crenata is an aquatic perennial fern distributed in the South-East Asian countries and is well known for various biological properties. However, to date, there has been no report that addresses the phytotoxicity of Marsilea crenata.
METHODS AND RESULTS:
Therefore, we explored phytotoxic properties and phytotoxic substances from Marsilea crenata. An aqueous methanol extracts of Marsilea crenata showed inhibition on the seedling growth of cress, lettuce, alfalfa, barnyard grass, Italian ryegrass, and foxtail fescue. Inhibition increased with increasing extract concentration. The extract was purified by several chromatographic steps and two phytotoxic substances were isolated and identified by spectroscopic analysis as loliolide and Isololiolide. At the concentration of 30 μM, loliolide and Isololiolide inhibited seedling growth of cress and barnyard grass by 41.3 to 51.1%, and 58.15 to 87.5% of control seedlings, respectively. The concentrations required for 50% inhibition of cress and barnyard grass seedlings ranged from 32.1 to 128.5 μM for loliolide, 37.0 to 176.2 μM for Isololiolide.
CONCLUSIONS:
These results suggest these compounds may be responsible for phytotoxic effects of Marsilea crenata extract and could be an important part of organic agriculture.
Bioorg Chem. 2019 Aug;89:103002.
Antitrypanosomal activity of isololiolide isolated from the marine hydroid Macrorhynchia philippina (Cnidaria, Hydrozoa).[Pubmed:
31136901
]
Marine invertebrates are a rich source of small antiparasitic compounds. Among them, Macrorhynchia philippina is a chemically underexplored marine cnidarian.
METHODS AND RESULTS:
In the search for candidates against the neglected protozoan Chagas disease, we performed a bio-guided fractionation to obtain active compounds. The structural characterization of the active compound was determined using NMR analysis and MS and resulted in the Isololiolide, a compound described for the first time in this species. It showed in vitro activity against both trypomastigote and intracellular amastigotes of Trypanosoma cruzi, with IC50 values of 32 µM and 40 µM, respectively, with no mammalian cytotoxicity (>200 µM). The lethal action was investigated in T. cruzi using different fluorophores to study: (i) mitochondrial membrane potential; (ii) plasma membrane potential and (iii) plasma membrane permeability.
CONCLUSIONS:
Our results demonstrated that Isololiolide caused disruption of the plasma membrane integrity and a strong depolarization of the mitochondrial membrane potential, rapidly leading the parasite to death. Despite being considered a possible covalent inhibitor, safety in silico studies of Isololiolide also considered neither mutagenic nor genotoxic potential. Additionally, Isololiolide showed no resemblance to interference compounds (PAINS), and it succeeded in most filters for drug-likeness. Isololiolide is a promising candidate for future optimization against Chagas disease.
Cancer Prev Res (Phila). 2013 Sep;6(9):989-99.
Cultivated sea lettuce is a multiorgan protector from oxidative and inflammatory stress by enhancing the endogenous antioxidant defense system.[Pubmed:
24005795
]
The health-promoting effects of seaweeds have been linked to antioxidant activity that may counteract cancer-causing oxidative stress-induced damage and inflammation.
METHODS AND RESULTS:
Although antioxidant activity is commonly associated with direct radical scavenging activity, an alternative way to increase the antioxidant status of a cell is to enhance the endogenous (phase II) defense system consisting of cytoprotective antioxidant enzymes, including NAD(P)H:quinone oxidoreductase 1 (NQO1). These enzymes are transcriptionally regulated by the antioxidant response element (ARE) via the transcription factor Nrf2. Extracts derived from cultivated Ulva sp., a green alga regarded as a marine vegetable (sea lettuce), potently activated the Nrf2-ARE pathway in IMR-32 neuroblastoma and LNCaP prostate cancer cells. RNA interference studies showed that Nrf2 and phosphoinositide 3-kinase (PI3K) are essential for the phase II response in IMR-32 cells. Activity-enriched fractions induced Nrf2 nuclear translocation and target gene transcription, and boosted the cellular glutathione level and therefore antioxidant status. A single-dose gavage feeding of Ulva-derived fractions increased Nqo1 transcript levels in various organs. Nqo1 induction spiked in different tissues, depending on the specific chemical composition of each administered fraction.
CONCLUSIONS:
We purified and characterized four ARE inducers in this extract, including loliolide (1), Isololiolide (2), a megastigmen (3), and a novel chlorinated unsaturated aldehyde (4). The ARE-active fractions attenuated lipopolysaccharide-induced iNOS and Cox2 gene expression in macrophagic RAW264.7 cells, decreasing nitric oxide (NO) and prostaglandin E2 (PGE2) production, respectively. Nqo1 activity and NO production were abrogated in nrf2(-/-) mouse embryonic fibroblasts, providing a direct link between the induction of phase II response and anti-inflammatory activity.
Phytomedicine. 2016 May 15;23(5):550-7.
Isololiolide, a carotenoid metabolite isolated from the brown alga Cystoseira tamariscifolia, is cytotoxic and able to induce apoptosis in hepatocarcinoma cells through caspase-3 activation, decreased Bcl-2 levels, increased p53 expression and PARP cleavage.[Pubmed:
27064014
]
Brown macroalgae have attracted attention because they display a wide range of biological activities, including antitumoral properties. Inthis study we isolated Isololiolide from Cystoseira tamariscifolia for the first time. To examine the therapeutical potential of Isololiolide against tumor cell lines.
METHODS AND RESULTS:
The structure of the compound was established and confirmed by 1D and 2D NMR as well as HRMS spectral analysis. The in vitro cytotoxicity was analyzed by colorimetric 3-(4,5-dimethylthiazol-2-yl)-2,5-diphenyltetrazolium bromide assay in tumoral as well as in non-tumoral cell lines. Cell cycle arrest and induction of apoptosis were assessed by flow cytometry. Alteration of expression levels in proteins important in the apoptotic cascade was analyzed by western blotting. Isololiolidewas isolated for the first time from the brown macroalga C.tamariscifolia. Isololiolide exhibited significant cytotoxic activity against three human tumoral cell lines, namely hepatocarcinoma HepG2 cells, whereas no cytotoxicity was found in non-malignant MRC-5 and HFF-1 human fibroblasts. Isololiolide completely disrupted the HepG2 normal cell cycle and induced significant apoptosis. Moreover, western blot analysis showed that Isololiolide altered the expression of proteins that are important in the apoptotic cascade, increasing PARP cleavage and p53 expression while decreasing procaspase-3 and Bcl-2 levels.
CONCLUSIONS:
Isololiolide isolated from C. tamariscifolia is able to exert a selective cytotoxic activity on hepatocarcinoma HepG2 cells as well as induce apoptosis through the modulation of apoptosis-related proteins.