Scutellarein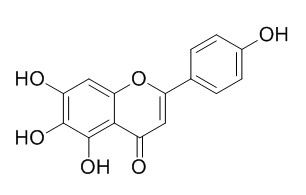 Scutellarein has antioxidant, antitumor, anti-adipogenic, antiviral and anti-inflammatory activities, it can improve neuronal injury, has better protective effect in rat cerebral ischemia. Scutellarein may serve as a SARS-CoV chemical inhibitor, it also exerts strong inhibition towards the tested UDP-glucuronosyltransferase isoforms.
Inquire / Order: manager@chemfaces.com
Technical Inquiries: service@chemfaces.com
Tel: +86-27-84237783
Fax: +86-27-84254680

Address:
1 Building, No. 83, CheCheng Rd., Wuhan Economic and Technological Development Zone, Wuhan, Hubei 430056, PRC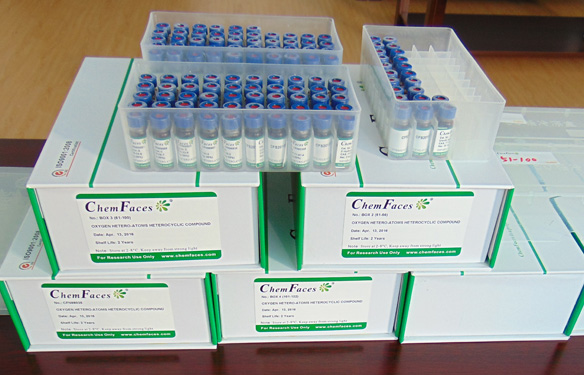 Providing storage is as stated on the product vial and the vial is kept tightly sealed, the product can be stored for up to
24 months(2-8C)
.
Wherever possible, you should prepare and use solutions on the same day. However, if you need to make up stock solutions in advance, we recommend that you store the solution as aliquots in tightly sealed vials at -20C. Generally, these will be useable for up to two weeks. Before use, and prior to opening the vial we recommend that you allow your product to equilibrate to room temperature for at least 1 hour.
Need more advice on solubility, usage and handling? Please email to: service@chemfaces.com
The packaging of the product may have turned upside down during transportation, resulting in the natural compounds adhering to the neck or cap of the vial. take the vial out of its packaging and gently shake to let the compounds fall to the bottom of the vial. for liquid products, centrifuge at 200-500 RPM to gather the liquid at the bottom of the vial. try to avoid loss or contamination during handling.
Biomolecules2021, 11(10),1513.
Vojnosanit Pregl2016, 75(00):391-391
Ulm University Medical Center2020, doi: 10.18725.
Int J Biol Macromol.2018, 112:1093-1103
SRM Institute of Sci&Tech2022, 34(1): 32-37
Plants (Basel).2021, 10(11):2525.
BMC Complement Altern Med.2017, 17(1):384
Inflammation.2021, doi: 10.1007
Pharmaceuticals (Basel).2020, 13(10):302.
Phytomedicine.2022, 100:154085.
Chin J Physiol. 2014 Aug 31;57(4):182-7.
Inhibitory effects of scutellarein on proliferation of human lung cancer A549 cells through ERK and NFκB mediated by the EGFR pathway.[Pubmed:
25246059
]
High expression levels of cyclooxygenase-2 (COX-2) contribute a strong proliferative ability to human lung cancer cells, and this function is link to the epidermal growth factor receptor (EGFR) pathway, which was mediated by extracellular-signal-regulated kinase (ERK) and nuclear factor kappa B (NFκB).
METHODS AND RESULTS:
In this study, Scutellarein, a flavonoid compound, was screened for proliferation inhibition at different concentrations (0, 5, 25 and 50 μM) at 24 h or 48 h in human lung cancer cell line A549. Results showed that A549 cell proliferation was inhibited by 50 μM Scutellarein treatment in 24 h and 48 h of treatment. The expression levels of phosphorylated EGFR, phosphorylated ERK, phosphorylated NFκB and COX-2 were reduced in a dose-dependent manner after 24 h Scutellarein treatments at different concentrations. Further, ERK inhibitor U0126 and NFκB inhibitor MG132 also inhibited A549 cell proliferation similar to 50 κM Scutellarein treatment from 24 h to 48 h.
CONCLUSIONS:
The experimental results showed that Scutellarein could inhibit proliferation of the human lung cancer cell line A549 through ERK and NFκB mediated by the EGFR pathway.
Pharmacol Biochem Behav. 2014 Mar;118:51-9.
Neuroprotective effects of scutellarin and scutellarein on repeatedly cerebral ischemia-reperfusion in rats.[Pubmed:
24423938
]
Scutellarin had protective effects against neuronal injury, however, there are few studies on the protective effect of Scutellarein, which is the main metabolite of scutellarin in vivo.
METHODS AND RESULTS:
This study investigated whether the neural injury by ischemia/reperfusion would be influenced by different doses of scutellarin and Scutellarein. Male Wistar rats were orally administered with scutellarin and Scutellarein at the doses of 0.09, 0.17, 0.35, 0.70, 1.40 mmol/kg, respectively; then after six consecutive days, they were subjected to global ischemia by occlusion of the bilateral common carotid arteries (BCCAO). After reperfusion for about 21 h, neurological and histological examinations were performed. The present results showed that Scutellarein attenuated neuronal cell damage, reduced cerebral water content, regulated the expression of glutamic acid (Glu), aspartic acid (Asp), glycine (Gly), γ-aminobutyric acid (GABA) and taurine (Tau), and improved the Ca(2+)-ATPase and Na(+),K(+)-ATPase activity. Meanwhile, significant difference was found among various doses of scutellarin and Scutellarein.
CONCLUSIONS:
Our studies indicated that scutellarin and Scutellarein could improve neuronal injury, and Scutellarein had better protective effect than scutellarin in rat cerebral ischemia.
Int J Mol Med. 2015 Jan;35(1):31-8.
Scutellarein inhibits cancer cell metastasis in vitro and attenuates the development of fibrosarcoma in vivo.[Pubmed:
25394920
]
Fibrosarcoma is an aggressive and highly metastatic cancer of the connective tissue, for which effective therapeutic methods are limited. Recently, there has been a renewed interest in small molecular compounds from natural products in the treatment of cancer.
METHODS AND RESULTS:
In the present study, we investigated the compound, Scutellarein, extracted from the perennial herb Scutellaria lateriflora, and it was found to possess anticancer potential. Cell proliferation assay and cell cycle analysis revealed that the proliferation rate of HT1080 human fibrosarcoma cells was significantly suppressed by treatment with Scutellarein through the induction of apoptosis. Moreover, an in vivo experiment using Balb/c nude mice revealed that the volume and weight of the tumors were markedly reduced following treatment with Scutellarein. We also analyzed the effects of Scutellarein on the markers of metastasis, using the HT1080 cells. The results indicated that Scutellarein potently inhibited cell migration, invasion and the expression and activity of matrix metalloproteinase (MMP)-2, -9 and -14. Furthermore, MMP activation and cell survival were suppressed due to the Scutellarein-mediated downregulation of nuclear factor κ-light-chain-enhancer of activated B cells (NF-κB) activation.
CONCLUSIONS:
In conclusion, our data suggest that Scutellarein has the ability to attenuate the development of fibrosarcoma and inhibit cancer cell metastasis.
Phytother Res. 2014 Mar;28(3):382-6.
Comparison of inhibition capability of scutellarein and scutellarin towards important liver UDP-glucuronosyltransferase (UGT) isoforms.[Pubmed:
23620377
]
Scutellarin is an important bioactive flavonoid extracted from Erigeron breviscapus (Vant.) Hand-Mazz, and Scutellarein is the corresponding aglycone of scutellarin.
METHODS AND RESULTS:
The present study aims to compare the inhibition potential of scutellarin and Scutellarein towards several important UDP-glucuronosyltransferase (UGT) isoforms, including UGT1A1, UGT1A6, UGT1A9 and UGT2B7. It was demonstrated that Scutellarein exerted stronger inhibition towards the tested UGT isoforms than scutellarin. Furthermore, the inhibition kinetic type and parameters (Ki ) were determined for the Scutellarein's inhibition towards these UGT isoforms. Competitive inhibition of Scutellarein towards all these UGT isoforms was demonstrated, and the Ki values were calculated to be 0.02, 5.0, 5.8 and 35.9 μM for UGT1A1, 1A6, 1A9 and 2B7, respectively.
CONCLUSIONS:
Using in vivo maximum plasma concentration of Scutellarein in rat, the in vitro-in vivo extrapolation was performed to predict in vivo situation, indicating the most possible in vivo adverse effects due to the inhibition of Scutellarein towards UGT1A1. All these results remind us to monitor the utilization of scutellarin and Scutellarein, and the herbs containing these two components.
Bioorg Med Chem Lett. 2012 Jun 15;22(12):4049-54.
Identification of myricetin and scutellarein as novel chemical inhibitors of the SARS coronavirus helicase, nsP13.[Pubmed:
22578462
]
Severe acute respiratory syndrome (SARS) is an infectious disease with a strong potential for transmission upon close personal contact and is caused by the SARS-coronavirus (CoV). However, there are no natural or synthetic compounds currently available that can inhibit SARS-CoV.
METHODS AND RESULTS:
We examined the inhibitory effects of 64 purified natural compounds against the activity of SARS helicase, nsP13, and the hepatitis C virus (HCV) helicase, NS3h, by conducting fluorescence resonance energy transfer (FRET)-based double-strand (ds) DNA unwinding assay or by using a colorimetry-based ATP hydrolysis assay. While none of the compounds, examined in our study inhibited the DNA unwinding activity or ATPase activity of human HCV helicase protein, we found that myricetin and Scutellarein potently inhibit the SARS-CoV helicase protein in vitro by affecting the ATPase activity, but not the unwinding activity, nsP13. In addition, we observed that myricetin and Scutellarein did not exhibit cytotoxicity against normal breast epithelial MCF10A cells.
CONCLUSIONS:
Our study demonstrates for the first time that selected naturally-occurring flavonoids, including myricetin and scultellarein might serve as SARS-CoV chemical inhibitors.
Acta Pharmacol Sin. 2000 Apr;21(4):353-6.
Effects of Scutellarein on diabetic rat aorta.[Pubmed:
11324466
]
To study the effect of Scutellarein (Scu) on the diabetic rat aorta.
METHODS AND RESULTS:
Contractile responses to phenylepherine and endothelium-dependent relaxation responses to acetylcholine (ACh) in rat aorta were investigated after streptozocin-induced 6-wk diabetes, Scu-treated streptozocin-induced diabetes, and in age-matched control in vitro. 1) Endothelium-dependent relaxation to ACh in diabetic rats was decreased (P < 0.01) compared with age-matched control. 2) Contractile responses to phenylepherine were increased (P < 0.01) in diabetic rats. 3) The dietary supplement of 0.5% Scu starting from 1-wk diabetes induction prevented endothelial dysfunction (P < 0.01), but the contractile responses to phenylepherine were further increased.
CONCLUSIONS:
Scu prevented vascular endothelial dysfunction in diabetic rats, and also potentiated the contraction induced by phenylepherine.