4'-Hydroxywogonin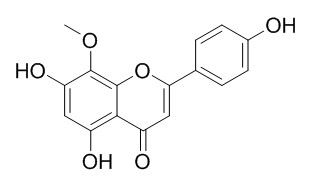 4'-Hydroxywogonin has positive effect on inhabiting those human tumor lines in vitro, with IC50 value is 8.3-38.4ug/mL .
Inquire / Order: manager@chemfaces.com
Technical Inquiries: service@chemfaces.com
Tel: +86-27-84237783
Fax: +86-27-84254680

Address:
1 Building, No. 83, CheCheng Rd., Wuhan Economic and Technological Development Zone, Wuhan, Hubei 430056, PRC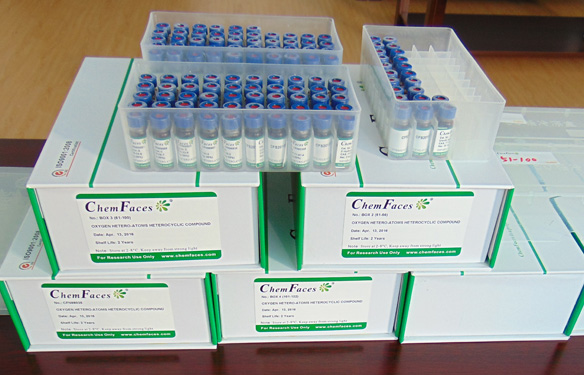 Providing storage is as stated on the product vial and the vial is kept tightly sealed, the product can be stored for up to
24 months(2-8C)
.
Wherever possible, you should prepare and use solutions on the same day. However, if you need to make up stock solutions in advance, we recommend that you store the solution as aliquots in tightly sealed vials at -20C. Generally, these will be useable for up to two weeks. Before use, and prior to opening the vial we recommend that you allow your product to equilibrate to room temperature for at least 1 hour.
Need more advice on solubility, usage and handling? Please email to: service@chemfaces.com
The packaging of the product may have turned upside down during transportation, resulting in the natural compounds adhering to the neck or cap of the vial. take the vial out of its packaging and gently shake to let the compounds fall to the bottom of the vial. for liquid products, centrifuge at 200-500 RPM to gather the liquid at the bottom of the vial. try to avoid loss or contamination during handling.
Biomedicine & Pharmacotherapy2022, 153:113404.
Environ Toxicol.2022, 37(3):514-526.
Korean J Environ Agric.2018, 37(4):260-267
ScientificWorldJournal.2022, 2022:4806889.
Research Square2021, 10.21203.
Nutrients.2022, 14(16):3393.
Asian Journal of Chemistry2014, 26(8):2425
Biomedicines.2021, 9(8):954.
J of the Korean Society of Food Science and Nutrition2019, 32(2):148-154
Food Funct.2021, 12(4):1469-1481.
Planta Med. 2011 Mar;77(4):388-93.
Chromatographic fingerprint and quantitative analysis of seven bioactive compounds of Scutellaria barbata.[Pubmed:
20862635
]
Scutellaria barbata D. Don is widely used as a folk antitumor and anti-inflammatory agent in Asia. However, a simple and global quality control method for S. barbata was lacking. In this study, six phenolic compounds, including P-coumaric acid, scutellarin, apigenin 5-O-β-glucopyranoside, luteolin, apigenin and 4'-Hydroxywogonin were obtained from S. barbata by phytochemical investigations.
METHODS AND RESULTS:
The six compounds plus baicalein show cytotoxcities to the nine human cancer cells, K562, MGC-803, HL60, SH-SY5Y, SW1116, SMMC-7221, SW480, HepG2 and KB. Subsequently, a high-performance liquid chromatography with photodiode array detector (HPLC-DAD) was developed for both fingerprint analysis of S. barbata and quantitative determination of the seven anticancer active compounds in S. barbata. The chromatographic separation was accomplished on an Ultimate™ XB-C18 column (4.6 x 250 mm, 5 µm) in 65 min. For fingerprinting, 26 common peaks were found and selected as characteristic peaks to assess the consistency of S. barbata samples. For quantitative analysis, the seven bioactive compounds showed good regression relationship ( R² > 0.999) within test ranges and the recovery of the method was in the range of 90-105 %.
CONCLUSIONS:
In brief, the present study provides the fingerprint analysis and quantitative methods for global and systematical quality control of S. barbata for its anticancer usage.
Nat Prod Res. 2013 Oct;27(20):1930-2.
Flavonoids of Dikamali: A phytochemical reinvestigation.[Pubmed:
23537094
]

METHODS AND RESULTS:
Eleven known flavonoids (1-11) were isolated from Dikamali, the gum resin of Gardenia lucida. Three of them, desmethylnobiletin, pectolinarigenin and xanthomicrol, are a new report from this source. Nuclear magnetic resonance (NMR) data are being given for all the isolates. For two of them, viz., 3',4'-dimethoxywogonin and 4'-Hydroxywogonin, such data have not been reported in literature.
CONCLUSIONS:
Furthermore, correct NMR data are being provided for gardenin C as the data reported in literature were found to be incorrect.
Zhong Yao Cai. 2006 Jul;29(7):677-9.
Studies on chemical constituents of flavonoid from Verbena officinals.[Pubmed:
17059005
]
Five compounds have been isolated from Verbena offcinals L. On the basis of spectral analysis and physicochemical properties, the compounds were identified as luteolin (1), kaempferol (2), quercetin (3), apigenin (4) and 4'-Hydroxywogonin (5). 1, 2 and 3 were obtained from the genus for the first time.