Scoparin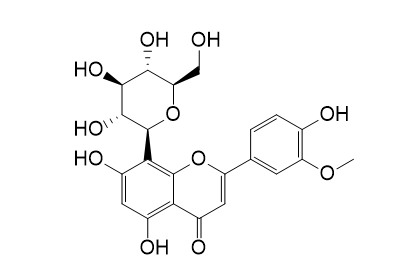 Scoparin has antioxidant activity.Scoparin has antibacterial activity.
Inquire / Order: manager@chemfaces.com
Technical Inquiries: service@chemfaces.com
Tel: +86-27-84237783
Fax: +86-27-84254680

Address:
1 Building, No. 83, CheCheng Rd., Wuhan Economic and Technological Development Zone, Wuhan, Hubei 430056, PRC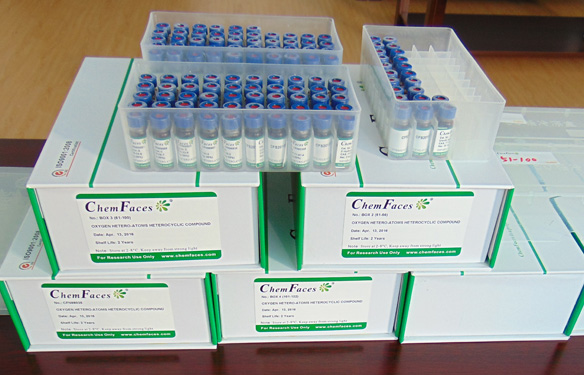 Providing storage is as stated on the product vial and the vial is kept tightly sealed, the product can be stored for up to
24 months(2-8C)
.
Wherever possible, you should prepare and use solutions on the same day. However, if you need to make up stock solutions in advance, we recommend that you store the solution as aliquots in tightly sealed vials at -20C. Generally, these will be useable for up to two weeks. Before use, and prior to opening the vial we recommend that you allow your product to equilibrate to room temperature for at least 1 hour.
Need more advice on solubility, usage and handling? Please email to: service@chemfaces.com
The packaging of the product may have turned upside down during transportation, resulting in the natural compounds adhering to the neck or cap of the vial. take the vial out of its packaging and gently shake to let the compounds fall to the bottom of the vial. for liquid products, centrifuge at 200-500 RPM to gather the liquid at the bottom of the vial. try to avoid loss or contamination during handling.
Front Immunol. 2020, 11:62.
Antioxidants (Basel).2022, 11(8):1471.
Antioxidants (Basel).2021, 10(9):1435.
Oxid Med Cell Longev2020, 12
Phytomedicine.2015, 22(4):498-503
Journal of Analytical Chemistry2017, 854-861
Allergol Immunopathol (Madr).2022, 1;50(4):23-30.
Arch Biochem Biophys.2020, 687:108384.
FEBS J.2022, 10.1111:febs.16676.
J of the Korean Society of Cosmetics and Cosmetology2018, 399-406
Mem Inst Oswaldo Cruz . 2007 Sep;102(6):681-685.
Antimicrobial activity of wax and hexane extracts from Citrus spp. peels[Pubmed:
17923995
]
Antibacterial and antifungal properties of wax and hexane extracts of Citrus spp. peels were tested using bioautographic and microdilution techniques against three plant pathogenic fungi (Penicillium digitatum, Curvularia sp., and Colletotrichum sp.), two human pathogens (Trichophyton mentagrophytes and Microsporum canis), and two opportunistic bacteria (Escherichia coli and Staphylococcus aureus). Two polymethoxylated flavonoids and a coumarin derivative, were isolated and identified from peel extracts, which presented antimicrobial activity especially against M. canis and T. mentagrophytes: 4',5,6,7,8-pentamethoxyflavone (tangeritin) and 3',4',5,6,7,8-hexamethoxyflavone (nobiletin) from C. reticulata; and 6,7-dimethoxycoumarin (also known as escoparone, scoparone or Scoparin) from C. limon.
Food Chem . 2014 Apr 15;149:244-252.
First evidence of C- and O-glycosyl flavone in blood orange (Citrus sinensis (L.) Osbeck) juice and their influence on antioxidant properties[Pubmed:
24295703
]
RP-LC-DAD-ESI-MS-MS separation/identification protocol has been employed for the identification and characterisation of nine C- and O-glycosyl flavonoids in Moro (Citrus sinensis (L.) Osbeck) juice grown in Southern Italy. For the first time we reported the presence of five C-glycosyl flavones (lucenin-2, vicenin-2, stellarin-2, lucenin-2 4'-methyl ether and Scoparin), a 3-hydroxy-3-methylglutaryl glycosyl flavonol (3-hydroxy-3-methylglutaryl glycosyl quercetin) and a flavone O-glycosides (chrysoeriol 7-O-neoesperidoside). Moreover, the influence of the identified C- and O-glycosyl flavonoids on the total antioxidant activity of crude juice has been evaluated on the basis of its ability to scavenge DPPH•, OH• and ABTS•+ radicals and to reduce iron.