Ladanein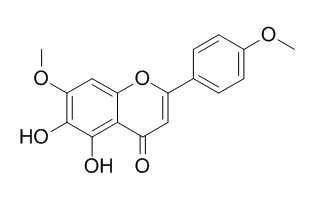 Ladanein is a phytochemicals inhibitor that is known to disrupt the interactions of core and other hepatitis C virus (HCV) proteins.Ladanein possesses free radicals DPPH and ABTS +.scavenging activity, it also displays moderate (20-40 microM) activities against K562, K562R (imatinib-resistant), and 697 human leukemia cell lines.
Inquire / Order: manager@chemfaces.com
Technical Inquiries: service@chemfaces.com
Tel: +86-27-84237783
Fax: +86-27-84254680

Address:
1 Building, No. 83, CheCheng Rd., Wuhan Economic and Technological Development Zone, Wuhan, Hubei 430056, PRC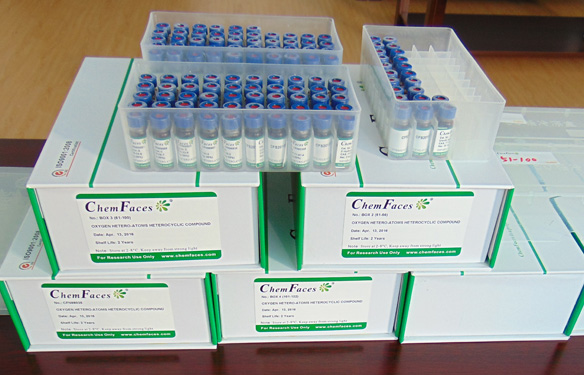 Providing storage is as stated on the product vial and the vial is kept tightly sealed, the product can be stored for up to
24 months(2-8C)
.
Wherever possible, you should prepare and use solutions on the same day. However, if you need to make up stock solutions in advance, we recommend that you store the solution as aliquots in tightly sealed vials at -20C. Generally, these will be useable for up to two weeks. Before use, and prior to opening the vial we recommend that you allow your product to equilibrate to room temperature for at least 1 hour.
Need more advice on solubility, usage and handling? Please email to: service@chemfaces.com
The packaging of the product may have turned upside down during transportation, resulting in the natural compounds adhering to the neck or cap of the vial. take the vial out of its packaging and gently shake to let the compounds fall to the bottom of the vial. for liquid products, centrifuge at 200-500 RPM to gather the liquid at the bottom of the vial. try to avoid loss or contamination during handling.
Journal of Ginseng Research2019, 10.1016
Oncol Rep.2019, 41(4):2453-2463
Molecules.2016, 21(6)
Food Res Int.2018, 106:909-919
Toxins (Basel).2020, 12(4):210.
Nutr Res Pract.2020, 14(3):203-217.
Analytical sci. & Tech2020, 33(5):224-231
Biosci Biotechnol Biochem.2020, 84(3):621-632
Bull. Pharm. Sci., Assiut University2020, 43(2):149-155.
Molecules.2019, 24(2):E343
Planta Med. 2010 Jan;76(1):86-7. doi:
Activity of ladanein on leukemia cell lines and its occurrence in Marrubium vulgare.[Pubmed:
19644796
]

METHODS AND RESULTS:
Three methoxylated flavones isolated from Marrubium peregrinum - Ladanein, scutellarein-5,7,4'-trimethyl ether, and scutellarein-5,6,7,4'-tetramethyl ether - were assayed for their cytotoxicity towards a recently developed dasatinib-resistant murine leukemia cell line (DA1-3b/M2 (BCR-ABL)), together with the structurally related non-methylated flavone scutellarein. The most active compound, Ladanein, was looked for in 20 common Lamiaceae species by a quick HPLC screening. Among the possible positive results, the most interesting source was found to be Marrubium vulgare, which led to the isolation and identification of Ladanein for the first time in this species. Ladanein also displayed moderate (20-40 microM) activities against K562, K562R (imatinib-resistant), and 697 human leukemia cell lines but was toxic neither to MOLM13 nor to human peripheral blood mononuclear cells.
METHODS AND RESULTS:
This work provides a common natural source for the hemi-synthesis of future Ladanein-derived flavones and the study of their antileukemic activity.
Food Chemistry,2012,130(3):695-701.
Isolation, identification and activity of natural antioxidants from horehound ( Marrubium vulgare L.) cultivated in Lithuania[Reference:
WebLink
]

METHODS AND RESULTS:
In an earlier screening of Lithuanian plants, horehound ( Marrubium vulgare ) showed good antioxidant activity and as this species is used in herbal teas and cough pastilles it was selected for further investigation. Some fractions of the aerial parts were strong scavengers of the model free radicals DPPH and ABTS + . Activity in the β -carotene bleaching assay and the rapeseed oil oxidation assay was lower. Several active compounds were observed in the crude methanol–water extract, and in butanol and methyl tert -butyl ether fractions using HPLC with on-line radical scavenging detection. After multi-step fractionation of these fractions five compounds possessing radical scavenging activity were purified and their structures were elucidated by NMR and MS as 5,6-dihydroxy-7,4′-dimethoxyflavone (syn. Ladanein), 7- O - β -glucopyranosyl luteolin, 7- O - β -glucuronyl luteolin, verbascoside and forsythoside B.
CONCLUSIONS:
Their activities were tested in off-line DPPH and ABTS + free radical scavenging assays, and compared with the antioxidants rosmarinic acid and Trolox.
Bioinform Biol Insights. 2014 Jun 23;8:159-68.
In Silico Studies of Medicinal Compounds Against Hepatitis C Capsid Protein from North India[Pubmed:
25002815
]
Hepatitis viral infection is a leading cause of chronic hepatitis, cirrhosis, and hepatocellular carcinoma (HCC). Over one million people are estimated to be persistently infected with hepatitis C virus (HCV) worldwide. As capsid core protein is the key element in spreading HCV; hence, it is considered to be the superlative target of antiviral compounds. Novel drug inhibitors of HCV are in need to complement or replace the current treatments such as pegylated interferon's and ribavirin as they are partially booming and beset with various side effects. Our study was conducted to predict 3D structure of capsid core protein of HCV from northern part of India. Core, the capsid protein of HCV, handles the assembly and packaging of HCV RNA genome and is the least variable of all the ten HCV proteins among the six HCV genotypes.
METHODS AND RESULTS:
Therefore, we screened four phytochemicals inhibitors that are known to disrupt the interactions of core and other HCV proteins such as (a) epigallocatechin gallate (EGCG), (b) Ladanein, (c) naringenin, and (d) silybin extracted from medicinal plants; targeted against active site of residues of HCV-genotype 3 (G3) (Q68867) and its subtypes 3b (Q68861) and 3g (Q68865) from north India. To study the inhibitory activity of the recruited flavonoids, we conducted a quantitative structure-activity relationship (QSAR). Furthermore, docking interaction suggests that EGCG showed a maximum number of hydrogen bond (H-bond) interactions with all the three modeled capsid proteins with high interaction energy followed by naringenin and silybin.
CONCLUSIONS:
Thus, our results strongly correlate the inhibitory activity of the selected bioflavonoid. Finally, the dynamic predicted capsid protein molecule of HCV virion provides a general avenue to target structure-based antiviral compounds that support the hypothesis that the screened inhibitors for viral capsid might constitute new class of potent agents but further confirmation is necessary using in vitro and in vivo studies.