Safflospermidine A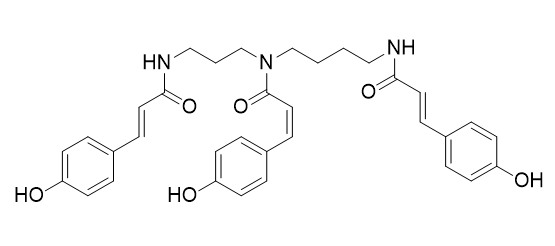 Safflospermidine A is a potential natural tyrosinase inhibitor,it shows high antityrosinase activity (IC50 of 13.8 μM).
Inquire / Order: manager@chemfaces.com
Technical Inquiries: service@chemfaces.com
Tel: +86-27-84237783
Fax: +86-27-84254680

Address:
1 Building, No. 83, CheCheng Rd., Wuhan Economic and Technological Development Zone, Wuhan, Hubei 430056, PRC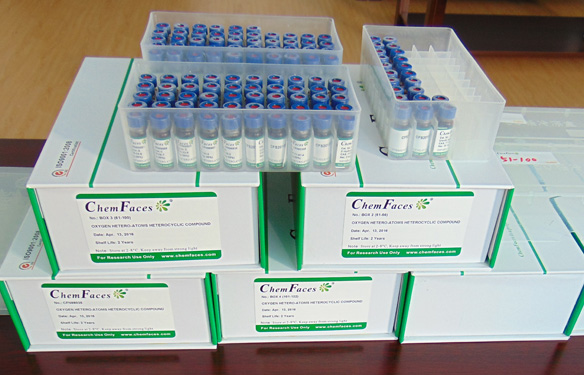 Providing storage is as stated on the product vial and the vial is kept tightly sealed, the product can be stored for up to
24 months(2-8C)
.
Wherever possible, you should prepare and use solutions on the same day. However, if you need to make up stock solutions in advance, we recommend that you store the solution as aliquots in tightly sealed vials at -20C. Generally, these will be useable for up to two weeks. Before use, and prior to opening the vial we recommend that you allow your product to equilibrate to room temperature for at least 1 hour.
Need more advice on solubility, usage and handling? Please email to: service@chemfaces.com
The packaging of the product may have turned upside down during transportation, resulting in the natural compounds adhering to the neck or cap of the vial. take the vial out of its packaging and gently shake to let the compounds fall to the bottom of the vial. for liquid products, centrifuge at 200-500 RPM to gather the liquid at the bottom of the vial. try to avoid loss or contamination during handling.
Molecules.2020, 25(15):3353.
Nutrients.2019, 11(6):E1380
Medicina (Kaunas).2020, 56(12):685.
South African J of Botany2020, 135:50-57
Cells.2022, 11(6):931.
Front Immunol.2018, 9:2091
Molecules 2022, 27(3),1047.
Foods.2021, 10(12):2929.
Saudi Pharm J.2019, 27(1):145-153
Aging (Albany NY).2021, 13(19):22867-22882.
Heliyon, 2020, 6(3):e03638.
Safflospermidines from the bee pollen of Helianthus annuus L. exhibit a higher in vitro antityrosinase activity than kojic acid.[Reference:
WebLink
]
Ozone deterioration in the atmosphere has become a severe problem causing overexposure of ultraviolet light, which results in humans in melanin overproduction and can lead to many diseases, such as skin cancer and melasma, as well as undesirable esthetic appearances, such as freckles and hyperpigmentation. Although many compounds inhibit melanin overproduction, some of them are cytotoxic, unstable, and can cause skin irritation. Thus, searching for new natural compounds with antityrosinase activity and less/no side effects is still required. Here, bee pollen derived from sunflower (Helianthus annuus L.) was evaluated.
METHODS AND RESULTS:
Sunflower bee pollen (SBP) was collected from Apis mellifera bees in Lopburi province, Thailand in 2017, extracted by methanol and sequentially partitioned with hexane and dichloromethane (DCM). The in vitro antityrosinase activity was evaluated using mushroom tyrosinase and the half maximal inhibitory concentration (IC50) is reported. The antioxidation activity was determined using the 2,2-diphenyl-1-picrylhydrazyl (DPPH) assay and reported as the half maximal effective concentration. Two pure compounds with antityrosinase activity were isolated by silica gel 60 column chromatography (SG60CC) and high performance liquid chromatography (HPLC), and their chemical structure deduced by Nuclear Magnetic Resonance (NMR) analysis. The DCM partitioned extract of SBP (DCMSBP) had an antityrosinase activity (IC50, 159.4 μg/mL) and was fractionated by SG60CC, providing five fractions (DCMSBP1–5). The DCMSBP5 fraction was the most active (IC50 = 18.8 μg/mL) and further fractionation by HPLC gave two active fractions, revealed by NMR analysis to be Safflospermidine A and B. Interestingly, both Safflospermidine A and B had a higher antityrosinase activity (IC50 of 13.8 and 31.8 μM, respectively) than kojic acid (IC50 of 44.0 μM). However, fraction DCMSBP5 had no significant antioxidation activity, while fractions DCMSBP1–4 showed a lower antioxidation activity than ascorbic acid.
CONCLUSIONS:
Safflospermidine A and Safflospermidine B are potential natural tyrosinase inhibitors.
Journal of Asian Natural Products Research, 2008,10(5):447-451.
New spermidines from the florets of Carthamus tinctorius.[Reference:
WebLink
]

METHODS AND RESULTS:
Two new spermidine compounds, namely Safflospermidine A (1) and safflospermidine B (2), together with two known compounds, N 1,N 5,N 10-(Z)-tri-p-coumaroylspermidine (3) and N 1,N 5,N 10-(E)-tri-p-coumaroylspermidine (4), were isolated from the florets of Carthamus tinctorius L. Their structures were elucidated by spectroscopic means.