Magnesium Lithospermate B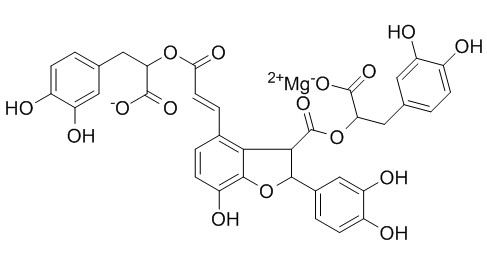 Magnesium lithospermate B is a naturally occurring, new generation antioxidant that activates eNOS and ameliorates endothelial dysfunction in diabetes by enhancing vasodilation in addition to reducing oxidative stress, it can protecte cardiomyocytes from ischemic injury through specific inhibition of TAB1-p38 apoptosis signaling. Magnesium lithospermate B possesses inhibitory activity on Na+,K+-ATPase, it provides anti-ischemic neuroprotection in gerbilssubjected to focal ischemia and reperfusion. Magnesium lithospermate B has potent antifibrotic effect in intraperitoneal thioacetamide (TAA)-treated cirrhotic rats, and inhibits fibrogenic responses in hepatic stellate cells (HSCs). It has depressor action on blood pressure in spontaneously hypertensive rats.Magnesium lithospermate B also has anti-wrinkle and anti-aging effects on skin.
Inquire / Order: manager@chemfaces.com
Technical Inquiries: service@chemfaces.com
Tel: +86-27-84237783
Fax: +86-27-84254680

Address:
1 Building, No. 83, CheCheng Rd., Wuhan Economic and Technological Development Zone, Wuhan, Hubei 430056, PRC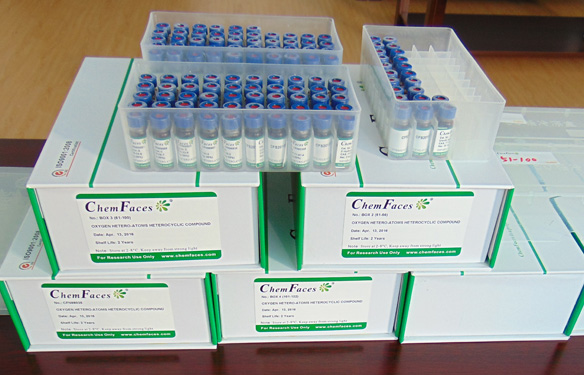 Providing storage is as stated on the product vial and the vial is kept tightly sealed, the product can be stored for up to
24 months(2-8C)
.
Wherever possible, you should prepare and use solutions on the same day. However, if you need to make up stock solutions in advance, we recommend that you store the solution as aliquots in tightly sealed vials at -20C. Generally, these will be useable for up to two weeks. Before use, and prior to opening the vial we recommend that you allow your product to equilibrate to room temperature for at least 1 hour.
Need more advice on solubility, usage and handling? Please email to: service@chemfaces.com
The packaging of the product may have turned upside down during transportation, resulting in the natural compounds adhering to the neck or cap of the vial. take the vial out of its packaging and gently shake to let the compounds fall to the bottom of the vial. for liquid products, centrifuge at 200-500 RPM to gather the liquid at the bottom of the vial. try to avoid loss or contamination during handling.
Analytical Letters 2021, 54(4).
Molecules.2015, 20(10):19172-88
LWT2020, 130:109535
Antioxidants (Basel).2021, 10(10):1620.
Int J Mol Sci.2022, 23(21):13406.
The Pharmaceutical Society of Japan2018, 138(4):571-579
Tokyo Pharmaceutical University2020, 500001431953.
Anal Chim Acta.2018, 1039:162-171
Preprints2021, doi:10.20944
Food Chem.2019, 276:768-775
Acta Pharmacol. Sin., 2000, 21(9):855-8.
Free radical scavenging and inhibition of lipid peroxidation by Magnesium lithospermate B.[Pubmed:
11501171
]
To study the effect of Magnesium Lithospermate B (Monomethyl lithospermate B,MLB) on the lipid peroxidation and on its free radical scavenging activity.
METHODS AND RESULTS:
MLB was incubated in rat tissue homogenate or in a free radical generating system. MLB induced inhibition of lipid peroxidation and its scavenging activity on superoxide anions and hydroxyl radicals was studied using colorimetric estimation.MLB inhibited the lipid peroxidation induced by either an auto-oxidant or Fe2+/VitC in vitro, in the liver homogenate, the inhibitory rate of MLB (10 mg/L) being 69.2% and 57.7%, respectively. MLB (25 and 50 mg/kg) decreased the amount of thiobarbituric acid reactive substances (TBARS) in rat serum, liver, kidney, and heart. However, it did not inhibit the lipid peroxidation of brain homogenate ex vivo. MLB scavenged superoxide anions generated from xanthine/xanthine oxidase system and iron-dependent hydroxyl radicals.
CONCLUSIONS:
MLB is an inhibitor of lipid peroxidation and scavenge superoxide anions and hydroxyl radicals both in vitro and ex vivo.
Exp. Mol. Med., 2011, 43(6):341-9.
Antifibrotic effects of magnesium lithospermate B on hepatic stellate cells and thioacetamide-induced cirrhotic rats.[Pubmed:
21499011
]
Magnesium Lithospermate B (Monomethyl lithospermate B,MLB) is one of the major active components of Salvia miltiorrhizae. The anti-oxidative effects of Salvia miltiorrhizae have been previously reported. The aim of this study was to investigate the effect of purified MLB on hepatic fibrosis in rats and on the fibrogenic responses in hepatic stellate cells (HSCs).
METHODS AND RESULTS:
Hepatic fibrosis was induced in rats by intraperitoneal thioacetamide (TAA) injections over a period of 8 or 12 weeks. MLB was orally administered daily by gavage tube. Serum AST and ALT levels in TAA+ MLB group were significantly lower than those in TAA only group at week 8. Hepatic fibrosis was significantly attenuated in TAA+MLB group than in TAA only group at week 8 or 12. Activation of HSCs was also decreased in TAA+MLB group as compared to TAA only group. Hepatic mRNA expression of α-smooth muscle actin (α-SMA), TGF-β1, and collagen α1(I) was significantly decreased in TAA+MLB group as compared to TAA only group. Incubation with HSCs and MLB (>or=100 μM) for up to 48 h showed no cytotoxicity. MLB suppressed PDGF-induced HSC proliferation. MLB inhibited NF-ΚB transcriptional activation and monocyte chemotactic protein 1 (MCP-1) production in HSCs. MLB strongly suppressed H(2)O(2)-induced reactive oxygen species (ROS) generation in HSCs, and MLB inhibited type I collagen secretion in HSCs.
CONCLUSIONS:
We concluded that MLB has potent antifibrotic effect in TAA-treated cirrhotic rats, and inhibits fibrogenic responses in HSCs. These data suggest that MLB has potential as a novel therapy for hepatic fibrosis.