Pseudolycorine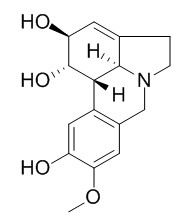 Pseudolycorine, primarily studied as a new antiviral agent , it also shows remarkable antileukemic activity; it can halt HeLa cell growth at 10-1 mM or lower concentrations, it at its growth inhibitory concentrations blocks protein synthesis in ascites cells and stabilize HeLa cell polysomes in vivo. Pseudolycorine and haemanthamine show good activity in in vitro assays against Trypanosoma brucei rhodesiense, T. cruzi and Plasmodium falciparum with IC50 values in the range of 3.66 uM or lower.
Inquire / Order: manager@chemfaces.com
Technical Inquiries: service@chemfaces.com
Tel: +86-27-84237783
Fax: +86-27-84254680

Address:
1 Building, No. 83, CheCheng Rd., Wuhan Economic and Technological Development Zone, Wuhan, Hubei 430056, PRC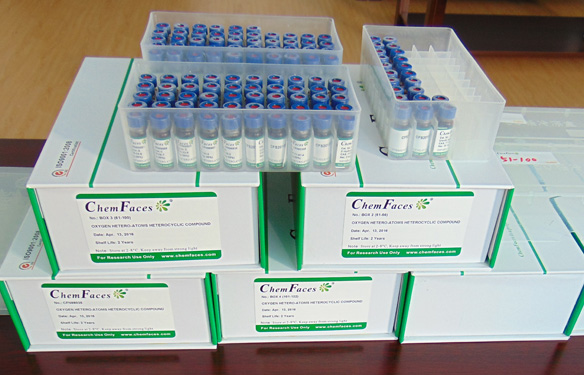 Providing storage is as stated on the product vial and the vial is kept tightly sealed, the product can be stored for up to
24 months(2-8C)
.
Wherever possible, you should prepare and use solutions on the same day. However, if you need to make up stock solutions in advance, we recommend that you store the solution as aliquots in tightly sealed vials at -20C. Generally, these will be useable for up to two weeks. Before use, and prior to opening the vial we recommend that you allow your product to equilibrate to room temperature for at least 1 hour.
Need more advice on solubility, usage and handling? Please email to: service@chemfaces.com
The packaging of the product may have turned upside down during transportation, resulting in the natural compounds adhering to the neck or cap of the vial. take the vial out of its packaging and gently shake to let the compounds fall to the bottom of the vial. for liquid products, centrifuge at 200-500 RPM to gather the liquid at the bottom of the vial. try to avoid loss or contamination during handling.
Food Research International2016, 106-113
Virulence.2018, 9(1):588-603
J of the Korean Society of Cosmetics and Cosmetology2018, 399-406
Food Chem.2018, 252:207-214
Proc Natl Acad Sci USA.2016, 113(30):E4407-1
Bulletin of Health Research2016, 44(4):279-286
Int J Mol Sci.2018, 19(9):E2528
Arch Biochem Biophys.2018, 644:93-99
Tumour Biol.2015, 36(9):7027-34
J Funct Foods2019, 54:449-456
J Nat Prod. 2010 Jul 23;73(7):1223-7.
Amaryllidaceae alkaloids belonging to different structural subgroups display activity against apoptosis-resistant cancer cells.[Pubmed:
20550100
]
Fifteen Amaryllidaceae alkaloids (1-15) were evaluated for their antiproliferative activities against six distinct cancer cell lines.
METHODS AND RESULTS:
Several of these natural products were found to have low micromolar antiproliferative potencies. The log P values of these compounds did not influence their observed activity. When active, the compounds displayed cytostatic, not cytotoxic activity, with the exception of Pseudolycorine (3), which exhibited cytotoxic profiles. The active compounds showed similar efficacies toward cancer cells irrespective of whether the cell lines were responsive or resistant to proapoptotic stimuli.
CONCLUSIONS:
Altogether, the data from the present study revealed that lycorine (1), amarbellisine (6), haemanthamine (14), and haemanthidine (15) are potentially useful chemical scaffolds to generate further compounds to combat cancers associated with poor prognoses, especially those naturally resistant to apoptosis, such as glioblastoma, melanoma, non-small-cell lung, and metastatic cancers.
Phytochem. Lett., 2010, 3(3):161-3.
In vitro antiprotozoal activity of alkaloids from Phaedranassa dubia (Amaryllidaceae).[Reference:
WebLink
]
The bulbs of Phaedranassa dubia (Amaryllidaceae) were found to contain the novel compound phaedranamine, together with seven known alkaloids.
METHODS AND RESULTS:
The structure and stereochemistry of the alkaloids were determined by physical and spectroscopic methods. An in vitro screening against four different parasitic protozoa was carried out using the isolated compounds. The alkaloids ungeremine, Pseudolycorine and haemanthamine showed good activity in in vitro assays against Trypanosoma brucei rhodesiense, T. cruzi and Plasmodium falciparum with IC50 values in the range of 3.66 μM or lower.
Proc. Soc. Exp. Biol. Med., 1971 ,136(4): 1168-73.
Therapeutic Activity of Narcissus Alkaloid on Rauscher Leukemia and Comparison with Standard Drugs[Reference:
WebLink
]

METHODS AND RESULTS:
An alkaloid (2-X), tentatively identified as Pseudolycorine, has been isolated from Narcissus tazetta L. This alkaloid, primarily studied as a new antiviral agent derived from the screening of medicinal plants of the Pacific area, has been shown to exert a superior prolongation effect on the life span of established Rauscher leukemic mice having palpable splenomegaly, in comparison with standard antileukemic drugs.
CONCLUSIONS:
It was found that the alkaloid suppressed the development of splenomegaly and the increase in number of nucleated blood cells, and dropped the virus titer in plasma without apparent toxicity. A second alkaloidal complex, called residual alkaloid, also showed remarkable antileukemic activity.
Biochim Biophys Acta. 1976 Mar 17;425(3):342-8.
Inhibitors of protein synthesis in eukarytic cells. Comparative effects of some amaryllidaceae alkaloids.[Pubmed:
944052
]

METHODS AND RESULTS:
The effects of eighteen compounds obtained from bulbs of the Amaryllidaceae family were tested on (a) animal cell growth, (b) DNA, RNA and protein synthesis by intact cells and (c) protein synthesis in cell-free systems. Dihydrolycorine, haemanthamine, lycorine, narciclasine, pretazettine and Pseudolycorine halted HeLa cell growth at 10(-1) mM or lower concentrations. These compounds at their growth inhibitory concentrations block protein synthesis in ascites cells and stabilize HeLa cell polysomes in vivo. Endomyocarditis virus RNA-directed cell-free polypeptide synthesis by an ascites S-30 extract and acetyl-[14C]leucyl-puromycin formation by ascites ribosomes are also inhibited by the six compounds indicated above.
CONCLUSIONS:
It is therefore concluded that they halt protein synthesis in eukaryotic cells by inhibiting the peptide bone formation step.