Lycorine chloride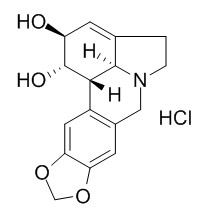 Lycorine chloride( Lycorine hydrochloride) is a VE-cadherin inhibitor with the IC50 of 1.2μM in Hey1B cell. It selectively inhibited ovarian cancer cell proliferation and neovascularization and is a potential drug candidate for anti-ovarian cancer therapy.
Inquire / Order: manager@chemfaces.com
Technical Inquiries: service@chemfaces.com
Tel: +86-27-84237783
Fax: +86-27-84254680

Address:
1 Building, No. 83, CheCheng Rd., Wuhan Economic and Technological Development Zone, Wuhan, Hubei 430056, PRC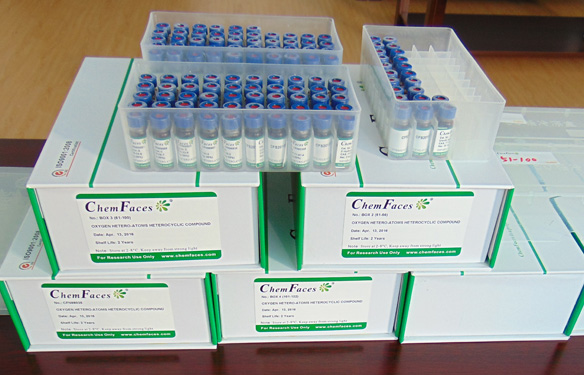 Providing storage is as stated on the product vial and the vial is kept tightly sealed, the product can be stored for up to
24 months(2-8C)
.
Wherever possible, you should prepare and use solutions on the same day. However, if you need to make up stock solutions in advance, we recommend that you store the solution as aliquots in tightly sealed vials at -20C. Generally, these will be useable for up to two weeks. Before use, and prior to opening the vial we recommend that you allow your product to equilibrate to room temperature for at least 1 hour.
Need more advice on solubility, usage and handling? Please email to: service@chemfaces.com
The packaging of the product may have turned upside down during transportation, resulting in the natural compounds adhering to the neck or cap of the vial. take the vial out of its packaging and gently shake to let the compounds fall to the bottom of the vial. for liquid products, centrifuge at 200-500 RPM to gather the liquid at the bottom of the vial. try to avoid loss or contamination during handling.
J Food Biochem.2019, 43(9):e12970
Life Sci.2018, 209:498-506
J of Health Science and Alternative Medicine2019, 1(1)
J Breast Cancer.2015, 18(2):112-118
Front Neurosci.2019, 13:1091
Microb Pathog.2019, 131:128-134
Evid Based Complement Alternat Med.2018, 2018:3610494
APMIS.2019, 127(10):688-695
Trop J Nat Prod Res.2019, 3(1):6-9
Mediators Inflamm. 2016, 2016:6189590
Pigment Cell Melanoma Res, 2012,25(5):630-8.
Lycorine hydrochloride inhibits metastatic melanoma cell-dominant vasculogenic mimicry.[Pubmed:
22781316
]
Melanoma cells actively participate in tumor angiogenesis and vasculogenic mimicry. However, anti-angiogenic therapy in patients with melanoma has not shown a significant survival gain. Thus, new anti-melanoma angiogenic and vasculogenic drugs are highly desired.
METHODS AND RESULTS:
Using the metastatic melanoma cell line C8161 as a model, we explored melanoma vasculogenic inhibitors and found that lycorine hydrochloride (Lycorine chloride,LH) effectively suppressed C8161 cell-dominant formation of capillary-like tubes in vitro and generation of tumor blood vessels in vivo with low toxicity. Mechanistic studies revealed that LH markedly hindered expression of VE-cadherin in C8161 cells, but did not affect expression of six other important angiogenic and vasculogenic genes. Luciferase assays showed that LH significantly impeded promoter activity of the VE-cadherin gene in a dose-dependent manner.
CONCLUSIONS:
Together, these data suggest that LH inhibits melanoma C8161 cell-dominant vasculogenic mimicry by reducing VE-cadherin gene expression and diminishing cell surface exposure of the protein.
Toxicol Lett. 2013 Apr 12;218(2):174-85
Lycorine hydrochloride selectively inhibits human ovarian cancer cell proliferation and tumor neovascularization with very low toxicity.[Pubmed:
23376478
]
Uncontrolled tumor cell proliferation and robust neovascularization are prominent features of aggressive ovarian cancers. Although great efforts in anti-ovarian cancer therapy have been made in the past 4 decades, the 5-year survival rates for ovarian cancer patients are still poor, and effective drugs to cure ovarian cancer patients are absent.
METHODS AND RESULTS:
In this study, we evaluated the anti-cancer effects of lycorine hydrochloride (Lycorine chloride,LH), a novel anti-ovarian cancer agent, using the highly-invasive ovarian cancer cell line, Hey1B, as a model. Our data showed that LH effectively inhibited mitotic proliferation of Hey1B cells (half maximal inhibitory concentration=1.2μM) with very low toxicity, resulting in cell cycle arrest at the G2/M transition through enhanced expression of the cell cycle inhibitor p21 and marked down-regulation of cyclin D3 expression. Moreover, LH suppressed both the formation of capillary-like tubes by Hey1B cells cultured in vitro and the ovarian cancer cell-dominant neovascularization in vivo when administered to Hey1B-xenotransplanted mice. LH also suppressed the expression of several key angiogenic genes, including VE-cadherin, vascular endothelial growth factor, and Sema4D, and reduced Akt phosphorylation in Hey1B cells.
CONCLUSIONS:
These results suggest that LH selectively inhibits ovarian cancer cell proliferation and neovascularization and is a potential drug candidate for anti-ovarian cancer therapy.