Lucidumol A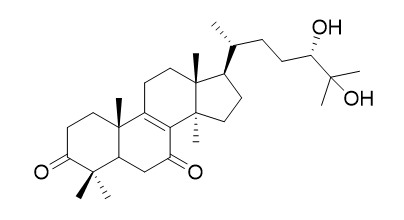 Lucidumol A has relatively good effect against aldose reductase with IC50 of 19.1uM. Lucidumol A has cytotoxic activity, it reduced cell growth in three human carcinoma cells (Caco-2, HepG2, and HeLa cells) dose dependently with LC50s from 20.87 to 84.36 uM.
Inquire / Order: manager@chemfaces.com
Technical Inquiries: service@chemfaces.com
Tel: +86-27-84237783
Fax: +86-27-84254680

Address:
1 Building, No. 83, CheCheng Rd., Wuhan Economic and Technological Development Zone, Wuhan, Hubei 430056, PRC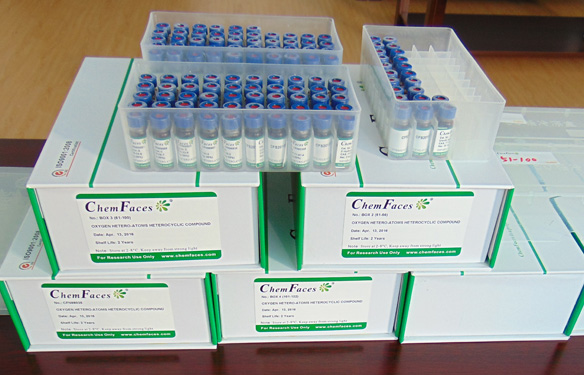 Providing storage is as stated on the product vial and the vial is kept tightly sealed, the product can be stored for up to
24 months(2-8C)
.
Wherever possible, you should prepare and use solutions on the same day. However, if you need to make up stock solutions in advance, we recommend that you store the solution as aliquots in tightly sealed vials at -20C. Generally, these will be useable for up to two weeks. Before use, and prior to opening the vial we recommend that you allow your product to equilibrate to room temperature for at least 1 hour.
Need more advice on solubility, usage and handling? Please email to: service@chemfaces.com
The packaging of the product may have turned upside down during transportation, resulting in the natural compounds adhering to the neck or cap of the vial. take the vial out of its packaging and gently shake to let the compounds fall to the bottom of the vial. for liquid products, centrifuge at 200-500 RPM to gather the liquid at the bottom of the vial. try to avoid loss or contamination during handling.
Biomed Pharmacother.2019, 116:108987
Drug Des Devel Ther.2020, 14:969-976.
Molecules.2019, 24(6):E1155
Int J Immunopathol Pharmacol.2019, 33:2058738419857537
Int J Pharmacol2020, 16:1-9
J Clin Med.2019, 8(10):E1664
Phytomedicine.2020, 79, 153351
Anticancer Res.2014, 34(7):3505-9
BMC Complement Altern Med.2016, 16:213
Virulence.2018, 9(1):588-603
Phytother Res. 2015 Nov;29(11):1744-52.
Distinct Responses of Cytotoxic Ganoderma lucidum Triterpenoids in Human Carcinoma Cells.[Pubmed:
26292672
]
The medicinal mushroom Ganoderma lucidum is well recognized for its effective cancer-preventative and therapeutic properties, while specific components responsible for these anticancer effects are not well studied.
METHODS AND RESULTS:
Six triterpenoids that are ganolucidic acid E, Lucidumol A, ganodermanontriol, 7-oxo-ganoderic acid Z, 15-hydroxy-ganoderic acid S, and ganoderic acid DM were isolated and identified from an extract of the mushroom. All compounds reduced cell growth in three human carcinoma cells (Caco-2, HepG2, and HeLa cells) dose dependently with LC50s from 20.87 to 84.36 μM. Moreover, the six compounds induced apoptosis in HeLa cells with a maximum increase (22%) of sub-G1 accumulations and 43.03% apoptotic cells in terminal deoxynucleotidyl transferase dUTP nick end labeling (TUNEL) assay (15-hydroxy-ganoderic acid S treatment). Apoptosis was further confirmed by annexin-V staining. Four of the compounds also caused apoptosis in Caco-2 cells with maximum 9.5% increase of sub-G1 accumulations (7-oxo-ganoderic acid Z treatment) and maximum 29.84% apoptotic cells in TUNEL assay (ganoderic acid DM treatment). Contrarily, none of the compounds induced apoptosis in HepG2 cells.
CONCLUSIONS:
The different responses of the three cell lines following these treatments indicated that the bioactive properties of these compounds may vary from cells of different sites of origin and are likely acting under diverse regulatory mechanisms.
Fitoterapia. 2017 Jul;120:6-16.
Triterpenes and meroterpenes from Ganoderma lucidum with inhibitory activity against HMGs reductase, aldose reductase and α-glucosidase.[Pubmed:
28527898
]
Seven new compounds including four lanostane triterpenoids, lucidenic acids Q-S (1-3) and methyl ganoderate P (4), and three triterpene-farnesyl hydroquinone conjugates, ganolucinins A-C (5-7), one new natural product ganomycin J (8), and 73 known compounds (9-81) were isolated from fruiting bodies of Ganoderma lucidum.
METHODS AND RESULTS:
The structures of the compounds 1-8 were determined by spectroscopic methods. Bioactivities of compounds isolated were assayed against HMG-CoA reductase, aldose reductase, α-glucosidase, and PTP1B. Ganolucidic acid η (39), ganoderenic acid K (44), ganomycin J (8), and ganomycin B (61) showed strong inhibitory activity against HMG-CoA reductase with IC50 of 29.8, 16.5, 30.3 and 14.3μM, respectively. Lucidumol A (67) had relatively good effect against aldose reductase with IC50 of 19.1μM. Farnesyl hydroquinones ganomycin J (8), ganomycin B (61), ganomycin I (62), and triterpene-farnesyl hydroquinone conjugates ganoleuconin M (76) and ganoleuconin O (79) possessed good inhibitory activity against α-glucosidase with IC50 in the range of 7.8 to 21.5μM.
CONCLUSIONS:
This work provides chemical and biological evidence for the usage of extracts of G. lucidum as herbal medicine and food supplements for the control of hyperglycemic and hyperlipidemic symptoms.