Galantamine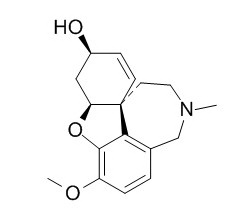 Galantamine is an acetylcholinesterase inhibitor, can reduce brain damage induced by hypoxia-ischemia. It may be a candidate drug for treating relapses of METH-seeking behavior.
Inquire / Order: manager@chemfaces.com
Technical Inquiries: service@chemfaces.com
Tel: +86-27-84237783
Fax: +86-27-84254680

Address:
1 Building, No. 83, CheCheng Rd., Wuhan Economic and Technological Development Zone, Wuhan, Hubei 430056, PRC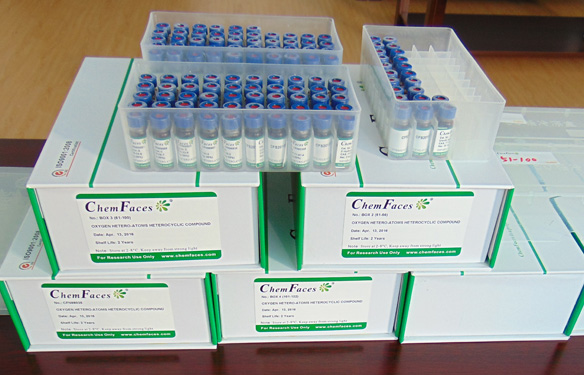 Providing storage is as stated on the product vial and the vial is kept tightly sealed, the product can be stored for up to
24 months(2-8C)
.
Wherever possible, you should prepare and use solutions on the same day. However, if you need to make up stock solutions in advance, we recommend that you store the solution as aliquots in tightly sealed vials at -20C. Generally, these will be useable for up to two weeks. Before use, and prior to opening the vial we recommend that you allow your product to equilibrate to room temperature for at least 1 hour.
Need more advice on solubility, usage and handling? Please email to: service@chemfaces.com
The packaging of the product may have turned upside down during transportation, resulting in the natural compounds adhering to the neck or cap of the vial. take the vial out of its packaging and gently shake to let the compounds fall to the bottom of the vial. for liquid products, centrifuge at 200-500 RPM to gather the liquid at the bottom of the vial. try to avoid loss or contamination during handling.
Antioxidants (Basel).2020, 9(2):E120
Front Pharmacol.2019, 10:1226
Phytomedicine.2018, 38:45-56
Mol Pharm.2018, 15(8):3285-3296
Microb Pathog.2019, 131:128-134
J of Ana. Chem.2019, 74(11):1113-1121
Food and Fermentation Industries2018, 44(371)
Pharmacognosy Journal2019, 11,6:1235-1241
Mol Med Rep.2015, 12(5):7789-95
Planta Med.2019, 85(4):347-355
Neurotoxicology. 2014 Sep;44:270-8.
Galantamine prevents long-lasting suppression of excitatory synaptic transmission in CA1 pyramidal neurons of soman-challenged guinea pigs.[Pubmed:
25064080
]
Galantamine, a drug currently approved for the treatment of Alzheimer's disease, has recently emerged as an effective pretreatment against the acute toxicity and delayed cognitive deficits induced by organophosphorus (OP) nerve agents, including soman. Since cognitive deficits can result from impaired glutamatergic transmission in the hippocampus, the present study was designed to test the hypothesis that hippocampal glutamatergic transmission declines following an acute exposure to soman and that this effect can be prevented by Galantamine.
METHODS AND RESULTS:
To test this hypothesis, spontaneous excitatory postsynaptic currents (EPSCs) were recorded from CA1 pyramidal neurons in hippocampal slices obtained at 1h, 24h, or 6-9 days after guinea pigs were injected with: (i) 1×LD50 soman (26.3μg/kg, s.c.); (ii) Galantamine (8mg/kg, i.m.) followed 30min later by 1×LD50 soman, (iii) Galantamine (8mg/kg, i.m.), or (iv) saline (0.5ml/kg, i.m.). In soman-injected guinea pigs that were not pretreated with Galantamine, the frequency of EPSCs was significantly lower than that recorded from saline-injected animals. There was no correlation between the severity of soman-induced acute toxicity and the magnitude of soman-induced reduction of EPSC frequency. Pretreatment with Galantamine prevented the reduction of EPSC frequency observed at 6-9 days after the soman challenge.
CONCLUSIONS:
Prevention of soman-induced long-lasting reduction of hippocampal glutamatergic synaptic transmission may be an important determinant of the ability of Galantamine to counter cognitive deficits that develop long after an acute exposure to the nerve agent.
Acta Neurol Scand. 2014 Jun;129(6):382-92.
Galantamine treatment in outpatients with mild Alzheimer's disease.[Pubmed:
24461047
]
To assess long-term effectiveness of Galantamine in community-dwelling persons with mild Alzheimer's disease.
METHODS AND RESULTS:
Prospective open-label trial including patients with mild AD (NINCDS-ADRDA criteria) treated with Galantamine for up to 36 months. Outcome parameters included ADAS-cog/11, Bayer-ADL scale (self- and caregivers' ratings), 10-item NPI and CGI-change, safety and tolerability measures. Data are presented based on ITT analyses (LOCF). Seventy-five patients (55% women; mean ADAS-cog 22.3; mean age 70.2 years) were treated with Galantamine for approximately 36 months. About 60% (n=45) received a total daily dose of 24 mg Galantamine at final visit. After 3, 6, and 12 months of treatment, mean improvements in ADAS-cog ranged between 2.2 and 3.0 points (all P<0.05). After 24-month treatment, ADAS-cog returned to baseline value and at 3-year follow-up, patient deteriorated on average by 2.9 points. There was significant improvement on the NPI scale between baseline and 3- to 12-month follow-up (all P<0.05) and at 3-year endpoint, a slight deterioration was noted. Activities of daily living (B-ADL) decreased significantly after 24 months in self-ratings and after 12 months in caregivers' ratings. Fifty-four patients reported at least one AE, most of them occurring during the first 2 years of treatment. Among the most frequently (>10%) reported AEs irrespective of causal relationship to study medication were nausea (17.3%), dizziness (12%), and vomiting (10.7%).
CONCLUSIONS:
Galantamine was generally safe and well tolerated during the 3-year observation period. Cognition, behavior, and activities of daily living improved during 12 months treatment. At 3-year follow-up, worsening in all outcomes was measured; however, cognition remained improved compared with an untreated population.
Invert Neurosci. 2014 Sep;14(2):91-101.
Galantamine reverses scopolamine-induced behavioral alterations in Dugesia tigrina.[Pubmed:
24402079
]

METHODS AND RESULTS:
In planaria (Dugesia tigrina), scopolamine, a nonselective muscarinic receptor antagonist, induced distinct behaviors of attenuated motility and C-like hyperactivity. Planarian locomotor velocity (pLMV) displayed a dose-dependent negative correlation with scopolamine concentrations from 0.001 to 1.0 mM, and a further increase in scopolamine concentration to 2.25 mM did not further decrease pLMV. Planarian hyperactivity counts was dose-dependently increased following pretreatment with scopolamine concentrations from 0.001 to 0.5 mM and then decreased for scopolamine concentrations ≥ 1 mM. Planarian learning and memory investigated using classical Pavlovian conditioning experiments demonstrated that scopolamine (1 mM) negatively influenced associative learning indicated by a significant decrease in % positive behaviors from 86 % (control) to 14 % (1 mM scopolamine) and similarly altered memory retention, which is indicated by a decrease in % positive behaviors from 69 % (control) to 27 % (1 mM scopolamine). Galantamine demonstrated a complex behavior in planarian motility experiments since co-application of low concentrations of Galantamine (0.001 and 0.01 mM) protected planaria against 1 mM scopolamine-induced motility impairments; however, pLMV was significantly decreased when planaria were tested in the presence of 0.1 mM Galantamine alone. Effects of co-treatment of scopolamine and Galantamine on memory retention in planaria via classical Pavlovian conditioning experiments showed that Galantamine (0.01 mM) partially reversed scopolamine (1 mM)-induced memory deficits in planaria as the % positive behaviors increased from 27 to 63 %.
CONCLUSIONS:
The results demonstrate, for the first time in planaria, scopolamine's effects in causing learning and memory impairments and Galantamine's ability in reversing scopolamine-induced memory impairments.
Addict Biol. 2014 Jan;19(1):1-4.
Galantamine attenuates reinstatement of cue-induced methamphetamine-seeking behavior in mice.[Pubmed:
22260318
]
Methamphetamine (METH) dependence is becoming a serious socioeconomic health problem worldwide. The enhancement of the cholinergic nervous system is expected to greatly alleviate drug dependence.
METHODS AND RESULTS:
We investigated the effect of Galantamine on the reinstatement of cue-induced METH-seeking behavior using a self-administration experiment. Treatment with Galantamine (1 mg/kg, p.o.) 30 minutes before exposure to the cues suppressed the reinstatement of METH-seeking behavior. However, Galantamine did not affect the cue-induced reinstatement of food-seeking behavior or locomotor activity.
CONCLUSIONS:
These results suggest that Galantamine may be a candidate drug for treating relapses of METH-seeking behavior.
Int J Dev Neurosci. 2014 Oct;37:52-7.
Galantamine, an acetylcholinesterase inhibitor, reduces brain damage induced by hypoxia-ischemia in newborn rats.[Pubmed:
24972037
]
Our aim is to elucidate whether Galantamine, known as an acetylcholinesterase inhibitor, reduces brain damage induced by hypoxia-ischemia (HI).
METHODS AND RESULTS:
7-day-old Wistar rats were used. Rats were subjected to left carotid artery ligation followed by 2 h of hypoxia (8% oxygen). We injected Galantamine intraperitoneally just before hypoxia (5.0 mg/kg, n=14; 2.5 mg/kg, n=9; 1.0mg/kg, n=11) and after hypoxia (5.0mg/kg, n=7) to determine its neuroprotective effect. An equivalent volume of saline was administered as a control before (n=31) and after hypoxic load (n=7). We also examined the production of IL-1β in the ligated hemisphere side after injection of Galantamine (prior hypoxia; 5.0 mg/kg, n=7) or saline (n=8). Brains were analyzed 7 days after HI. Two of the 5.0 mg/kg Galantamine pre-treated rats and a post-treated rat died during experiments. The remaining survived and 5.0mg/kg Galantamine pre-treated rats showed a marked reduction of brain damage (p<0.01) compared with the control. The other Galantamine groups had severe brain damage similar to controls. Microglial accumulation was significantly reduced in rats pre-treated with 5.0 mg/kg of Galantamine compared to control rats on both the hippocampus (p=0.02) and cortex (p<0.01). In contrast, the other Galantamine groups showed a lower suppressive effect on microglial accumulation compared to the control. Galantamine significantly reduced IL-1β productions when compared to the control (p<0.01).
CONCLUSIONS:
Pre-treatment of Galantamine reduced brain damage with a suppressive effect on microglial accumulation and IL-1β production in a newborn rat model of HI.