Galanthaminone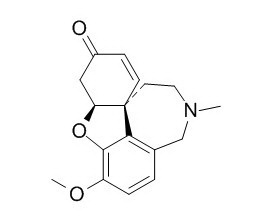 Galanthaminone (Narwedin) is a competitive and reversible cholinesterase (AChE) inhibitor; is used for the treatment of mild to moderate Alzheimer's disease and various other memory impairments.
Inquire / Order: manager@chemfaces.com
Technical Inquiries: service@chemfaces.com
Tel: +86-27-84237783
Fax: +86-27-84254680

Address:
1 Building, No. 83, CheCheng Rd., Wuhan Economic and Technological Development Zone, Wuhan, Hubei 430056, PRC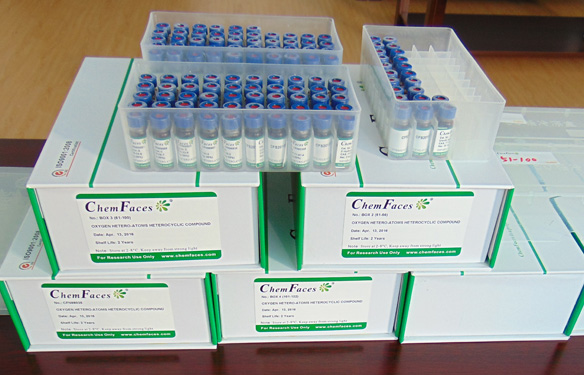 Providing storage is as stated on the product vial and the vial is kept tightly sealed, the product can be stored for up to
24 months(2-8C)
.
Wherever possible, you should prepare and use solutions on the same day. However, if you need to make up stock solutions in advance, we recommend that you store the solution as aliquots in tightly sealed vials at -20C. Generally, these will be useable for up to two weeks. Before use, and prior to opening the vial we recommend that you allow your product to equilibrate to room temperature for at least 1 hour.
Need more advice on solubility, usage and handling? Please email to: service@chemfaces.com
The packaging of the product may have turned upside down during transportation, resulting in the natural compounds adhering to the neck or cap of the vial. take the vial out of its packaging and gently shake to let the compounds fall to the bottom of the vial. for liquid products, centrifuge at 200-500 RPM to gather the liquid at the bottom of the vial. try to avoid loss or contamination during handling.
Nat Prod Sci.2019, 25(3):238
Biol Pharm Bull.2017, 40(6):797-806
Phytomedicine.2019, 67:153159
Cell Metab.2020, S1550-4131(20)30002-4
China Pharmacy2015, 26(27)
Cell Chem Biol.2019, 26(1):27-34
Molecules.2016, 21(6)
Evid Based Complement Alternat Med.2018, 2018:3610494
Nutr Res Pract2019, 13:e45
J Biol Chem.2014, 289(3):1723-31
European Journal of Drug Metabolism and Pharmacokinetics,1987,12(1):25-30.
In vitro metabolism of galanthamine hydrobromide (Nivalin®) by rat and rabbit liver homogenate[Reference:
WebLink
]
The metabolism of galanthamine hydrobromide (Nivalin®) was investigated in rat and rabbit liver homogenates.
METHODS AND RESULTS:
Experiments were carried out varying several parameters of incubation: substrate (galanthamine hydrobromide, galanthamine, Galanthaminone and epigalanthamine), cofactor enrichment (NADPH, NADP/G-6-P, NAD), pH (7.4 and 9.3), time of incubation. Substrates and metabolites were identified and quantitatively determined by GC/MS. In vitro metabolism in rat liver homogenate was negligible. The experiments with rabbit liver homogenate indicated, that galanthamine was actively metabolised the major metabolites being the oxidised product — Galanthaminone, and the isomer of galanthamine — epigalantamine.
CONCLUSIONS:
The experimental results show that the metabolism of galanthamine is substrate and product stereoselective.
Clin Pharmacol Ther. 1991 Oct;50(4):420-8.
Pharmacokinetics of galanthamine in humans and corresponding cholinesterase inhibition.[Pubmed:
1914378
]

METHODS AND RESULTS:
Measurements were done to determine the plasma concentrations of galanthamine and two of its metabolites, as well as the corresponding inhibition of acetylcholinesterase activity in erythrocytes after applying 5 and 10 mg galanthamine hydrobromide as a constant-rate intravenous infusion for 30 minutes and single oral doses of 10 mg in eight healthy male volunteers. The data obtained revealed first-order pharmacokinetics, complete oral bioavailability, and a mean terminal half-life of 5.68 hours (95% confidence interval, 5.17 to 6.25 hours). Renal clearance accounted for only 25% of the total plasma clearance (CL = 0.34 L.kg-1.hr-1). Only negligible quantities of the putative metabolites, epigalanthamine and Galanthaminone, were detected in blood and urine. The inhibition of acetylcholinesterase activity was closely correlated with the pharmacokinetics of galanthamine, a median maximal value of 53% being achieved by applying 10 mg galanthamine intravenously.
CONCLUSIONS:
Analysis of in vitro and ex vivo concentration responses revealed no differences, indicating that no metabolites of galanthamine exert additional inhibition of acetylcholinesterase activity.
Pharmaceutical Bulletin 12(6), 696-705, 1964
Galanthamine Chemistry. V. Formation of Hydroxyapogalanthamine from Galanthaminone and the Synthesis of its Trimethyl Ether.[Reference:
WebLink
]

METHODS AND RESULTS:
Treatment of Galanthaminone with hydriodic acid gave hydroxyapogalanthamine, the structure of which has been elucidated by degradation to the known diphenic acid (IV). The trimethyl ether of hydroxyapogalanthamine has been synthesized by two methods, confirming the structure of this important transformation product of Galanthaminone.
CONCLUSIONS:
Based on this and other chemical evidence it has been concluded that galanthamine is represented by formula (III).