Galantamine hydrobromide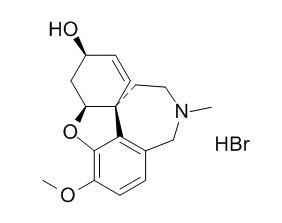 Galanthamine hydrobromide is a long-acting, centrally active acetylcholinesterase(AChE) inhibitor (IC50 = 410 nM) and allosteric potentiator at neuronal nicotinic ACh receptors.
Inquire / Order: manager@chemfaces.com
Technical Inquiries: service@chemfaces.com
Tel: +86-27-84237783
Fax: +86-27-84254680

Address:
1 Building, No. 83, CheCheng Rd., Wuhan Economic and Technological Development Zone, Wuhan, Hubei 430056, PRC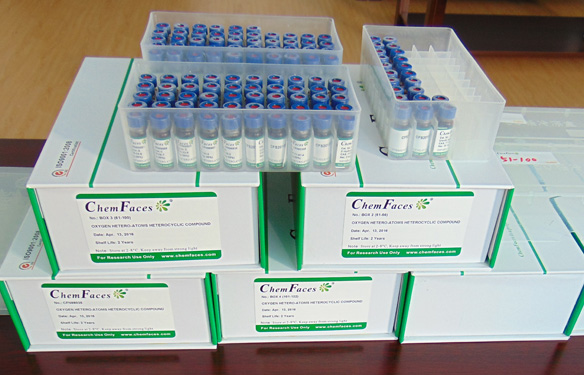 Providing storage is as stated on the product vial and the vial is kept tightly sealed, the product can be stored for up to
24 months(2-8C)
.
Wherever possible, you should prepare and use solutions on the same day. However, if you need to make up stock solutions in advance, we recommend that you store the solution as aliquots in tightly sealed vials at -20C. Generally, these will be useable for up to two weeks. Before use, and prior to opening the vial we recommend that you allow your product to equilibrate to room temperature for at least 1 hour.
Need more advice on solubility, usage and handling? Please email to: service@chemfaces.com
The packaging of the product may have turned upside down during transportation, resulting in the natural compounds adhering to the neck or cap of the vial. take the vial out of its packaging and gently shake to let the compounds fall to the bottom of the vial. for liquid products, centrifuge at 200-500 RPM to gather the liquid at the bottom of the vial. try to avoid loss or contamination during handling.
Biochem Biophys Res Commun.2019, 518(4):732-738
University of Central Lancashire2017, 20472
Cell Chem Biol.2019, 26(1):27-34
Universite de Bordeaux2017, 2017BORD0867
Korean Journal of Pharmacognosy2017, 48(4):320-328
J Chromatogr Sci.2015, 53(5):824-9
Molecules.2019, 24(16):E3003
J of L. Chroma.&Related Tech2017, 252-258
ACS Chem Biol.2019, 14(5):873-881
Biosci Biotechnol Biochem.2020, 84(3):621-632
Pharm Dev Technol. 2013 Sep-Oct;18(5):1148-58.
Development and in vivo evaluation of novel monolithic controlled release compositions of galantamine hydrobromide as against reservoir technology.[Pubmed:
21770841
]
The objective of this study is to develop and in vivo evaluation of novel monolithic matrix mini tablets approach to control the release of Galantamine hydrobromide (GAH) in comparison with desired release profile to the Innovator formulation Razadyne(®) ER capsules.
METHODS AND RESULTS:
The direct compression method was employed for preparation of matrix mini tablets as against reservoir multiparticulate pellets of innovator formulation. The matrix swellings, dissolution similarity, mean dissolution time and dissolution efficiency of formulations were evaluated. It was found that increase in the concentration of high viscosity hydroxypropylcellulose (HPC) results reduction in release rate. The drug release was shown to be pH dependent with faster rate at lower pH. The release of GAH followed first order shifting to dissolution dependent by increase of HPC content. The formulation showed stability of drug release. In vivo prediction was done by Wagner-Nelson method. Prediction errors were estimated for Cmax and area under curve (AUC) and found to be not exceeding 15%. In vivo study in human volunteers confirmed the similarity between test and innovator formulations and pharmacokinetic values were comparable between actual and predicted.
CONCLUSIONS:
These results suggest that novel monolithic matrix approach could be suitable technique to formulate controlled release GAH.
Psychiatry Investig. 2009 Sep;6(3):204-10.
The effects of galantamine hydrobromide treatment on dehydroepiandrosterone sulfate and cortisol levels in patients with chronic fatigue syndrome.[Pubmed:
20046396
]
Mental fatigue, cognitive disorders, and sleep disturbances seen in chronic fatigue syndrome (CFS) may be attributed to cholinergic deficit. A functional deficiency of cholinergic neurotransmission may cause the hypothalamic-pituitary-adrenal axis hypoactivity seen in CFS. Therefore, we investigated the alterations in stress hormones such as cortisol and dehydroepiandrosterone sulfate (DHEAS) in CFS patients before and after 4-week administration of Galantamine hydrobromide, a selective acetylcholinesterase inhibitor, and aimed to investigate whether there are any relationships between the probable hormonal changes and cholinergic treatment.
METHODS AND RESULTS:
Basal levels of cortisol and DHEAS were measured in 29 untreated CFS patients who were diagnosed according to Centers for Disease Control (CDC) criteria and in 20 healthy controls. In the patient group, four weeks after 8 mg/d Galantamine hydrobromide treatment, cortisol and DHEAS levels were measured again. After the treatment 22 patients who stayed in study were divided into two subgroups as responders and nonresponders according to the reduction in their Newcastle Research Group ME/CFS Score Card (NRG) scores. Important findings of this study are lower pre-and post-treatment cortisol levels and in all CFS patients compared to controls (F=4.129, p=0.049; F=4.803, p=0.035, respectively); higher basal DHEAS values and higher DHEAS/cortisol molar ratios which were normalized following four weeks' treatment with 8 mg/d Galantamine hydrobromide in the treatment-respondent group (F=5.382, p=0.029; F=5.722, p=0.025, respectively).
CONCLUSIONS:
The findings of the decrease in basal DHEAS levels and DHEAS/cortisol molar ratios normalizing with galantamine treatment may give some support to the cholinergic deficit hypothesis in CFS.
J Pharm Biomed Anal. 2011 Apr 28;55(1):85-92.
Stability-indicating study of the anti-Alzheimer's drug galantamine hydrobromide.[Pubmed:
21300511
]
Galantamine hydrobromide was subjected to different stress conditions (acidic, alkaline, thermal, photolytic and oxidative). Degradation was found to occur under acidic, photolytic and oxidative conditions, while the drug was stable under alkaline and elevated temperature conditions.
METHODS AND RESULTS:
A stability-indicating reversed-phase liquid chromatographic method was developed for the determination of the drug in the presence of its degradation products. The method was validated for linearity, precision, accuracy, specificity, selectivity and intermediate precision. Additionally, the degradation kinetics of the drug was assessed in relevant cases. The kinetics followed a first order behavior in the case of acidic and photolytic degradation, while a two-phase kinetics behavior was found for the oxidative degradation.
CONCLUSIONS:
The degradation products were characterized by mass spectrometry and nuclear magnetic resonance spectroscopy. Dehydration, epimerization and N-oxidation were the main processes observed during the degradation of galantamine. Moreover, if sufficient material could be isolated the inhibitory activity against the target enzyme acetylcholinesterase was also assessed.