Dihydrolycorine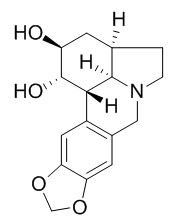 Dihydrolycorine is an inhibitors of protein synthesis in eukarytic cells, it halts protein synthesis in eukaryotic cells by inhibiting the peptide bone formation step. It protects against anoxia damage of brain in rat.Dihydrolycorine-HCL shows hypotensive effects, it can block alpha 1-adrenoceptors.
Inquire / Order: manager@chemfaces.com
Technical Inquiries: service@chemfaces.com
Tel: +86-27-84237783
Fax: +86-27-84254680

Address:
1 Building, No. 83, CheCheng Rd., Wuhan Economic and Technological Development Zone, Wuhan, Hubei 430056, PRC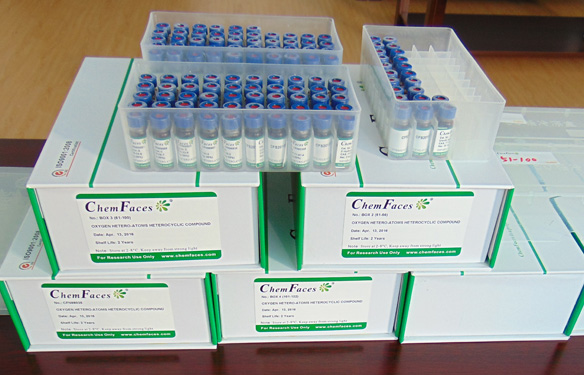 Providing storage is as stated on the product vial and the vial is kept tightly sealed, the product can be stored for up to
24 months(2-8C)
.
Wherever possible, you should prepare and use solutions on the same day. However, if you need to make up stock solutions in advance, we recommend that you store the solution as aliquots in tightly sealed vials at -20C. Generally, these will be useable for up to two weeks. Before use, and prior to opening the vial we recommend that you allow your product to equilibrate to room temperature for at least 1 hour.
Need more advice on solubility, usage and handling? Please email to: service@chemfaces.com
The packaging of the product may have turned upside down during transportation, resulting in the natural compounds adhering to the neck or cap of the vial. take the vial out of its packaging and gently shake to let the compounds fall to the bottom of the vial. for liquid products, centrifuge at 200-500 RPM to gather the liquid at the bottom of the vial. try to avoid loss or contamination during handling.
Front Aging Neurosci.2018, 10:269
The Japan Society for Analytical Chemistry2017, 613-617
Acta Agriculturae Scandinavica2015, 381-383
Phytomedicine.2019, 61:152813
Front Pharmacol.2019, 10:1226
Biochem Biophys Res Commun.2017, 494(3-4):587-593
J Food Compos Anal2017, 62:197-204
Sci Rep.2018, 8(1):12970
Scientific World Journal.2014, 2014:654193
Biomed Chromatogr.2016, 30(10):1573-81
Journal of Yunyang Medical College, 2002 , 21 (2) :71-72.
Protective Effects of Dihydrolycorine on the Anoxia Brain Damage in Rat[Reference:
WebLink
]
To investigate the effect of Dihydrolycorine on anoxia brain damage in rats.
METHODS AND RESULTS:
The model of hyperbicarbonatemia was used by stopping respirator to record the reemerge time and recovery percentage of EEG during reoxygenation for 10 minutes. Results The recovery percentage of control, DL(20 mg/kg), DL(40 mg/kg), nimodipine group is respectively (32.15±33.68)%, (75.40±17.12)%, (62.50±15.81)%, (80.00±12.26)%, which showed that the drug administered markedly improved recovery of the amplitude of EEG after reoxygenation compared with the controls.
CONCLUSIONS:
It suggests that DL and nimodipine protects against anoxia damage of brain in rat.
Biochim Biophys Acta. 1976 Mar 17;425(3):342-8.
Inhibitors of protein synthesis in eukarytic cells. Comparative effects of some amaryllidaceae alkaloids.[Pubmed:
944052
]

METHODS AND RESULTS:
The effects of eighteen compounds obtained from bulbs of the Amaryllidaceae family were tested on (a) animal cell growth, (b) DNA, RNA and protein synthesis by intact cells and (c) protein synthesis in cell-free systems. Dihydrolycorine, haemanthamine, lycorine, narciclasine, pretazettine and pseudolycorine halted HeLa cell growth at 10(-1) mM or lower concentrations. These compounds at their growth inhibitory concentrations block protein synthesis in ascites cells and stabilize HeLa cell polysomes in vivo. Endomyocarditis virus RNA-directed cell-free polypeptide synthesis by an ascites S-30 extract and acetyl-[14C]leucyl-puromycin formation by ascites ribosomes are also inhibited by the six compounds indicated above.
CONCLUSIONS:
It is therefore concluded that they halt protein synthesis in eukaryotic cells by inhibiting the peptide bone formation step.
Zhongguo Yao Li Xue Bao. 1993 Jan;14(1):45-9.
Hypotensive effect of dihydrolycorine.[Pubmed:
8503287
]
Dihydrolycorine-HCL(DL) is a derivative of lycorine, an alkaloid isolated from Lycoris radiata Herb.
METHODS AND RESULTS:
DL iv 20, 40, and 80 mg.kg-1 lowered the mean arterial pressure in pentobar-bitone-anesthetized normotensive rats, cats, and conscious rats either normotensive or renovascular hypertensive. In pithed rats DL depressed the hypertensive effect of reaction to electric stimulation to the T7-9 segments of spinal cord. DL also depressed the hypertensive effect of phenylephrine. In rabbit aorta ring and rat anococcygeus muscle, DL antagonized the contractile effect of methoxamine, with pA2 values of 5.93 and 6.35, respectively.
CONCLUSIONS:
These results suggest that DL can block alpha 1-adrenoceptors.