Ginsenoside MC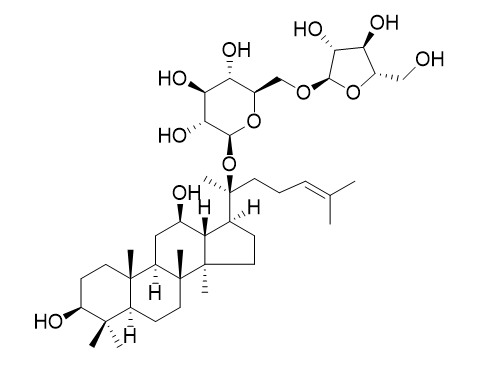 Ginsenoside MC exhibits potent antitumor activity. Ginsenoside MC has improving anti-aging, anti-acne, anti-inflammatory, anti-microbial and moisturizing effects and promoting hair growth and anti-dandruff effect.
Inquire / Order: manager@chemfaces.com
Technical Inquiries: service@chemfaces.com
Tel: +86-27-84237783
Fax: +86-27-84254680

Address:
1 Building, No. 83, CheCheng Rd., Wuhan Economic and Technological Development Zone, Wuhan, Hubei 430056, PRC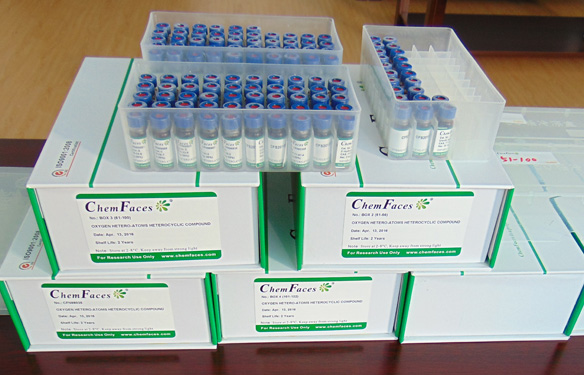 Providing storage is as stated on the product vial and the vial is kept tightly sealed, the product can be stored for up to
24 months(2-8C)
.
Wherever possible, you should prepare and use solutions on the same day. However, if you need to make up stock solutions in advance, we recommend that you store the solution as aliquots in tightly sealed vials at -20C. Generally, these will be useable for up to two weeks. Before use, and prior to opening the vial we recommend that you allow your product to equilibrate to room temperature for at least 1 hour.
Need more advice on solubility, usage and handling? Please email to: service@chemfaces.com
The packaging of the product may have turned upside down during transportation, resulting in the natural compounds adhering to the neck or cap of the vial. take the vial out of its packaging and gently shake to let the compounds fall to the bottom of the vial. for liquid products, centrifuge at 200-500 RPM to gather the liquid at the bottom of the vial. try to avoid loss or contamination during handling.
J Chromatogr B Analyt Technol Biomed Life Sci.2019, 1113:1-13
Antioxidants (Basel).2020, 9(4):284.
J AOAC Int.2021, 104(6):1634-1651.
Applied Physics B2021, 127(92).
Anal Bioanal Chem.2018, 410(5):1561-1569
Br J Pharmacol.2016, 173(2):396-410
Int J Pharm.2022, 618:121636.
Phytochem Anal.2022, doi: 10.1002
J Food Sci.2021, 86(9):3810-3823.
Front Aging Neurosci.2019, 11:230
MOREPACIFIC Corp., S. Korea .,2014,23pp
Topical compositions comprising ginsenoside Mc with anti-aging and hair growth-promoting effects.[Reference:
WebLink
]

METHODS AND RESULTS:
The present invention relates to a skin external compn. comprising Ginsenoside MC for for improving anti-aging, anti-acne, anti-inflammatory, anti-microbial and moisturizing effects and promoting hair growth and anti-dandruff effect.
Journal of Agricultural and Food Chemistry, 2007, 55(23):9373-9379.
Transformation of bioactive compounds by Fusarium sacchari fungus isolated from the soil-cultivated ginseng.[Reference:
WebLink
]
Ginsenoside bioactive compounds, namely, compound K (C-K), compound Mx (C-Mx), and Ginsenoside MC (G-Mc), were the metabolites of ginsenosides Rb 1, Rb 2, Rb 3, and Rc by intestinal microflora of humans or rats, microorganisms, and enzymes, and C-K showed beneficial effects in vitro and in vivo as an antitumoral agent. The objective of this work was to explore an efficient procedure for biotransformation of these bioactive compounds.
METHODS AND RESULTS:
Thus, a filamentous fungus, Fusarium sacchari, was first obtained from the soil-cultivated ginseng, which was verified to possess a potent capacity of transformation of C-K, C-Mx, and G-Mc. The optimal biotransformation conditions of F. sacchari with C-K, C-Mx, and G-Mc were obtained as follows: transforming temperature, 30 degrees C; transforming time, 6 days; rotary speed, 160 rpm; pH of the medium, 5.5. HPLC analysis indicated that these three bioactive compounds were key metabolites and their structures were confirmed by (1)H and (13)C NMR analysis. Moreover, the in vitro antitumor activities of C-K, C-Mx, and G-Mc and the in vivo antitumor activities of the transformed product mainly containing these compounds were also evaluated.
CONCLUSIONS:
Among C-K, C-Mx, and G-Mc, C-K exhibited the most potent antitumor activities. The in vivo study showed that the transformed products by F. sacchari had much more antitumor activity than those of commonly used ginsenoside Rg3 and Paclitaxel.