Saucerneol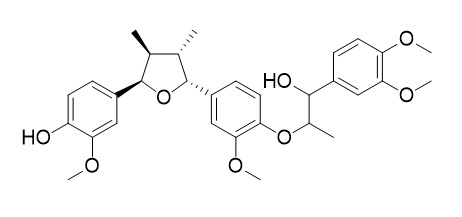 Saucerneol has significant cardiovascular effects such as vasorelaxant and negative inotropic actions.
Inquire / Order: manager@chemfaces.com
Technical Inquiries: service@chemfaces.com
Tel: +86-27-84237783
Fax: +86-27-84254680

Address:
1 Building, No. 83, CheCheng Rd., Wuhan Economic and Technological Development Zone, Wuhan, Hubei 430056, PRC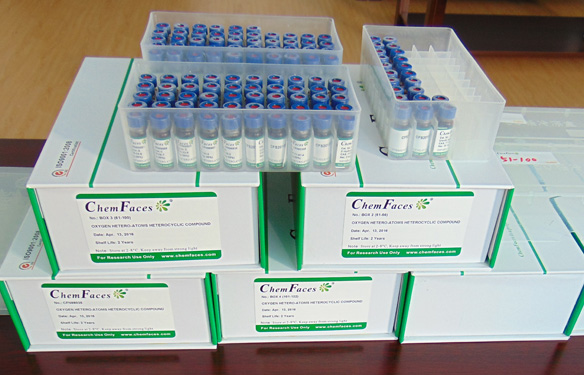 Providing storage is as stated on the product vial and the vial is kept tightly sealed, the product can be stored for up to
24 months(2-8C)
.
Wherever possible, you should prepare and use solutions on the same day. However, if you need to make up stock solutions in advance, we recommend that you store the solution as aliquots in tightly sealed vials at -20C. Generally, these will be useable for up to two weeks. Before use, and prior to opening the vial we recommend that you allow your product to equilibrate to room temperature for at least 1 hour.
Need more advice on solubility, usage and handling? Please email to: service@chemfaces.com
The packaging of the product may have turned upside down during transportation, resulting in the natural compounds adhering to the neck or cap of the vial. take the vial out of its packaging and gently shake to let the compounds fall to the bottom of the vial. for liquid products, centrifuge at 200-500 RPM to gather the liquid at the bottom of the vial. try to avoid loss or contamination during handling.
Green Chemistry2021, ISSUE 2.
J. Soc. Cosmet. Sci. Korea2021, 47(1):57-63
Int J Vitam Nutr Res.2022, doi: 10.1024.
Molecules.2021, 26(9):2765.
Nutrients2022, 14(3),695.
Enzyme Microb Technol.2019, 122:64-73
Phytomedicine.2015, 22(14):1262-8
Mol Neurobiol.2021, 58(8):3665-3676.
Molecules2021, 26(1),230
Applied Physics B2021, 127(92).
Planta Med 2008; 74(3): 233-238.
Cardiovascular Effects of Lignans Isolated from Saururus chinensis.[Reference:
WebLink
]
Saururus chinensis has been widely used as a traditional medicine for the treatment of beriberi, hypertension, pneumonia, edema, jaundice and gonorrhea. However, there is only limited information on the cardiovascular effects of S. chinensis extract or its single compounds.
METHODS AND RESULTS:
The present study was performed to investigate the effects of active lignans isolated from the extract of S. chinensis on vascular responses and heart functions. The vasorelaxant activity-guided fractionation of roots extract of S. chinensis led to the isolation of eight lignans as active principles. These lignans produced concentration-dependent relaxations of the endothelium-intact aortic preparations of rat aorta. Particularly, Saucerneol (1), Saucerneol D (2) and machilin D (8) exhibited distinctive vasorelaxant activity (EC50 values: 2.2, 12.7 and 17.8 μM, respectively), which were significantly inhibited by removal of functional endothelium or pretreatment with N G-nitro-L-arginine methyl ester. Saucerneol (1) and Saucerneol D (2) caused a significant decrease in left ventricular pressure, +dP/dtmax and heart rate in isolated hearts.
CONCLUSIONS:
These results suggest that several lignans including Saucerneol (1), Saucerneol D (2) and machilin D (8), isolated from the ethanol extract of the roots of S. chinensis, have significant cardiovascular effects such as vasorelaxant and negative inotropic actions.
Tetrahedron Letters, 1983, 24( 45):4947-4950.
Manassantins A/B and saucerneol: novel biologically active lignoids from saururus cernuus.[Reference:
WebLink
]

METHODS AND RESULTS:
From the extract of Saururus cernuus two toxic principles, manassantins A and B and a related substance, Saucerneol, were isolated.
CONCLUSIONS:
They have novel dineolignan or sesquineolignan type structures. Although toxic, manassantin A showed potential neuroleptic activity.
Advanced Materials Research,2011, Vols. 393-395
Studies on Chemical Constituents from the Aerial Parts of Saururus chinensis.[Reference:
WebLink
]
To investigate into the active chemical constituents of Sanrurus chinensis.
METHODS AND RESULTS:
Repeated silica gel column chromatography was used in the isolation and purification; determination and spectral analysis were adopted to identify the chemical structures. Nineteen chemical compounds were isolated from the aerial parts of Saururus chinensis and identified as sauchinone (1),sauchinone A (2), licarin B (3),saucernetin(4), Saucerneol I(5), Kaemferol(6), Kaemferol- 3-O-rhamnopyranosyl(1→6)glucopyranoside(7), luteolin(8), quecretin (9), quecretin-7-O-β- D-glueopyranoside (10), quecretin-7-O -α-D-glueopyranoside (11), ursolic acid(12), ellagic acid(13), p-hydroxybenzoic acid(14), gallic acid(15), 3,4-dihydroxybenzoic acid (16) , caffeic acid(17), stearic acid (18) and β-sitosterol (19).