Cichoriin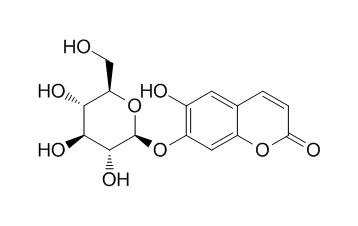 Cichoriin is a photosensitive compound, it could be used as herbal photosensitizing agent in treating benign breast tumor in rats.
Inquire / Order: manager@chemfaces.com
Technical Inquiries: service@chemfaces.com
Tel: +86-27-84237783
Fax: +86-27-84254680

Address:
1 Building, No. 83, CheCheng Rd., Wuhan Economic and Technological Development Zone, Wuhan, Hubei 430056, PRC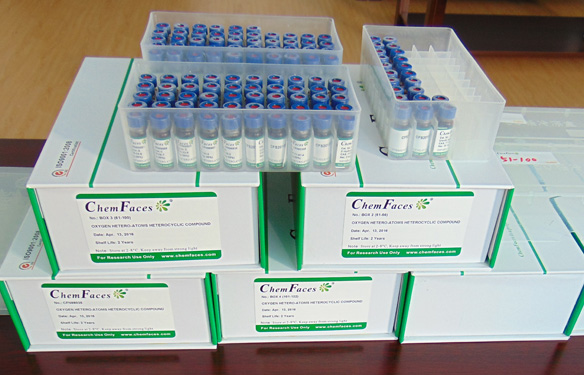 Providing storage is as stated on the product vial and the vial is kept tightly sealed, the product can be stored for up to
24 months(2-8C)
.
Wherever possible, you should prepare and use solutions on the same day. However, if you need to make up stock solutions in advance, we recommend that you store the solution as aliquots in tightly sealed vials at -20C. Generally, these will be useable for up to two weeks. Before use, and prior to opening the vial we recommend that you allow your product to equilibrate to room temperature for at least 1 hour.
Need more advice on solubility, usage and handling? Please email to: service@chemfaces.com
The packaging of the product may have turned upside down during transportation, resulting in the natural compounds adhering to the neck or cap of the vial. take the vial out of its packaging and gently shake to let the compounds fall to the bottom of the vial. for liquid products, centrifuge at 200-500 RPM to gather the liquid at the bottom of the vial. try to avoid loss or contamination during handling.
J Food Biochem.2019, 43(9):e12970
Sci Rep.2016, 6:25094
Phytomedicine.2016, 23(4):331-9
Food and Bioprocess Technology2017, 10(6):1074-1092
Biomol Ther (Seoul).2019, 10.4062
Journal of Functional Foods2017, 30:30-38
Phytochem Anal.2016, 27(5):296-303
Nat Prod Sci.2014, 20(3):182-190
Chemistry of Natural Compounds2018, 204¨C206
European Journal of Integrative Medicine2018, 20:165-172
International Journal of Biological Chemistry, 2009, 3(1):11-17.
Cytoprotective Activity of Chemical Constituents Isolated from Streptomyces sp.[Reference:
WebLink
]

METHODS AND RESULTS:
Four flavonoids including kaempferol (1), isoscutellarin (2), umbelliferone (3) and Cichoriin (4) have been isolated from Streptomyces sp. Tc052, an endophyte in the root tissue of Alpinia galanga Swartz. The evaluation for protective effect of compounds 1-4 against glutamate-induced cytotoxicity in hippocampal HT22 cell line was conducted, Compounds 1 and 2 showed significant effective protection ratios of 62.4+2.8 and 55.3+3.4%, respectively, at a concentration of 100 μM, whereas compounds 3-4 were inactive. Compounds 1 and 2 showed potent scavenging effects on DPPH radical exhibiting IC50 value of 60.74 and 75.65 μM, respectively.
CONCLUSIONS:
These results suggest that compounds 1 and 2 may possess the neuroprotective activity against oxdative cellular injuries.
Electromagn Biol Med. 2012 Dec;31(4):299-309.
Introducing Cichorium Pumilum as a potential therapeutical agent against drug-induced benign breast tumor in rats.[Pubmed:
22812448
]
Cichorium Pumilum (chicory) is could be a promising cancer treatment in which a photosensitizing drug concentrates in benign tumor cells and activated by quanta at certain wavelength. Such activated extracts could lead to cell death and tumor ablation. Previous studies have shown that Cichorium Pumilum (chicory) contains photosensitive compounds such as Cichoriin, anthocyanins, lactucin, and Lactucopicrin.
METHODS AND RESULTS:
In the present study, the protective effect of sun light-activated Cichorium against the dimethylbenz[a]anthracene (DMBA) induced benign breast tumors to female Sprague-Dawley rats was investigated. Chicory's extract has significantly increase P.carbonyl (PC) and malondialdehyde (MDA) and decreases the hepatic levels of total antioxidant capacity (TAC) and superoxide dismutase (SOD) in benign breast tumors-induced group compared to control. It also significantly decrease the number of estrogen receptors ER-positive cells in tumor masses.
CONCLUSIONS:
These results suggest that chicory extracts could be used as herbal photosensitizing agent in treating benign breast tumor in rats.