Neochamaejasmine B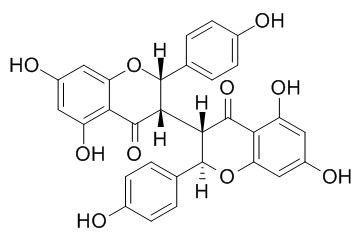 Neochamaejasmine B displays nematicidal activity against both Bursaphelenchus xylophilus and Bursaphelenchus mucronatus. It can reduce seedling growth and disrupt root development, the IC50 value of 6.9 ug/mL . Neochamaejasmine B has antibacterial activity on Gram-positive bacterium and Gram-negative bacterium.
Inquire / Order: manager@chemfaces.com
Technical Inquiries: service@chemfaces.com
Tel: +86-27-84237783
Fax: +86-27-84254680

Address:
1 Building, No. 83, CheCheng Rd., Wuhan Economic and Technological Development Zone, Wuhan, Hubei 430056, PRC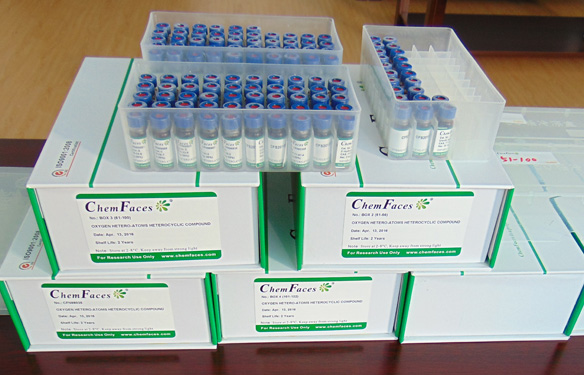 Providing storage is as stated on the product vial and the vial is kept tightly sealed, the product can be stored for up to
24 months(2-8C)
.
Wherever possible, you should prepare and use solutions on the same day. However, if you need to make up stock solutions in advance, we recommend that you store the solution as aliquots in tightly sealed vials at -20C. Generally, these will be useable for up to two weeks. Before use, and prior to opening the vial we recommend that you allow your product to equilibrate to room temperature for at least 1 hour.
Need more advice on solubility, usage and handling? Please email to: service@chemfaces.com
The packaging of the product may have turned upside down during transportation, resulting in the natural compounds adhering to the neck or cap of the vial. take the vial out of its packaging and gently shake to let the compounds fall to the bottom of the vial. for liquid products, centrifuge at 200-500 RPM to gather the liquid at the bottom of the vial. try to avoid loss or contamination during handling.
Chung Shan Medical University2020, US20200323790A1
Food Funct.2020, 10.1039
Nat Prod Sci.2019, 25(3):238
Evid Based Complement Alternat Med.2017, 2017:1401279
Mol Immunol. 2016, 78:121-132
Pharmacognosy Journal2019, 11,6:1235-1241
Plants (Basel).2020, 9(11):1535.
Acta Physiologiae Plantarum2016, 38:7
BMC Complement Altern Med.2016, 16:213
Journal of Functional Foods2019, 52:430-441
Phytochemistry. 2014 Oct;106:61-8.
Phytotoxic flavonoids from roots of Stellera chamaejasme L. (Thymelaeaceae).[Pubmed:
25096753
]
Allelopathy, the negative effect on plants of chemicals released to the surroundings by a neighboring plant, is an important factor which contributes to the spread of some weeds in plant communities.
METHODS AND RESULTS:
In this field, Stellera chamaejasme L. (Thymelaeaceae) is one of the most toxic and ecologically-threatening weeds in some of the grasslands of north and west China. Bioassay-guided fractionation of root extracts of this plant led to the isolation of eight flavonoids 1-8, whose structures were elucidated by spectroscopic analysis. All compounds obtained, except 7-methoxylneochaejasmin A (4) and (+)-epiafzelechin (5), showed strong phytotoxic activity against Arabidopsis thaliana seedlings. Seedling growth was reduced by neochamaejasmin B (Neochamaejasmine B,1), mesoneochamaejasmin A (2), chamaejasmenin C (3), genkwanol A (6), daphnodorin B (7) and dihydrodaphnodorin B (8) with IC50 values of 6.9, 12.1, 43.2, 74.8, 7.1 and 27.3ug/mL, respectively, and all of these compounds disrupted root development.
CONCLUSIONS:
Endogenous auxin levels at the root tips of the A. thaliana DR5::GUS transgenic line were largely reduced by compounds 1, 2 and 6-8, and were increased by compound 4. Moreover, the inhibition rate of A. thaliana auxin transport mutants pin2 and aux1-7 by compounds 1-8 were all lower than the wild type (Col-0).
Natural Product Research & Development, 2014 , 26 (5) :639-44.
Nematicidal Activities of Isoneochamaejasmin A and Neochamaejasmin B from the Roots of Stellera chamaejasme L.against Bursaphelenchus xylophilus and Bursaphelenchus mucronatus[Reference:
WebLink
]
Two biflavonoids were isolated from ethanol extract from the roots of Stellera chamaejasme L.,and their chemical structures were identified as isoneochamaejasmin A and neochamaejasmin B(Neochamaejasmine B) by nuclear magnetic resonance spectral data.
METHODS AND RESULTS:
The nematicidal activities of the two compounds were tested by bioassay methods with second-stage juveniles(J2s)of Bursaphelenchus xylophilus and Bursaphelenchus mucronatus. The results showed these two biflavonoids exhibited significantly nematicidal activities against both B. xylophilus and B. mucronatus. Neochamaejasmin B (Neochamaejasmine B)displayed better nematicidal activity than isoneochamaejasmin A against two species nematodes under the same conditions.
Journal of Northwest A & F University, 2008 , 36 (5) :179-184.
Further study on relationship between structure and antibacterial activity of neochamaejasmine B[Reference:
WebLink
]
It further studied the relationship between structure and antibacterial activity of Neochamaejasmine B.
METHODS AND RESULTS:
Four compounds,7''-methoxy Neochamaejasmine B(A2-1),7,7''-dimethoxy Neochamaejasmine B(E3),7,7'',4-trimethoxy Neochamaejasmine B(E1) and 4-methylene Neochamaejasmine B(D3) were prepared from Neochamaejasmine B.Their structures were confirmed by ESI-MS,1H NMR and 13C NMR.The antibacterial activity of Neochamaejasmine B and its four derivatives were tested with dish diffusion of Neo-Sensitab in vitro against S.aureas,S.agalactiae,E.coli and Samonellal. The results showed that the antibacterial activity of four derivatives against all bacteria tested was lower than that of Neochamaejasmine B.The antibacterial activity of A2-1,E3 and E1 against Samonellal disappeared at 0.625-5 mg/mL.But the order of the antibacterial activity of all compounds against other bacteria was n-B=D3A2-1E3E1.
CONCLUSIONS:
The above mentioned structure-activity relationship studies showed that 7-OH and 7''-OH of Neochamaejasmine B were the main active groups,and that 4'-OH and 4-OH had less contribution to its antibacterial activity,and that carbonyl group was not the main active group.