Myricanol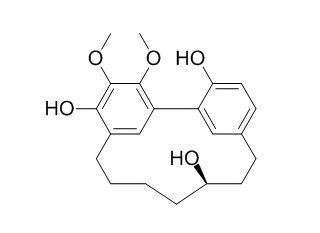 Myricanol can elicit growth inhibitory and cytotoxic effects on lung cancer cells, it can significantly decelerate tumor growth in vivo by inducing apoptosis.
Inquire / Order: manager@chemfaces.com
Technical Inquiries: service@chemfaces.com
Tel: +86-27-84237783
Fax: +86-27-84254680

Address:
1 Building, No. 83, CheCheng Rd., Wuhan Economic and Technological Development Zone, Wuhan, Hubei 430056, PRC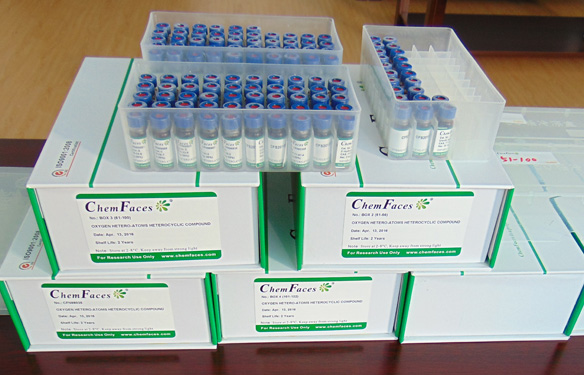 Providing storage is as stated on the product vial and the vial is kept tightly sealed, the product can be stored for up to
24 months(2-8C)
.
Wherever possible, you should prepare and use solutions on the same day. However, if you need to make up stock solutions in advance, we recommend that you store the solution as aliquots in tightly sealed vials at -20C. Generally, these will be useable for up to two weeks. Before use, and prior to opening the vial we recommend that you allow your product to equilibrate to room temperature for at least 1 hour.
Need more advice on solubility, usage and handling? Please email to: service@chemfaces.com
The packaging of the product may have turned upside down during transportation, resulting in the natural compounds adhering to the neck or cap of the vial. take the vial out of its packaging and gently shake to let the compounds fall to the bottom of the vial. for liquid products, centrifuge at 200-500 RPM to gather the liquid at the bottom of the vial. try to avoid loss or contamination during handling.
Korean J Dent Mater.2018, 45(2):139-146
Psychopharmacology (Berl).2020, 10.1007
BMC Complement Altern Med.2017, 17(1):393
Toxicol In Vitro.2018, 52:94-105
Molecules.2019, 24(9):E1719
Biomedicine & Pharmacotherapy2020, 125:109950
Phytother Res.2016, 30(12):2020-2026
Tumour Biol.2015, 36(9):7027-34
Phytomedicine.2019, 59:152785
Environ Toxicol Pharmacol.2019, 66:109-115
Phytomedicine. 2014 Sep 25;21(11):1490-6.
Growth-inhibiting and apoptosis-inducing activities of Myricanol from the bark of Myrica rubra in human lung adenocarcinoma A549 cells.[Pubmed:
24939078
]
This study investigated whether or not Myricanol extracted from M. rubra bark elicits anti-cancer effects on human lung adenocarcinoma A549 cells by inducing apoptosis in vivo.
METHODS AND RESULTS:
Myricanol was extracted from M. rubra bark through system solvent extraction and silica gel layer column separation. The results of tritiated thymidine assay, colony formation assay, and flow cytometry indicated that Myricanol inhibited the growth of A549 cells. The effects of Myricanol on the expression of key apoptosis-related genes in A549 cells were evaluated by quantitative PCR and Western blot analyses. Myricanol significantly inhibited the growth of A549 cells in a dose-dependent manner, with a half maximal inhibitory concentration of 4.85 μg/ml. Myricanol significantly decreased colony formation and induced A549 cell apoptosis. Myricanol upregulated the expression of Caspase-3, Caspase-9, Bax, and p21 and downregulated the expression of Bcl-2 at the mRNA and protein levels.
CONCLUSIONS:
These changes were associated with apoptosis. Based on these results, we propose that Myricanol elicits growth inhibitory and cytotoxic effects on lung cancer cells. Therefore, Myricanol may be a clinical candidate for the prevention and treatment of lung cancer.
ACS Chem Biol. 2015 Apr 17;10(4):1099-109.
Synthesis, stereochemical analysis, and derivatization of myricanol provide new probes that promote autophagic tau clearance.[Pubmed:
25588114
]
We previously discovered that one specific scalemic preparation of Myricanol (1), a constituent of Myrica cerifera (bayberry/southern wax myrtle) root bark, could lower the levels of the microtubule-associated protein tau (MAPT). The significance is that tau accumulates in a number of neurodegenerative diseases, the most common being Alzheimer's disease (AD).
METHODS AND RESULTS:
Herein, a new synthetic route to prepare Myricanol using a suitable boronic acid pinacol ester intermediate is reported. An X-ray crystal structure of the isolated Myricanol (1) was obtained and showed a co-crystal consisting of (+)-aR,11S-Myricanol (2) and (-)-aS,11R-Myricanol (3) coformers. Surprisingly, 3, obtained from chiral separation from 1, reduced tau levels in both cultured cells and ex vivo brain slices from a mouse model of tauopathy at reasonable mid-to-low micromolar potency, whereas 2 did not. SILAC proteomics and cell assays revealed that 3 promoted tau degradation through an autophagic mechanism, which was in contrast to that of other tau-lowering compounds previously identified by our group.
CONCLUSIONS:
During the course of structure-activity relationship (SAR) development, we prepared compound 13 by acid-catalyzed dehydration of 1. 13 had undergone an unexpected structural rearrangement through the isoMyricanol substitution pattern (e.g., 16), as verified by X-ray structural analysis. Compound 13 displayed robust tau-lowering activity, and, importantly, its enantiomers reduced tau levels similarly.
Int J Mol Sci. 2015 Jan 26;16(2):2717-31.
Myricanol induces apoptotic cell death and anti-tumor activity in non-small cell lung carcinoma in vivo.[Pubmed:
25629230
]
This study explored the inhibiting effect and mechanism of Myricanol on lung adenocarcinoma A549 xenografts in nude mice.
METHODS AND RESULTS:
Forty nude mice with subcutaneous A549 xenografts were randomly divided into five groups: high-dose Myricanol (40 mg/kg body weight) group; middle-dose Myricanol (20 mg/kg body weight) group; low-dose Myricanol (10 mg/kg body weight) group; polyethylene glycol 400 vehicle group (1 mL/kg); and tumor model group. Nude mice were sacrificed after 14 days of treatment and the tumor inhibition rate (TIR, %) was then calculated. The relative mRNA expression levels of Bax, Bcl-2, VEGF, HIF-1α, and survivin in the tumor tissues were determined by real-time PCR. TUNEL assay was applied to determine cellular apoptosis, while IHC test was performed to detect the protein expression levels of Bax, Bcl-2, VEGF, HIF-1α, and survivin. The TIR of the three Myricanol-treated groups ranged from 14.9% to 38.5%. The IHC results showed that the protein expression of Bcl-2, VEGF, HIF-1α, and survivin were consistently downregulated, whereas that of Bax was upregulated after Myricanol treatment. Myricanol also significantly upregulated the mRNA expression of Bax and downregulated that of Bcl-2, VEGF, HIF-1α, and survivin in a dose-dependent manner (p < 0.05 to 0.001).
CONCLUSIONS:
These results are consistent with those of IHC. The TUNEL assay results indicated that apoptotic-positive cells significantly increased in the Myricanol-treated tumor tissues compared with the cells of the vehicle control group (p < 0.01 to 0.001). These data suggest that Myricanol could significantly decelerate tumor growth in vivo by inducing apoptosis.