(+)-S-Myricanol glucoside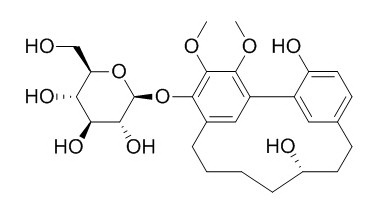 (+)-S-myricanol shows anti-oxidant and anti-inflammatory activities.
Inquire / Order: manager@chemfaces.com
Technical Inquiries: service@chemfaces.com
Tel: +86-27-84237783
Fax: +86-27-84254680

Address:
1 Building, No. 83, CheCheng Rd., Wuhan Economic and Technological Development Zone, Wuhan, Hubei 430056, PRC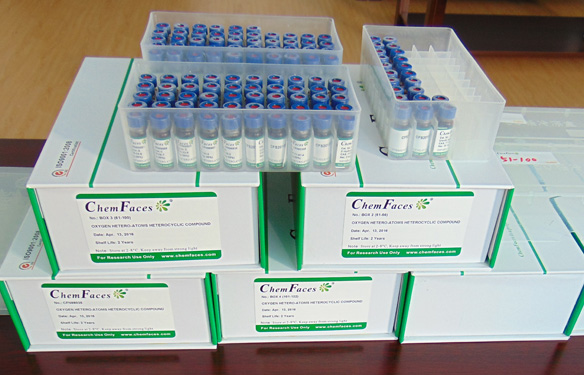 Providing storage is as stated on the product vial and the vial is kept tightly sealed, the product can be stored for up to
24 months(2-8C)
.
Wherever possible, you should prepare and use solutions on the same day. However, if you need to make up stock solutions in advance, we recommend that you store the solution as aliquots in tightly sealed vials at -20C. Generally, these will be useable for up to two weeks. Before use, and prior to opening the vial we recommend that you allow your product to equilibrate to room temperature for at least 1 hour.
Need more advice on solubility, usage and handling? Please email to: service@chemfaces.com
The packaging of the product may have turned upside down during transportation, resulting in the natural compounds adhering to the neck or cap of the vial. take the vial out of its packaging and gently shake to let the compounds fall to the bottom of the vial. for liquid products, centrifuge at 200-500 RPM to gather the liquid at the bottom of the vial. try to avoid loss or contamination during handling.
Genes Genomics.2020, 10.1007
Lab Chip.2018, 18(6):971-978
Plant Methods.2017, 13:108
Cell Mol Biol(Noisy-le-grand)2019, 65(7):77-83
Hum Exp Toxicol.2017, 36(11):1169-1176
J Sep Sci.2020, 201901140
Auburn University2015, 1-58
Food Sci Nutr.2019, 8(1):246-256
J Ethnopharmacol.2019, 228:132-141
Evid Based Complement Alternat Med.2017, 2017:1583185
Iranian journal of pharmaceutical research (IJPR),2017,6(Suppl):83-91.
Anti-oxidant and Anti-Inflammatory Cyclic Diarylheptanoids from Alnus japonica Stem Bark.[Reference:
WebLink
]

METHODS AND RESULTS:
A new cyclic diarylheptanoid namely alnuheptanoid B (3), along with four known cyclic diarylheptanoids: myricanone (1), (+)-S-myricanol ((+)-S-Myricanol glucoside, 2), myricanone 5-O-β-D-glucopyranoside (4), and (+)-S-myricanol 5-O-β-D-glucopyranoside (5) were isolated from the EtOAc fraction of Alnus japonica Steud (family: Betulaceae) stem bark. Their structures were established by different spectroscopic analyses, as well as optical rotation measurement. Compounds 1, 2, 4, and 5 are isolated for the first time from A. japonica. The antioxidant and anti-inflammatory activities of compounds (1-5) were assessed using DPPH assay and carrageenin induced rat paw edema model, respectively.
CONCLUSIONS:
They displayed significant antioxidant activity in relation to propyl gallate (standard antioxidant) at concentration 50 µM. Compound 2 demonstrated anti-inflammatory effect at a dose 10 mg/kg compared with indomethacin (positive control).