Lucidenic acid D2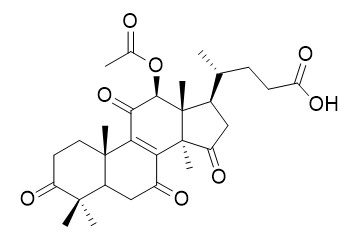 Lucidenic acid D2 is a nartural product from G. lucidum AF.
Inquire / Order: manager@chemfaces.com
Technical Inquiries: service@chemfaces.com
Tel: +86-27-84237783
Fax: +86-27-84254680

Address:
1 Building, No. 83, CheCheng Rd., Wuhan Economic and Technological Development Zone, Wuhan, Hubei 430056, PRC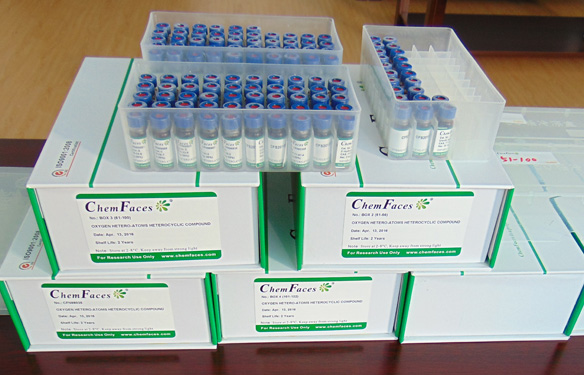 Providing storage is as stated on the product vial and the vial is kept tightly sealed, the product can be stored for up to
24 months(2-8C)
.
Wherever possible, you should prepare and use solutions on the same day. However, if you need to make up stock solutions in advance, we recommend that you store the solution as aliquots in tightly sealed vials at -20C. Generally, these will be useable for up to two weeks. Before use, and prior to opening the vial we recommend that you allow your product to equilibrate to room temperature for at least 1 hour.
Need more advice on solubility, usage and handling? Please email to: service@chemfaces.com
The packaging of the product may have turned upside down during transportation, resulting in the natural compounds adhering to the neck or cap of the vial. take the vial out of its packaging and gently shake to let the compounds fall to the bottom of the vial. for liquid products, centrifuge at 200-500 RPM to gather the liquid at the bottom of the vial. try to avoid loss or contamination during handling.
Biochem Biophys Res Commun.2017, 482(4):1095-1101
Industrial Crops and Products2019, 140:111612
J Chromatogr Sci.2015, 53(5):824-9
Front Endocrinol (Lausanne).2020, 11:568436.
Appl. Sci. 2021, 11(22), 10552
Cell Physiol Biochem.2017, 44(4):1381-1395
JEJU National University2022, 24032.
J Agric Food Chem.2015, 63(44):9869-78
Int. Conference on Med. Sci. and Bio.2017, 17973
Molecules.2018, 23(3):E615
Biochem Biophys Res Commun. 2011 Apr 29;408(1):18-24.
Lucidenic acids-rich extract from antlered form of Ganoderma lucidum enhances TNFα induction in THP-1 monocytic cells possibly via its modulation of MAP kinases p38 and JNK.[Pubmed:
21453678
]
The Ganoderma lucidum (G. lucidum) is one of the oriental fungi that has been reported to have immunomodulatory properties. Although effect of β-glucans from G. lucidum has been well documented, little is known about how other major bioactive components, the triterpenes, contribute to the immunomodulatory function of G. lucidum.
METHODS AND RESULTS:
Here, we showed that triterpenes-rich extract of antlered form of G. lucidum (G. lucidum AF) induces TNFα production in monocytic THP-1 cells. Furthermore, the extract also synergized with lipopolysaccharide (LPS) to induce TNFα production in THP-1 cells, suggesting an immunostimulatory role of triterpenes-rich extract of G. lucidum AF. Notably, the extract enhanced LPS-induced phosphorylation of p38 mitogen-activated protein kinase (MAPK), while it suppressed LPS-induced phosphorylation of c-Jun N-terminal kinase (JNK) MAPK. p38 Inhibitor suppressed TNFα production, while JNK inhibitor enhanced TNFα production, implying that synergistic effect of the extract may work by modulating p38 and JNK MAPKs. Moreover, we found that the triterpenes-rich extract of G. lucidum AF contains high amounts of lucidenic acids. Lucidenic acid A, Lucidenic acid F and Lucidenic acid D2, which seem to dominantly exist in the extract, were purified from the triterpenes-rich extract. We also identified Lucidenic acid-A and -F as modulators of JNK and p38, respectively.
CONCLUSIONS:
Thus, our data demonstrate that lucidenic acids-rich extract from G. lucidum AF enhances LPS-induced immune responses in monocytic THP-1 cells possibly via the modulation of p38 and JNK MAPKs activation.
Planta Medica, 2015, 81(11).
Biological activities of triterpenes isolated from the medicinal mushroom Ganoderma lucidum.[Reference:
WebLink
]

METHODS AND RESULTS:
Methanol extract of Ganoderma lucidum subjected to fractionation on silica gel medium pressure column afforded over 40 fractions. Further fractionation was carried out using Centrifugal Partition Chromatography (FCPC Rousselet Robatel, France), in the hexane-EtOAc-MeOH-Water systems adjusted for the polarity of each fraction. Some isolates were further purified by preparative HPLC. Methyl esters of ganoderic and lucidenic acids were obtained by methylation of the acids. Twelve compounds, including ganoderic acid A (1), methyl ganoderate A (2), methyl lucidenate A (3), methyl lucidenate F (4), Lucidenic acid D2 (5), lucidenic acid A (6), lucidenic acid N (7), ganoderic acid DM (8), ganoderic acid F (9), ganoderic acid C (10), ganoderiol F (11) and ganodermonondiol (12) were evaluated for their biological activities. Antibacterial activity was determined against Gram -positive and -negative bacteria, anti-inflammatory effect against endotoxin (lipolysaccharide, LPS) induced inflammatory response in human macrophages, and anti-proliferative effects in human breast and colon cancer cells.
CONCLUSIONS:
We identified ganoderic acid DM as the most potent triterpene with anti-bacterial, anti-inflammatory and anti-proliferative effects when compared to other Ganoderma isolates.