Alnusone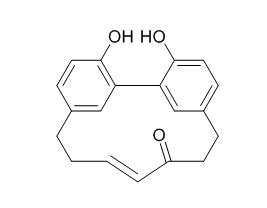 Reference standards.
Inquire / Order: manager@chemfaces.com
Technical Inquiries: service@chemfaces.com
Tel: +86-27-84237783
Fax: +86-27-84254680

Address:
1 Building, No. 83, CheCheng Rd., Wuhan Economic and Technological Development Zone, Wuhan, Hubei 430056, PRC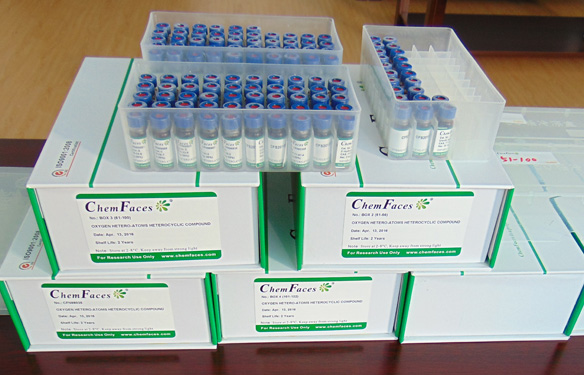 Providing storage is as stated on the product vial and the vial is kept tightly sealed, the product can be stored for up to
24 months(2-8C)
.
Wherever possible, you should prepare and use solutions on the same day. However, if you need to make up stock solutions in advance, we recommend that you store the solution as aliquots in tightly sealed vials at -20C. Generally, these will be useable for up to two weeks. Before use, and prior to opening the vial we recommend that you allow your product to equilibrate to room temperature for at least 1 hour.
Need more advice on solubility, usage and handling? Please email to: service@chemfaces.com
The packaging of the product may have turned upside down during transportation, resulting in the natural compounds adhering to the neck or cap of the vial. take the vial out of its packaging and gently shake to let the compounds fall to the bottom of the vial. for liquid products, centrifuge at 200-500 RPM to gather the liquid at the bottom of the vial. try to avoid loss or contamination during handling.
PLoS One.2018, 13(3):e0193386
Biochem Biophys Res Commun.2020, 522(1):40-46
BMC Complement Altern Med.2016, 16:213
Yakugaku Zasshi.2018, 138(4):571-579
Neuropharmacology2019, 151437
Molecules.2019, 24(16):E3003
Oncotarget.2016, 8(51):88386-88400
Phytother Res.2018, 32(12):2551-2559
Nutrients.2018, 10(10)
Industrial Crops and Products2019, 140:111612
Chem Biodivers. 2011 Dec;8(12):2270-6.
Sesquiterpenoids and diarylheptanoids from Nidus vespae and their inhibitory effects on nitric oxide production.[Pubmed:
22162164
]

METHODS AND RESULTS:
Two coriamyrtin-type sesquiterpenes, fengfangin A (1) and tutin (2), and six diarylheptanoids, namely Alnusone (3), centrolobol (4), muricarpone B (5), 1-(3,4-dihydroxyphenyl)-7-(4-hydroxyphenyl)heptan-3-one (6), (3S)-1-(3,4-dihydroxyphenyl)-7-(4-hydroxyphenyl)heptan-3-ol (7), and (3S)-1-(4-hydroxyphenyl)-7-(3,4-dihydroxyphenyl)heptan-3-ol (8), were isolated from the 95% EtOH extract of nidus vespae, the nest of Polistes species. Their structures were identified by spectroscopic methods. Compounds 1 and 8 are new products. The absolute configuration of 1 was determined by single-crystal X-ray diffraction analysis using Flack parameter.
CONCLUSIONS:
The biological tests showed that compounds 5, 6, and 8 could inhibit nitric oxide (NO) production in lipopolysaccharide (LPS)-stimulated RAW 264.7 cells with IC(50) values in the range of 13-17 μM, whereas the sesquiterpenes were inactive in this assay (>25 μM). In addition, the ecological significance of the presence of neurotoxic sesquiterpene lactones in nidus vespae is briefly discussed.