Carpinontriol B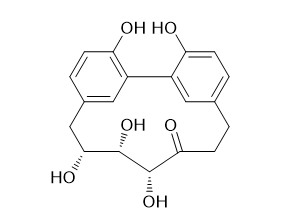 Carpinontriol B has antimicrobial activity, it at 40 ug/disk caused the formation of zones of inhibition. It also has anti-inflammatory activity, it shows considerable inhibition on the production of nitric oxide and reduces the production of interleukin-6 in dose-dependent manner in RAW 264.7 cells.
Inquire / Order: manager@chemfaces.com
Technical Inquiries: service@chemfaces.com
Tel: +86-27-84237783
Fax: +86-27-84254680

Address:
1 Building, No. 83, CheCheng Rd., Wuhan Economic and Technological Development Zone, Wuhan, Hubei 430056, PRC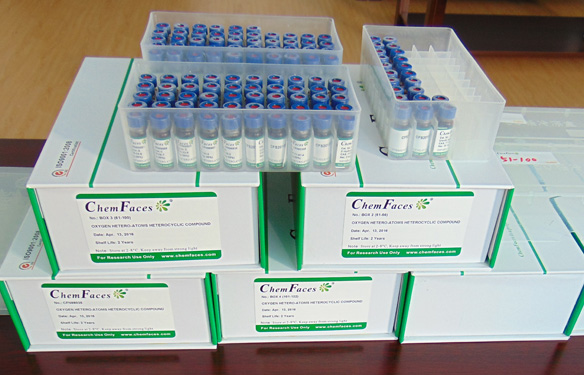 Providing storage is as stated on the product vial and the vial is kept tightly sealed, the product can be stored for up to
24 months(2-8C)
.
Wherever possible, you should prepare and use solutions on the same day. However, if you need to make up stock solutions in advance, we recommend that you store the solution as aliquots in tightly sealed vials at -20C. Generally, these will be useable for up to two weeks. Before use, and prior to opening the vial we recommend that you allow your product to equilibrate to room temperature for at least 1 hour.
Need more advice on solubility, usage and handling? Please email to: service@chemfaces.com
The packaging of the product may have turned upside down during transportation, resulting in the natural compounds adhering to the neck or cap of the vial. take the vial out of its packaging and gently shake to let the compounds fall to the bottom of the vial. for liquid products, centrifuge at 200-500 RPM to gather the liquid at the bottom of the vial. try to avoid loss or contamination during handling.
J Ethnopharmacol.2019, 236:31-41
The Journal of Agromedicine and Medical Sciences2018, 4(1)
Nutrients.2018, 11(1):E17
Korean J. Crop Sci.2018, 63(2):131-139
Korean Journal of Pharmacognosy.2019, 50(1):65-71
Biosci. Rep.2020, 10.1024
Biofactors.2018, 44(2):168-179
University of Limpopo2016, 1777
J Mol Recognit.2020, 33(2):e2819
Phytochemistry Letters2015, 243-247
J Nat Prod. 2017 Jun 23;80(6):1703-1713.
Cyclic Diarylheptanoids from Corylus avellana Green Leafy Covers: Determination of Their Absolute Configurations and Evaluation of Their Antioxidant and Antimicrobial Activities.[Pubmed:
28520428
]
The methanol extract of the leafy covers of Corylus avellana, source of the Italian PGI (protected geographical indication) product "Nocciola di Giffoni", afforded two new cyclic diarylheptanoids, giffonins T and U (2 and 3), along with two known cyclic diarylheptanoids, a quinic acid, flavonoid-, and citric acid derivatives.
METHODS AND RESULTS:
The structures of giffonins T and U were determined as highly hydroxylated cyclic diarylheptanoids by 1D and 2D NMR experiments. Their relative configurations were assigned by a combined quantum mechanical/NMR approach, comparing the experimental 13C/1H NMR chemical shift data and the related predicted values. The absolute configurations of Carpinontriol B (1) and giffonins T and U (2 and 3) were assigned by comparison of their experimental electronic circular dichroism curves with the TDDFT-predicted curves. The ability of the compounds to inhibit the lipid peroxidation induced by H2O2 and H2O2/Fe2+ was determined by measuring the concentration of thiobarbituric acid reactive substances. Furthermore, the antimicrobial activity of the methanol extract of leafy covers of C. avellana and of the isolated compounds against the Gram-positive strains Bacillus cereus and Staphylococcus aureus and the Gram-negative strains Escherichia coli and Pseudomonas aeruginosa was evaluated.
CONCLUSIONS:
Carpinontriol B (1) and giffonin U (3) at 40 μg/disk caused the formation of zones of inhibition.
Journal of Applied Pharmaceutical Science, 2015, 5(12):162-166.
Anti-inflammatory Constituents from Branches of Corylus hallaisanensis Nakai[Reference:
WebLink
]
Development of bioactive ingredients from natural sources has long been the research project of our laboratory. In this study, the extract from Corylus hallaisanensis Nakai branches was investigated and their anti-inflammatory constituents were identified.
METHODS AND RESULTS:
The prepared ethanol extract was successively partitioned into n-hexane, ethyl acetate, n-butanol and aqueous layers. Upon anti-inflammatory screenings, ethyl acetate fraction exhibited good nitric oxide production inhibitory activity in lipopolysaccharide-induced RAW 264.7 cells. Further phytochemical studies for the ethyl acetate fractions led to isolation of four constituents such as ß-sitosterol (1), 3,3',4'-tri-O-methylellagic acid (2), carpinontriol A (3) and Carpinontriol B (4). All of the compounds were isolated for the first time from this plant.
CONCLUSIONS:
The isolates 2, 3 and 4 showed considerable inhibition on the production of nitric oxide in the RAW 264.7 cell without causing cell toxicities. And compounds 3 and 4 reduced the production of interleukin-6, an inflammatory cytokine, in dose-dependent manner in RAW 264.7 cells. Based on these results, C. hallaisanensis extracts could be potentially applicable as anti-inflammatory agents in pharmaceutical or cosmetic industries.
J Nat Prod. 2002 Sep;65(9):1367-70.
New diarylheptanoids from the stems of Carpinus cordata.[Pubmed:
12350169
]

METHODS AND RESULTS:
Two new diarylheptanoids, carpinontriol A (1) and Carpinontriol B (2), were isolated from the stems of Carpinus cordata, along with the known diarylheptanoid, casuarinondiol (3), and five known compounds, (+)-catechin (4), methyl gallate (5), methyl gallate 3-O-beta-D-glucopyranoside (6), methyl gallate 4-O-beta-D-glucopyranoside (7), and methyl gallate 3-O-beta-D-(6'-O-galloyl)-glucopyranoside (8). The structures of 1 and 2 were elucidated by spectral methods.
CONCLUSIONS:
Among the isolated compounds, compounds 4-6 and 8 showed radical-scavenging activity in the DPPH assay.