Myricanone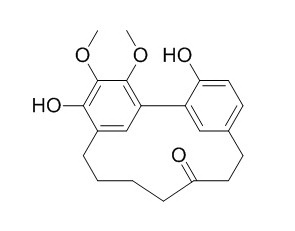 Myricanone has antioxidant, and anticancer activities, it has apoptosis-promoting ability by triggering caspase activation, and suppression of cell proliferation by down-regulation of NF-κB and STAT3 signalling cascades. Myricanone shows in vitro testosterone 5alpha-reductase inhibitory activity and in vivo anti-androgenic activity using growth of flank organ in castrated Syrian hamsters and/or hair regrowth after shaving in testosterone-treated C57Black/6CrSlc mice.
Inquire / Order: manager@chemfaces.com
Technical Inquiries: service@chemfaces.com
Tel: +86-27-84237783
Fax: +86-27-84254680

Address:
1 Building, No. 83, CheCheng Rd., Wuhan Economic and Technological Development Zone, Wuhan, Hubei 430056, PRC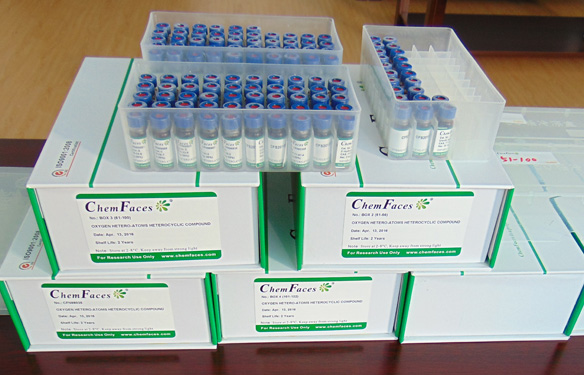 Providing storage is as stated on the product vial and the vial is kept tightly sealed, the product can be stored for up to
24 months(2-8C)
.
Wherever possible, you should prepare and use solutions on the same day. However, if you need to make up stock solutions in advance, we recommend that you store the solution as aliquots in tightly sealed vials at -20C. Generally, these will be useable for up to two weeks. Before use, and prior to opening the vial we recommend that you allow your product to equilibrate to room temperature for at least 1 hour.
Need more advice on solubility, usage and handling? Please email to: service@chemfaces.com
The packaging of the product may have turned upside down during transportation, resulting in the natural compounds adhering to the neck or cap of the vial. take the vial out of its packaging and gently shake to let the compounds fall to the bottom of the vial. for liquid products, centrifuge at 200-500 RPM to gather the liquid at the bottom of the vial. try to avoid loss or contamination during handling.
Yakugaku Zasshi.2018, 138(4):571-579
Oncotarget.2017, 8(64):108006-108019
Int J Oncol.2016, 49(4):1497-504
J Asian Nat Prod Res.2019, 5:1-17
Korean Journal of Pharmacognosy.2019, 50(1):65-71
Saudi Pharm J.2019, 27(1):145-153
Int J Mol Sci. 2014, 15(5):8443-57
Industrial Crops and Products2017, 95:286-295
J Pharm Biomed Anal.2019, 164:119-127
Appl Biol Chem2019, 62:46
Chemotherapy. 2014;60(2):81-7.
In vitro Anticancer Activity of Myricanone in Human Lung Adenocarcinoma A549 Cells.[Pubmed:
25720464
]
Myricanone, a typical large ring of cyclic diarylheptanoids, is abundant in the bark of Myrica. Our studies have found that Myricanone exerts potent anticancer activity. This study aimed to investigate the underlying mechanism of the effect of Myricanone on A549 cells in vitro.
METHODS AND RESULTS:
A549 cells were treated with different concentrations of Myricanone for the following assays. Tritiated thymidine incorporation was used to measure growth inhibition. Flow cytometry was used to detect apoptosis and cell cycle progression, and colony formation was performed to observe the effect of Myricanone on the A549 proliferation rate. Myricanone induced significant dose-dependent growth inhibitory effects on A549 cells with an IC50 of 3.22 µg/ml. A significant decrease in colony formation was observed. This decrease induced cell apoptosis, G1 phase arrest and the emergence of the sub-G0 peak in A549 cells.
CONCLUSIONS:
These results suggest that Myricanone exhibits anticancer activity and may be applicable in the clinical prevention and treatment of lung cancer in the future.
J Acupunct Meridian Stud. 2013 Aug;6(4):188-98.
Anticancer potential of myricanone, a major bioactive component of Myrica cerifera: novel signaling cascade for accomplishing apoptosis.[Pubmed:
23972241
]
Extract of Myrica cerifera bark has long been fruitfully used as a hepato-protective and anti-cancer drug in various complementary and alternative systems of medicine. Myricanone, its principal bioactive compound, had also been reported to have apoptosis-promoting ability.
METHODS AND RESULTS:
We evaluated its anti-cancer potential in vitro in HepG2 liver cancer cells and tried to understand the signal cascades involved in accomplishing apoptosis. Further, we ascertained by using a (3-(4, 5-dimethylthiazol-2-yl)-2, 5-diphenyltetrazolium bromide assay (MTT) assay if it had cytotoxic effects on normal noncancerous liver cells (WRL-68). We deployed various tools and protocols, like phase contrast, scanning electron and fluorescence microscopies, performed an annexinV-FITC/PI assay and cell cycle analysis, and estimated the reactive oxygen species (ROS) generation and mitochondrial membrane depolarization through flow cytometry. Further, analyses of cytochrome-c translocation and of HSP70 and caspase expressions were also done by using immunoblota and Enzyme linked immunosorbent assay (ELISA). Results revealed that Myricanone induced apoptosis in HepG2 cells through generation of ROS, depolarization of the mitochondrial membrane, early release of cytochrome-c, down-regulation of HSP70 and activation of a caspase cascade; it had no, or insignificant, cytotoxic effects in WRL-68 cells in vitro and in mice in vivo.
CONCLUSIONS:
Thus, Myricanone has great potential for use in formulating an effective drug against both hepatotoxicity and hepatocellular cancer.
Biol Pharm Bull. 2001 Mar;24(3):259-63.
Anti-androgenic activity of Myricae Cortex--isolation of active constituents from bark of Myrica rubra.[Pubmed:
11256481
]

METHODS AND RESULTS:
The aqueous ethanol extract of Myricae Cortex (bark of Myrica rubra Sieb. et Zucc., Myricaceae) showed in vitro testosterone 5alpha-reductase inhibitory activity and in vivo anti-androgenic activity using growth of flank organ in castrated Syrian hamsters and/or hair regrowth after shaving in testosterone-treated C57Black/6CrSlc mice.
CONCLUSIONS:
Three constituents, Myricanone, myricanol, and myricetin were identified as the main active principles.
J Integr Med. 2013 Nov;11(6):405-15.
Diarylheptanoid-myricanone isolated from ethanolic extract of Myrica cerifera shows anticancer effects on HeLa and PC3 cell lines: signalling pathway and drug-DNA interaction.[Pubmed:
24299604
]

METHODS AND RESULTS:
To test if Myricanone (C21H24O5), a cyclic diarylheptanoid, has anticancer effects on two different cancer cell lines HeLa and PC3. Circular dichroism (CD) spectroscopy was also done to evaluate whether Myricanone effectively interacted with DNA to bring about conformational changes that could strongly inhibit the cancer cell proliferation. Myricanone showed a greater cytotoxic effect on PC3 cells than on HeLa cells. Myricanone promoted G0/G1 arrest in HeLa cells and S phase arrest in PC3 cells. Nuclear condensation and annexin V-FITC/PI studies revealed that Myricanone promoted apoptotic cell death. CD spectroscopic data indicated that Myricanone had an interaction with calf thymus DNA that changed DNA structural conformation. RT-PCR and immunoblot studies revealed that Myricanone activated the apoptotic signalling cascades through down-regulation of transcription factors like nuclear factor-κB (NF-κB) (p65), and signal transducers and activators of transcription 3 (STAT3); cell cycle regulators like cyclin D1, and survivin and other signal proteins like Bcl-2 and up-regulation of Bax, caspase-9 and caspase-3.
CONCLUSIONS:
Myricanone induced apoptosis in both types of cancer cells by triggering caspase activation, and suppression of cell proliferation by down-regulation of NF-κB and STAT3 signalling cascades, which makes it a suitable candidate for possible use in the formulation of therapeutic agent for combating cancer.
Records of Natural Products, 2016, 10(3):362-368.
Alnuheptanoid B: A New Cyclic Diarylheptanoid from Alnus japonica Stem Bark.[Reference:
WebLink
]

METHODS AND RESULTS:
A new cyclic diarylheptanoid namely alnuheptanoid B (3), along with four known cyclic diarylheptanoids: Myricanone (1), (+)-S-myricanol (2), Myricanone 5-O-Î2-D-glucopyranoside (4), and (+)-Smyricanol 5-O-Î2-D-glucopyranoside (5) were isolated from Alnus japonica Steud (Betulaceae) stem bark. Their structures were determined by spectroscopic analyses, including UV, IR, 1D (1H and 13C), 2D (COSY, HMQC, and HMBC), and HRESIMS, as well as optical rotation measurement. Compounds 1, 2, 4, and 5 are reported for the first time from the plant. All isolated compounds 1-5 were tested for their antioxidant and anti-inflammatory activities using DPPH assay and carrageenin induced rat paw edema model, respectively.
CONCLUSIONS:
They displayed significant antioxidant activity in relation to propyl gallate (positive control). Compound 2 demonstrated antiinflammatory effect at a dose 10 mg/kg.