Licoricesaponin H2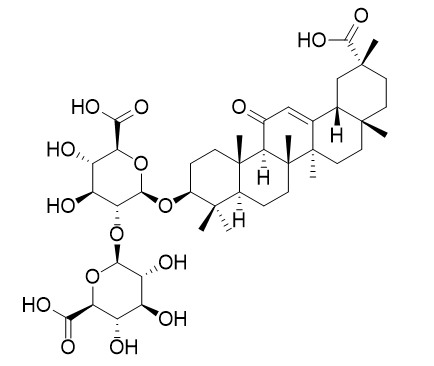 Reference standards.
Inquire / Order: manager@chemfaces.com
Technical Inquiries: service@chemfaces.com
Tel: +86-27-84237783
Fax: +86-27-84254680

Address:
1 Building, No. 83, CheCheng Rd., Wuhan Economic and Technological Development Zone, Wuhan, Hubei 430056, PRC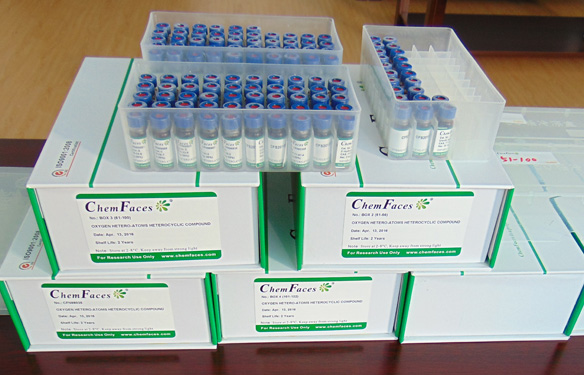 Providing storage is as stated on the product vial and the vial is kept tightly sealed, the product can be stored for up to
24 months(2-8C)
.
Wherever possible, you should prepare and use solutions on the same day. However, if you need to make up stock solutions in advance, we recommend that you store the solution as aliquots in tightly sealed vials at -20C. Generally, these will be useable for up to two weeks. Before use, and prior to opening the vial we recommend that you allow your product to equilibrate to room temperature for at least 1 hour.
Need more advice on solubility, usage and handling? Please email to: service@chemfaces.com
The packaging of the product may have turned upside down during transportation, resulting in the natural compounds adhering to the neck or cap of the vial. take the vial out of its packaging and gently shake to let the compounds fall to the bottom of the vial. for liquid products, centrifuge at 200-500 RPM to gather the liquid at the bottom of the vial. try to avoid loss or contamination during handling.
Horticulturae2020, 6(4),76.
Sci Rep.2017, 7:467-479
Biochemical Systematics and Ecology2018, 81
BMC Microbiol.2019, 19(1):78
J of App. Res. on Med&Aromatic Plants2020, 100291.
Korean Journal of Medicinal Crop Science2018, 26(5):382-390
Evid Based Complement Alternat Med.2016, 2016:1230294
J Food Compos Anal2017, 62:197-204
Food Analytical Methods2020, 13,1603ĘC1612(2020)
Korean Journal of Pharmacognosy2019, 50(4):285-290
Nat Prod Res. 2017 Mar;31(6):691-695.
Antimutagenic components in Glycyrrhiza against N-methyl-N-nitrosourea in the Ames assay.[Pubmed:
27466044
]
Antimutagenesis against N-nitroso compounds contribute to prevention of human cancer. We have found that Glycyrrhiza aspera ethanolic extract exhibits antimutagenic activity against N-methyl-N-nitrosourea (MNU) using the Ames assay with Salmonella typhimurium TA1535.
METHODS AND RESULTS:
In the present study, eight purified components from Glycyrrhiza, namely glabridin, glycyrrhetinic acid, glycyrrhizin, licochalcone A, Licoricesaponin H2 , licoricesaponin G2, liquiritigenin and liquiritin were evaluated for their antimutagenicity against MNU in the Ames assay with S. typhimurium TA1535. Glycyrrhetinic acid, glycyrrhizin, licoricesaponin G2, Licoricesaponin H2 and liquiritin did not show the antimutagenicity against MNU in S. typhimurium TA1535. Glabridin, licochalcone A and liquiritigenin reduced revertant colonies derived from MNU in S. typhimurium TA1535 without showing cytotoxic effects, indicating that these compounds possess antimutagenic activity against MNU. The inhibitory activity of glabridin and licochalcone A was more effective than that of liquiritigenin.
CONCLUSIONS:
Thus, Glycyrrhiza contains antimutagenic components against DNA alkylating, direct-acting carcinogens.
Biol Pharm Bull. 2005 Jan;28(1):161-4.
Phylogenetic relationship of Glycyrrhiza lepidota, American licorice, in genus Glycyrrhiza based on rbcL sequences and chemical constituents.[Pubmed:
15635184
]

METHODS AND RESULTS:
Two known saponins, licorice-saponin H2 and macedonoside A, were isolated from the stolons of Glycyrrhiza lepidota (American licorice) as major saponins. Since Licoricesaponin H2 and macedonoside A are minor saponins isolated from the three glycyrrhizin-producing species (i.e. G. glabra, G. uralensis, G. inflata) and the three macedonoside C-producing species (i.e. G. macedonica, G. echinata, G. pallidiflora), respectively, the present study suggests that G. lepidota is an intermediate of both glycyrrhizin-producing and macedonoside C-producing species.
CONCLUSIONS:
The phylogenetic tree constructed from the nucleotide sequences of ribulose-1,5-bisphosphate carboxylase/oxygenase large subunit gene (rbcL) of these seven Glycyrrhiza plants indicated that G. lepidota was separated from the other six Glycyrrhiza species, and this phylogenetic relationship was in accordance with their saponin compositions.