Isochlorogenic acid C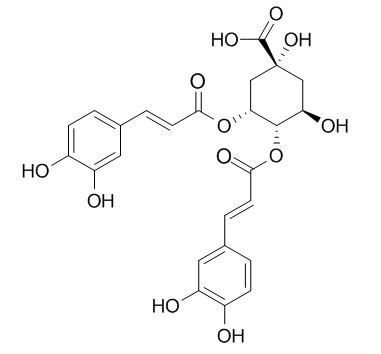 Isochlorogenic acid C possesses potent hepatoprotective and anti-HBV effects, its anti-apoptotic and anti-injury effects could be achieved by its anti-oxidative properties and interfering the caspase-3 and TGF-β1 expressions.
Inquire / Order: manager@chemfaces.com
Technical Inquiries: service@chemfaces.com
Tel: +86-27-84237783
Fax: +86-27-84254680

Address:
1 Building, No. 83, CheCheng Rd., Wuhan Economic and Technological Development Zone, Wuhan, Hubei 430056, PRC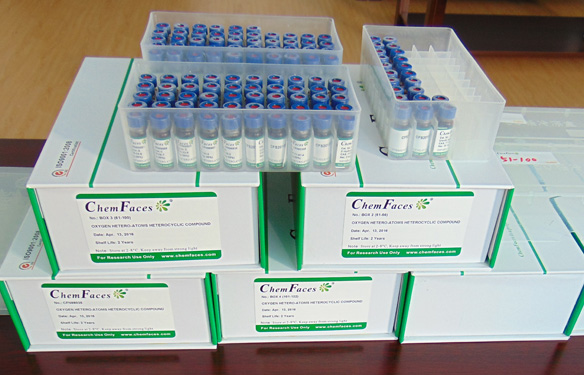 Providing storage is as stated on the product vial and the vial is kept tightly sealed, the product can be stored for up to
24 months(2-8C)
.
Wherever possible, you should prepare and use solutions on the same day. However, if you need to make up stock solutions in advance, we recommend that you store the solution as aliquots in tightly sealed vials at -20C. Generally, these will be useable for up to two weeks. Before use, and prior to opening the vial we recommend that you allow your product to equilibrate to room temperature for at least 1 hour.
Need more advice on solubility, usage and handling? Please email to: service@chemfaces.com
The packaging of the product may have turned upside down during transportation, resulting in the natural compounds adhering to the neck or cap of the vial. take the vial out of its packaging and gently shake to let the compounds fall to the bottom of the vial. for liquid products, centrifuge at 200-500 RPM to gather the liquid at the bottom of the vial. try to avoid loss or contamination during handling.
Mol Med Rep.2015, 12(5):7789-95
Front Pharmacol.2018, 9:756
Biosci. Rep.2020, 10.1024
J of Health Science and Alternative Medicine2019, 1(1)
Int J Mol Sci.2019, 20(16):E4015
Chinese Medicine2019, 14(1)
Molecules.2019, 24(2):E343
J Cancer.2019, 10(23):5843-5851
RSC Advances2017, 86
Journal of Life Science2017, 233-240
J. Med. Plants Res., 2012,6(16):3199-206.
Evaluation of anti-apoptotic, anti-injury and antihepatitis B virus effects of isochlorogenic acid C in vitro[Reference:
WebLink
]
To study anti-hepatitis effect of Isochlorogenic acid C from Laggera alata, anti-apoptotic and anti-injury properties of test compound were evaluated using the D-galactosamine (D-GalN)-induced apoptosis/injury model in human hepatocyte line HL-7702 cells. Hepatocyte apoptotic changes were demonstrated by DNA ladder analysis and caspase-3 activation. Hepatocyte injury was assessed by cell viability. Meanwhile, anti-hepatitis B virus (anti-HBV) effect of test compound was evaluated by the HBsAg, HBeAg, HBV DNA, HBV covalently closed circular DNA (HBV cccDNA) and heme oxygenase-1 (HO-1) expressions in HBV-transfected HepG2.2.15 cells. The results showed that test compound at concentrations of 10 to 100 μg/ml significantly reduced the caspase-3 and transformed growth factor β1 (TGFβ1) levels of the D-GalN-challenged hepatocytes. Also, test compound improved markedly cell viability of the D-GalN-injured hepatocytes and produced a maximum protection rate of 47.28% at a concentration of 100 g/ml. Furthermore, test compound significantly inhibited productions of HBsAg and HBeAg. Its maximum inhibitory rates on the HBsAg and HBeAg expressions were 86.93 and 59.79%, respectively. In addition, test compound significantly induced the HO-1 expression of HepG2.2.15 cells. This study verifies that Isochlorogenic acid C possesses potent hepatoprotective and anti-HBV effects. The anti-apoptotic and anti-injury effects of test compound could be achieved by its anti-oxidative properties and interfering the caspase-3 and TGF-β1 expressions. The anti-HBV target of test compound may mainly be at the downstream links of HBV replication process and is probably associated with blocking translation step. Furthermore, HO-1 induction may contribute to anti-hepatitis B effect of test compound.
PLoS One. 2014 Sep 2;9(9):e106254.
The activity-integrated method for quality assessment of reduning injection by on-line DPPH-CE-DAD.[Pubmed:
25181475
]
A sensitive on-line DPPH-CE-DAD method was developed and validated for both screening and determining the concentration of seven antioxidants of Reduning injection. The pH and concentrations of buffer solution, SDS, β-CD and organic modifier were studied for the detection of DPPH and seven antioxidants. By on-line mixing DPPH and sample solution, a DPPH-CE method for testing the antioxidant activity of the complex matrix was successfully established and used to screen the antioxidant components of Reduning injection. Then, antioxidant components including caffeic acid, isochlorogenic acid A, isochlorogenic acid B, Isochlorogenic acid C, chlorogenic acid, neochlorogenic acid and cryptochlorogenic acid were quantified by the newly established CE-DAD method. Finally, the total antioxidant activity and the multiple active components were selected as markers to evaluate the quality of Reduning injection. The results demonstrated that the on-line DPPH-CE-DAD method was reagent-saving, rapid and feasible for on-line simultaneous determination of total pharmacological activity and contents of multi-components samples. It was also a powerful method for evaluating the quality control and mechanism of action of TCM injection.