Patulitrin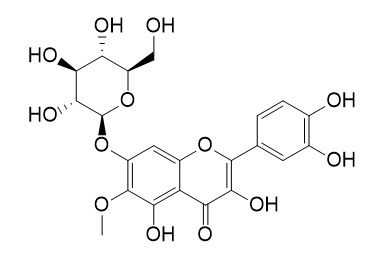 Patulitrin has antioxidant, anti-inflammatory, and larvicidal activities, oral and topical administration of patuletin and patulitrin inhibited acute inflammation in mice.
Inquire / Order: manager@chemfaces.com
Technical Inquiries: service@chemfaces.com
Tel: +86-27-84237783
Fax: +86-27-84254680

Address:
1 Building, No. 83, CheCheng Rd., Wuhan Economic and Technological Development Zone, Wuhan, Hubei 430056, PRC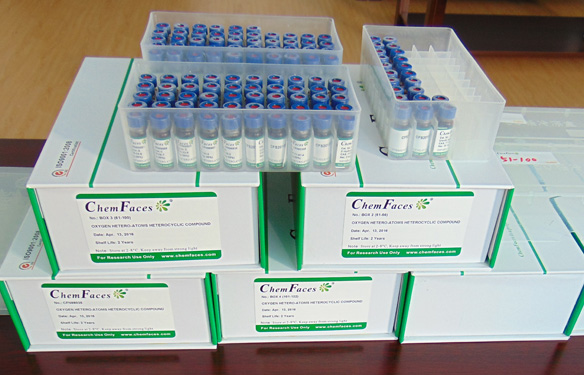 Providing storage is as stated on the product vial and the vial is kept tightly sealed, the product can be stored for up to
24 months(2-8C)
.
Wherever possible, you should prepare and use solutions on the same day. However, if you need to make up stock solutions in advance, we recommend that you store the solution as aliquots in tightly sealed vials at -20C. Generally, these will be useable for up to two weeks. Before use, and prior to opening the vial we recommend that you allow your product to equilibrate to room temperature for at least 1 hour.
Need more advice on solubility, usage and handling? Please email to: service@chemfaces.com
The packaging of the product may have turned upside down during transportation, resulting in the natural compounds adhering to the neck or cap of the vial. take the vial out of its packaging and gently shake to let the compounds fall to the bottom of the vial. for liquid products, centrifuge at 200-500 RPM to gather the liquid at the bottom of the vial. try to avoid loss or contamination during handling.
Phytomedicine Plus2022, 2(1):100207.
Korean J. Medicinal Crop Sci.2022, 30(2):117-123.
Int. J. Mol. Sci. 2022, 23(3),1696.
Acta Chromatographica2016, 29(3)
J Formos Med Assoc.2020, S0929-6646(20)30425-3
Int J Oncol.2016, 49(4):1497-504
J Agric Food Chem.2018, 66(1):351-358
Sci Rep. 2017, 17332(7)
Analytical methods2019, 11(6)
FASEB J.2019, 33(8):9685-9694
Evid Based Complement Alternat Med. 2017;2017:9602368.
Larvicidal Activity against Aedes aegypti and Chemical Characterization of the Inflorescences of Tagetes patula.[Pubmed:
29362590
]

METHODS AND RESULTS:
The crude acetone extract (CAE) of defatted inflorescences of Tagetes patula was partitioned into five semipurified fractions: n-hexane (HF), dichloromethane (DF), ethyl acetate (EAF), n-butanol (BF), and aqueous (AQF). BF was fractionated by reversed-phase polyamide column chromatography, obtaining 34 subfractions, which were subjected to HSCCC, where patuletin and Patulitrin were isolated. CAE and the fractions BF, EAF, DF, and AQF were analyzed by LC-DAD-MS, and patuletin and Patulitrin were determined as the major substances in EAF and BF, respectively. BF was also analyzed by HPLC and capillary electrophoresis (CE), and Patulitrin was again determined to be the main substance in this fraction. CAE and the semipurified fractions (750, 500, 300, 100, and 50 mg/L) were assayed for larvicidal activity against Aedes aegypti, with mortality rate expressed as percentage. All fractions except AQF showed insecticidal activity after 24 h exposure of larvae to the highest concentration. However, EAF showed the highest activity with more than 50% reduction in larval population at 50 mg/L.
CONCLUSIONS:
The insecticidal activity observed with EAF might have been due to the higher concentration of patuletin present in this fraction.
Nat Prod Res. 2012;26(17):1584-93.
Determination of antioxidant activity of extracts and fractions obtained from Galinsoga parviflora and Galinsoga quadriradiata, and a qualitative study of the most active fractions using TLC and HPLC methods.[Pubmed:
22085305
]
Taking into account the role of reactive oxygen species in the development of inflammation, and the application of the plants of genus Galinsoga Ruiz & Pav. in folk medicines for inflammatory states, we investigated and compared the antioxidant activities of particular Galinsoga extracts and fractions.
METHODS AND RESULTS:
The compositions of the most active fractions were studied using thin layer chromatography (TLC) and high-performance liquid chromatography (HPLC) methods. The extracts and fractions from Galinsoga parviflora Cav. and Galinsoga quadriradiata Ruiz et Pav. possess dose-dependent free radical-scavenging ability against DPPH• and superoxide radicals, as well as inhibitory effects on linoleic acid peroxidation in a manner comparable to gallic acid. In the most active fractions, flavonoids, Patulitrin, quercimeritrin, quercitagetrin and caffeoyl derivatives were detected.
CONCLUSIONS:
Our research demonstrates that the investigated herbs are an interesting source of preparations with significant antioxidant effects. Our results justify the use of both raw materials in inflammatory diseases, among others, due to their ability to prevent free radical-induced deleterious effects.
Int J Inflam. 2013;2013:309493.
Effects of Flavonoids from French Marigold (Florets of Tagetes patula L.) on Acute Inflammation Model.[Pubmed:
24175111
]

METHODS AND RESULTS:
The major components patuletin and Patulitrin were isolated from French marigold (florets of Tagetes patula). Patuletin and Patulitrin were found to inhibit acute inflammation in mice. Oral administration of patuletin and Patulitrin significantly suppressed hind-paw edema induced by carrageenin and histamine, while topical application of patuletin and Patulitrin significantly inhibited ear edema induced by 12-O-tetradecanoylphorbol-13-acetate and arachidonic acid.
CONCLUSIONS:
Thus, oral and topical administration of patuletin and Patulitrin inhibited acute inflammation in mice. These results suggest the anti-inflammatory efficacy of French marigold.
Pharm Biol. 2015 May;53(5):672-81.
Cytotoxic and antioxidant properties of phenolic compounds from Tagetes patula flower.[Pubmed:
25539472
]
Tagetes patula Linn. (Asteraceae) (French Marigold) flowers are used by local practitioners for cancer treatment; however, it lacks scientific justification. Identification of bioactive compounds in T. patula flower for cytotoxic and growth inhibition in human cancer cell lines along with its antioxidant properties using chemical and cell based systems.
METHODS AND RESULTS:
The T. patula flower methanol extract, its seven fractions, and three phenolic compounds including methyl protocatechuate (1), patuletin (2), and Patulitrin (3) were evaluated using sulforhodamine-B assay against HeLa, HT-144, NCI-H460, MCF-7, PC-3, and SF-268 human cancer cell lines. In parallel, antioxidant activity was evaluated using chemical (DPPH(·), deoxyribose, and lipid peroxidation assays) and cell-based chemiluminescence systems (human neutrophils and mice macrophages). The methanol extract and ethyl acetate insoluble fraction exhibited cytotoxic and growth inhibitory effects against HeLa in which 2 exhibited highest cell growth inhibition (GI50: 0.6 ± 0.1 µg/ml) and cytotoxicity (LC50: 2.5 ± 0.1 µg/ml). It also scavenged LOO(·) (IC50: 6.5 ± 0.7 µg/ml) and [Formula: see text] (IC50: 27.5 ± 1.3 μg/ml) in chemical systems and human neutrophils, respectively. However, 1 preferably scavenged H2O2-Cl(-) (IC50: 0.5 ± 0.01 μg/ml) in mice macrophages.
CONCLUSIONS:
Compound 2 from T. patula flower exhibited both growth inhibitory and cytotoxic properties while 1 and 3 were only growth inhibitory against HeLa. 1-3 also displayed antioxidant properties implying its probable role in growth inhibition/cytotoxic action. The present study provides scientific evidence for the use of T. patula flower in cancer treatment by traditional healer.