Isochlorogenic acid B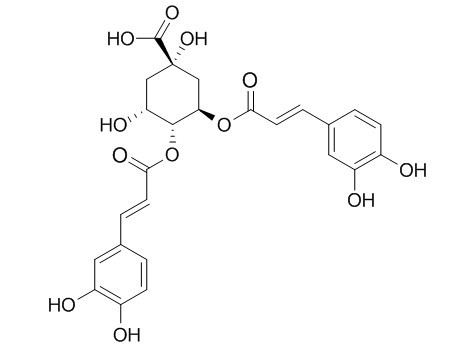 Isochlorogenic acid B has antioxidant activity, it is a potential PDE-5 inhibitor.
Inquire / Order: manager@chemfaces.com
Technical Inquiries: service@chemfaces.com
Tel: +86-27-84237783
Fax: +86-27-84254680

Address:
1 Building, No. 83, CheCheng Rd., Wuhan Economic and Technological Development Zone, Wuhan, Hubei 430056, PRC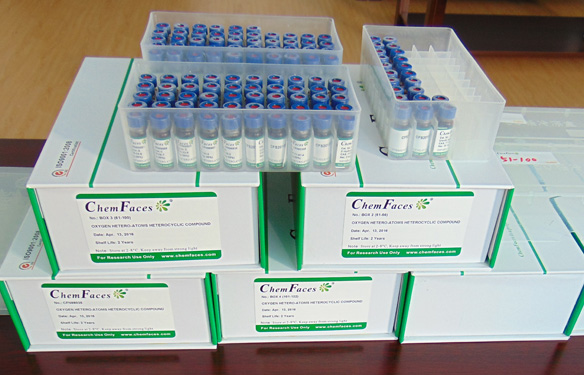 Providing storage is as stated on the product vial and the vial is kept tightly sealed, the product can be stored for up to
24 months(2-8C)
.
Wherever possible, you should prepare and use solutions on the same day. However, if you need to make up stock solutions in advance, we recommend that you store the solution as aliquots in tightly sealed vials at -20C. Generally, these will be useable for up to two weeks. Before use, and prior to opening the vial we recommend that you allow your product to equilibrate to room temperature for at least 1 hour.
Need more advice on solubility, usage and handling? Please email to: service@chemfaces.com
The packaging of the product may have turned upside down during transportation, resulting in the natural compounds adhering to the neck or cap of the vial. take the vial out of its packaging and gently shake to let the compounds fall to the bottom of the vial. for liquid products, centrifuge at 200-500 RPM to gather the liquid at the bottom of the vial. try to avoid loss or contamination during handling.
J Mater Chem B.2019, 7(39):5896-5919
Analytical sci. & Tech2016, 186-193
Biomolecules.2019, 9(11):E696
J Nat Med.2017, 71(4):745-756
Scientific World Journal.2014, 2014:654193
Chinese Pharmacological Bulletin2019, 35(8):1120-1125
Sci Rep.2016, 6:25094
Korean J. of Food Sci. and Tech2016, 172-177
J Chromatogr B Analyt Technol Biomed Life Sci. 2017, 1064:115-123
J Nat Prod.2015, 78(6):1339-4
J Biomol Struct Dyn. 2010 Apr;27(5):627-40.
Virtual screening and drug design for PDE-5 receptor from traditional Chinese medicine database.[Pubmed:
20085380
]
From docking analyses, Isochlorogenic acid B was identified as the most potential inhibitory compound. De novo evolution designed 47 derivatives. Of the 47 derivatives, seven were able to map into the pharmacophore model, and these seven compounds were suggested to be the most promising leads for inhibiting PDE-5. An analysis of the hydrogen bond interactions formed between the docked ligands and PDE-5 identified ASN662, SER663 and GLN817 as the most frequently interacting residues. A total of eight novel leading compounds were identified to have favorable interaction with PDE-5. These compounds all had hydrogen bond interactions with three key residues that could be further investigated for understanding of PDE-5 and ligands interaction.
PLoS One. 2014 Sep 2;9(9):e106254.
The activity-integrated method for quality assessment of reduning injection by on-line DPPH-CE-DAD.[Pubmed:
25181475
]
A sensitive on-line DPPH-CE-DAD method was developed and validated for both screening and determining the concentration of seven antioxidants of Reduning injection. The pH and concentrations of buffer solution, SDS, β-CD and organic modifier were studied for the detection of DPPH and seven antioxidants. By on-line mixing DPPH and sample solution, a DPPH-CE method for testing the antioxidant activity of the complex matrix was successfully established and used to screen the antioxidant components of Reduning injection. Then, antioxidant components including caffeic acid, isochlorogenic acid A, Isochlorogenic acid B, isochlorogenic acid C, chlorogenic acid, neochlorogenic acid and cryptochlorogenic acid were quantified by the newly established CE-DAD method.