Specioside B
Reference standards.
Inquire / Order: manager@chemfaces.com
Technical Inquiries: service@chemfaces.com
Tel: +86-27-84237783
Fax: +86-27-84254680

Address:
1 Building, No. 83, CheCheng Rd., Wuhan Economic and Technological Development Zone, Wuhan, Hubei 430056, PRC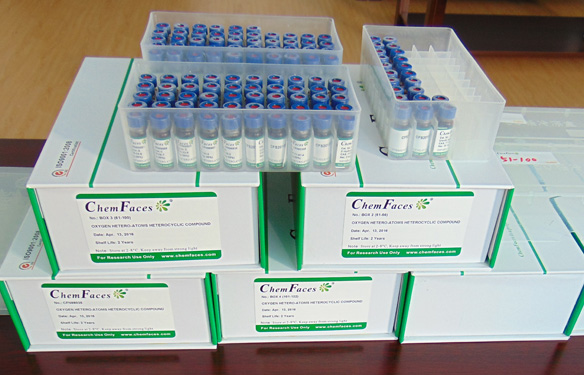 Providing storage is as stated on the product vial and the vial is kept tightly sealed, the product can be stored for up to
24 months(2-8C)
.
Wherever possible, you should prepare and use solutions on the same day. However, if you need to make up stock solutions in advance, we recommend that you store the solution as aliquots in tightly sealed vials at -20C. Generally, these will be useable for up to two weeks. Before use, and prior to opening the vial we recommend that you allow your product to equilibrate to room temperature for at least 1 hour.
Need more advice on solubility, usage and handling? Please email to: service@chemfaces.com
The packaging of the product may have turned upside down during transportation, resulting in the natural compounds adhering to the neck or cap of the vial. take the vial out of its packaging and gently shake to let the compounds fall to the bottom of the vial. for liquid products, centrifuge at 200-500 RPM to gather the liquid at the bottom of the vial. try to avoid loss or contamination during handling.
Kor. J. Herbol.2019, 34(2):59-66
Br J Pharmacol.2020, 10.1111
Anal Biochem.2019, 569:10-15
Front Aging Neurosci.2018, 10:269
Am J Chin Med.2015, 30:1-22
Phytother Res.2019, 33(3):676-689
Molecules.2016, 21(6)
BMC Complement Altern Med.2017, 17(1):393
J Nat Prod.2015, 78(6):1339-4
J Ethnopharmacol.2016, 194:219-227
Fitoterapia. 2012 Jan;83(1):204-8.
Chemical constituents of Stereospermum acuminatissimum and their urease and α-chymotrypsin inhibitions.[Pubmed:
22062354
]

METHODS AND RESULTS:
Phytochemical investigation of the stem bark of Stereospermum acuminatissimum K. Schum. resulted in the isolation of 21 compounds, including two new guanine derivatives, 1,3,7-trimethylguanin-1/3-ium (1) and 3,7-dimethylguanin-1/3-ium (2), and one new phenolic long chain ester, 2-(4-hydroxyphenyl)ethyl hentriacontanoate (3). The known compounds were identified as sterequinones A, F, and H (4, 5, and 6), zenkequinones A-B (7-8), p-coumaric acid (9), methyl caffeate (10), caffeic acid (11), psilalic acid (12), syringaldehyde (13), norviburtinal (14), specioside (15), verminoside (16), tyrosol (17), eutigoside A (18), ellagic acid (19), atranorin (20), and ursolic acid (21). The metabolites were screened for their potential against urease and α-chymotrypsin enzymes, as urease is targeted in peptic ulcer while α-chymotrypsin is used to remove protein debris in ulcer.
CONCLUSIONS:
Compound 20 was found to be excellent urease inhibitor with IC(50) value of 18.2 ± 0.03 μM. Compounds 13 and 18-20 are reported for the first time from the genus Stereospermum. The chemotaxonomic significance of the isolated compounds was also described.