Chicoric acid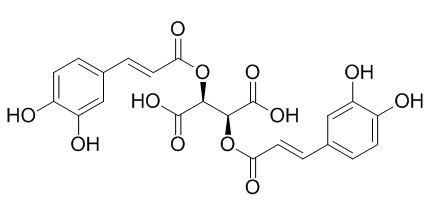 Chicoric acid, a new compound able to enhance insulin release and glucose uptake, it is a new potential antidiabetic agent carrying both insulin sensitizing and insulin-secreting properties. Chicoric acid has antiobesity effects, it can induce apoptosis in 3T3-L1 preadipocytes through ROS-mediated PI3K/Akt and MAPK signaling pathways. L-Chicoric acid has antiviral activity against HIV-1, which has been attributed to the inhibition of HIV-1 integration.
Inquire / Order: manager@chemfaces.com
Technical Inquiries: service@chemfaces.com
Tel: +86-27-84237783
Fax: +86-27-84254680

Address:
1 Building, No. 83, CheCheng Rd., Wuhan Economic and Technological Development Zone, Wuhan, Hubei 430056, PRC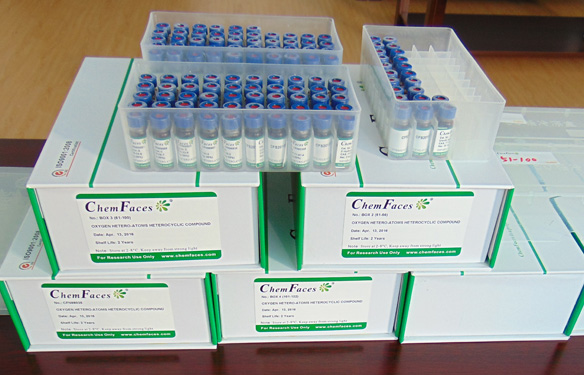 Providing storage is as stated on the product vial and the vial is kept tightly sealed, the product can be stored for up to
24 months(2-8C)
.
Wherever possible, you should prepare and use solutions on the same day. However, if you need to make up stock solutions in advance, we recommend that you store the solution as aliquots in tightly sealed vials at -20C. Generally, these will be useable for up to two weeks. Before use, and prior to opening the vial we recommend that you allow your product to equilibrate to room temperature for at least 1 hour.
Need more advice on solubility, usage and handling? Please email to: service@chemfaces.com
The packaging of the product may have turned upside down during transportation, resulting in the natural compounds adhering to the neck or cap of the vial. take the vial out of its packaging and gently shake to let the compounds fall to the bottom of the vial. for liquid products, centrifuge at 200-500 RPM to gather the liquid at the bottom of the vial. try to avoid loss or contamination during handling.
Korean J. Medicinal Crop Sci.2018, 26(2):148-156
BMC Complement Altern Med.2017, 17(1):393
Food and Fermentation Industries2019, 45(7):45-51
J Ethnopharmacol.2019, 236:31-41
J. of The Korean Society of Food Culture2017, 144-149
Acta horticulturae2017, 1158:257-268
Int J Mol Sci.2019, 20(14):E3538
Asian J of Pharmaceutical&Clinical 2018, 11(2)
Food Chem.2016, 191:81-90
Food and Bioprocess Technology2017, 10(6):1074-1092
J Agric Food Chem. 2013 Feb 20;61(7):1509-20.
Chicoric acid induces apoptosis in 3T3-L1 preadipocytes through ROS-mediated PI3K/Akt and MAPK signaling pathways.[Pubmed:
23363008
]
Chicoric acid has been reported to possess various bioactivities. However, the antiobesity effects of Chicoric acid remain poorly understood.
METHODS AND RESULTS:
In this study, we investigated the effects of Chicoric acid on 3T3-L1 preadipocytes and its molecular mechanisms of apoptosis. Chicoric acid inhibited cell viability and induced apoptosis in 3T3-L1 preadipocytes which was characterized by chromatin condensation and poly ADP-ribose-polymerase (PARP) cleavage. Mitochondrial membrane potential (MMP) loss, Bax/Bcl-2 dysregulation, cytochrome c release, and caspase-3 activation were observed, indicating mitochondria-dependent apoptosis induced by Chicoric acid. Furthermore, PI3K/Akt and MAPK (p38 MAPK, JNK, and ERK1/2) signaling pathways were involved in Chicoric acid-induced apoptosis. The employment of protein kinase inhibitors LY294002, SB203580, SP600125, and U0126 revealed that PI3K/Akt signaling pathway interplayed with MAPK signaling pathways. Moreover, Chicoric acid induced reactive oxygen species (ROS) generation.
CONCLUSIONS:
Pretreatment with the antioxidant N-acetylcysteine (NAC) significantly blocked cell death and changes of Akt and MAPK signalings induced by Chicoric acid. In addition, Chicoric acid down regulated HO-1 and COX-2 via the PI3K/Akt pathway.
Biochem Biophys Res Commun. 2008 Dec 5;377(1):131-5.
Chicoric acid, a new compound able to enhance insulin release and glucose uptake.[Pubmed:
18834859
]
Caffeic acid and chlorogenic acid (CGA), a mono-caffeoyl ester, have been described as potential antidiabetic agents.
METHODS AND RESULTS:
Using in vitro studies, we report the effects of a dicaffeoyl ester, Chicoric acid (CRA) purified from Cichorium intybus, on glucose uptake and insulin secretion. Our results show that CRA and CGA increased glucose uptake in L6 muscular cells, an effect only observed in the presence of stimulating concentrations of insulin. Moreover, we found that both CRA and CGA were able to stimulate insulin secretion from the INS-1E insulin-secreting cell line and rat islets of Langerhans. In the later case, the effect of CRA is only observed in the presence of subnormal glucose levels. Patch clamps studies show that the mechanism of CRA and CGA was different from that of sulfonylureas, as they did not close K(ATP) channels.
CONCLUSIONS:
Chicoric acid is a new potential antidiabetic agent carrying both insulin sensitizing and insulin-secreting properties.
Fitoterapia. 2014 Mar;93:132-41.
Identification of chicoric acid as a hypoglycemic agent from Ocimum gratissimum leaf extract in a biomonitoring in vivo study.[Pubmed:
24418658
]
Ocimum gratissimum L. is popularly used to treat diabetes mellitus. The hypoglycemic activity of this medicinal species has been confirmed by in vivo studies.
METHODS AND RESULTS:
The present study conducted a chemical investigation of a leaf decoction (10% p/v) of O. gratissimum monitored by in vivo hypoglycemic activity assays. Four phenolic substances were identified: L-caftaric acid (1), L-Chicoric acid (2), eugenyl-β-D-glucopyranoside (3) and vicenin-2 (4). The acute hypoglycemic activity of the O. gratissimum decoction fractions Og1-S (300 mg/kg), Og1-A (240 mg/kg) and Og1-B (80 mg/kg) was evaluated intraperitoneally in normal and streptozotocin-induced diabetic mice. They reduced glycemia by 63%, 76% and 60% (in 120 min), respectively, in the diabetic mice. Subfractions of Og1-A were also evaluated under the same conditions: Og1-AS (200 mg/kg) and Og1-AP (40 mg/kg) produced a decrease of only 37% and 39%, respectively. Among the major phenolic substances, only Chicoric acid (2; 3 mg/kg) reduced significantly the glycemic levels of diabetic mice by 53%, 120 min after treatment. This is the first study describing the hypoglycemic activity of Chicoric acid in an animal model of diabetes mellitus. In addition, we suggest that there may be other substances contributing to this activity.
CONCLUSIONS:
Thus, for the first time, a correlation is established between the hypoglycemic activity of O. gratissimum and its chemical composition.
Mol Pharmacol. 2000 Sep;58(3):641-8.
Viral entry as the primary target for the anti-HIV activity of chicoric acid and its tetra-acetyl esters.[Pubmed:
10953059
]
The antiviral activity of L-Chicoric acid against HIV-1 has been attributed previously to the inhibition of HIV-1 integration. This conclusion was based on the inhibition of integrase activity in enzymatic assays and the isolation of a resistant HIV strain with a mutation (G140S) in the integrase gene.
METHODS AND RESULTS:
Here we show that the primary antiviral target of L-CA and its analogs in cell culture is viral entry. L- and D-Chicoric acid (L-CA and D-CA) and their respective tetra-acetyl esters inhibit the replication of HIV-1 (III(B) and NL4.3) and HIV-2 (ROD) in MT-4 cells at a 50% effective concentration (EC(50)) ranging from 1.7 to 70.6 microM. In a time-of-addition experiment, L-CA, D-CA, L-CATA, and D-CATA were found to interfere with an early event in the viral replication cycle. Moreover, L-CA, D-CA, and their analogs did not inhibit the replication of virus strains that were resistant toward polyanionic and polycationic compounds at subtoxic concentrations. Furthermore, HIV-1 strains resistant to L-CA and D-CA were selected in the presence of L-CA and D-CA, respectively. Mutations were found in the V2, V3, and V4 loop region of the envelope glycoprotein gp120 of the L-CA and D-CA-resistant NL4.3 strains that were not present in the wild-type NL4.3 strain. Recombination of the gp120 gene of the L-CA and D-CA resistant strain in a NL4.3 wild-type molecular clone fully rescued the phenotypic resistance toward L-CA and D-CA. No significant mutations were detected in the integrase gene of the drug-resistant virus strains.
CONCLUSIONS:
Although inhibition of HIV integrase activity by L-CA and its derivatives was confirmed in an oligonucleotide-driven assay, integrase carrying the G140S mutation was inhibited to the same extent as the wild-type integrase.
Eur J Pharmacol. 2011 Jun 25;660(2-3):454-9.
Luteolin and chicoric acid synergistically inhibited inflammatory responses via inactivation of PI3K-Akt pathway and impairment of NF-κB translocation in LPS stimulated RAW 264.7 cells.[Pubmed:
21513709
]
Synergistic anti-inflammatory effects of luteolin and Chicoric acid, two abundant constituents of the common dandelion (Taraxacum officinale Weber), were investigated in lipopolysaccharide (LPS) stimulated RAW 264.7 cells.
METHODS AND RESULTS:
Co-treatment with luteolin and Chicoric acid synergistically reduced cellular concentrations of nitric oxide (NO) and prostaglandin E2 (PGE2) and also inhibited expression of inducible nitric oxide synthase (iNOS) and cyclooxygenase-2 (COX-2). In addition, co-treatment reduced the levels of proinflammatory cytokines, tumor necrosis factor (TNF)-α, and interleukin (IL)-1β. Both luteolin and Chicoric acid suppressed oxidative stress, but they did not exhibit any synergistic activity. Luteolin and Chicoric acid co-treatment inhibited phosphorylation of NF-κB and Akt, but had no effect on extracellular signal-regulated kinase (ERK), c-Jun NH2-terminal kinase (JNK), and p38. This anti-inflammatory signaling cascade coincides with that affected by luteolin treatment alone.
CONCLUSIONS:
These results suggest that luteolin plays a central role in ameliorating LPS-induced inflammatory cascades via inactivation of the NF-κB and Akt pathways, and that Chicoric acid strengthens the anti-inflammatory activity of luteolin through NF-κB attenuation.
Nutrition. 2014 Jul-Aug;30(7-8):882-9.
Oral intake of chicoric acid reduces acute alcohol-induced hepatic steatosis in mice.[Pubmed:
24985007
]
Acute and chronic consumption of alcohol can alter intestinal barrier function thereby increasing portal endotoxin levels subsequently leading to an activation of toll-like receptor (TLR) 4-dependent signaling cascades, elevated levels of reactive oxygen species and induction of tumor necrosis factor α in the liver. Recent studies suggest that Chicoric acid found in Echinacea pupurea, chicory, and other plants, may possess antioxidant and anti-inflammatory effects. The aim of the present study was to determine if Chicoric acid can reduce acute alcohol-induced liver damage.
METHODS AND RESULTS:
: Female mice were given Chicoric acid orally (4 mg/kg body weight) for 4 d before acute ethanol administration (6 g/kg body weight). Furthermore, the effect of Chicoric acid on the lipopolysaccharide (LPS)-dependent activation in an in vitro model of Kupffer cells (RAW264.7 macrophages) was assessed. Acute alcohol ingestion caused a significant increase in hepatic triacylglycerols accumulation, which was associated with increased protein levels of the inducible nitric oxide synthase (iNOS), 4-hydroxynonenal protein adducts, and active plasminogen activator inhibitor 1 protein in the liver. Pretreatment of animals with Chicoric acid significantly attenuated these effects of alcohol on the liver. In LPS-treated RAW264.7 macrophages, pretreatment with Chicoric acid significantly suppressed LPS-induced mRNA expression of iNOS and tumor necrosis factor α.
CONCLUSIONS:
These data suggest that Chicoric acid may reduce acute alcohol-induced steatosis in mice through interfering with the induction of iNOS and iNOS-dependent signaling cascades in the liver.