1,3-Dicaffeoylquinic acid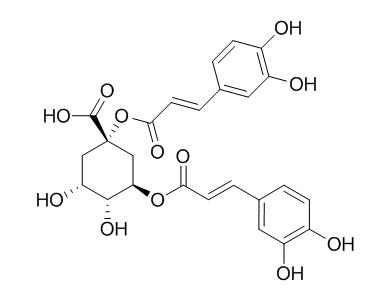 1,3-Dicaffeoylquinic acid is a caffeoylquinic acid derivative that exhibits antioxidant activity and radical scavenging activity.It can significantly inhibit hOAT3 transport under similar conditions.
Inquire / Order: manager@chemfaces.com
Technical Inquiries: service@chemfaces.com
Tel: +86-27-84237783
Fax: +86-27-84254680

Address:
1 Building, No. 83, CheCheng Rd., Wuhan Economic and Technological Development Zone, Wuhan, Hubei 430056, PRC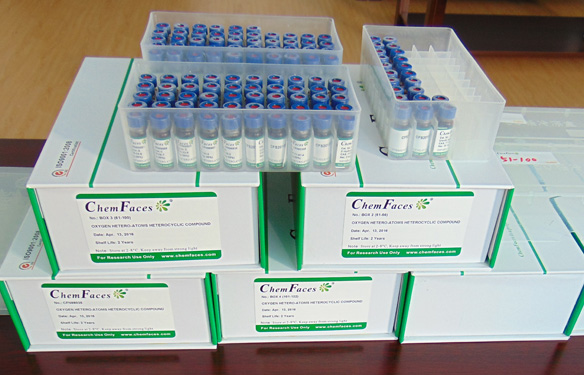 Providing storage is as stated on the product vial and the vial is kept tightly sealed, the product can be stored for up to
24 months(2-8C)
.
Wherever possible, you should prepare and use solutions on the same day. However, if you need to make up stock solutions in advance, we recommend that you store the solution as aliquots in tightly sealed vials at -20C. Generally, these will be useable for up to two weeks. Before use, and prior to opening the vial we recommend that you allow your product to equilibrate to room temperature for at least 1 hour.
Need more advice on solubility, usage and handling? Please email to: service@chemfaces.com
The packaging of the product may have turned upside down during transportation, resulting in the natural compounds adhering to the neck or cap of the vial. take the vial out of its packaging and gently shake to let the compounds fall to the bottom of the vial. for liquid products, centrifuge at 200-500 RPM to gather the liquid at the bottom of the vial. try to avoid loss or contamination during handling.
Eur Endod J.2020, 5(1):23-27.
Korean Herb. Med. Inf. 2016, 4(1):35-42
Int J Mol Sci.2017, 18(5)
J Ethnopharmacol.2016, 192:370-381
Antioxidants (Basel).2019, 8(8):E307
Sci Rep.2017, 7(1):3249
J Nat Prod.2019, 82(4):1002-1008
Int J Mol Sci.2019, 20(14):E3538
Nutrients.2019, 11(6):E1380
Molecules.2019, 25(1):E103
Food Research International, 2009 , 42 (9) :1273-1280.
Antioxidant activity of 1,3-dicaffeoylquinic acid isolated from Inula viscosa.[Reference:
WebLink
]
Inula viscosa is a perennial herbaceous plant used topically in folk medicine as an anti-scabies, anti-inflammatory, and wound-healing agent.
METHODS AND RESULTS:
We examined the antioxidant activity of the methanolic extract of I. viscosa. We isolated and identified several polyphenolic antioxidants from I. viscosa leaves and focused on 1,3-Dicaffeoylquinic acid (1,3-diCQA). Antioxidant activity was measured using ABTS and DPPH assays, which measure antioxidant activity. The concentrations of 1,3-diCQA required for the inhibition of oxidation were lower than those required by other known antioxidants. 1,3-diCQA inhibited oxidative damage caused by various factors, including FeSO4 and AAPH (2,2'-azobis(2-amidinopropane) dehydrochloride). Antioxidant activity can also be detected by the ability of a compound to scavenge reactive oxygen species (ROS). 1,3-diCQA was found to scavenge hydroxyl radical and superoxide radicals, as measured by electron spin resonance (ESR).
CONCLUSIONS:
These data demonstrate that 1,3-diCQA exhibits antioxidant properties, probably through the involvement of a direct scavenging effect on several free radicals.
Evid Based Complement Alternat Med. 2013;2013:612527.
Interaction of Natural Dietary and Herbal Anionic Compounds and Flavonoids with Human Organic Anion Transporters 1 (SLC22A6), 3 (SLC22A8), and 4 (SLC22A11).[Pubmed:
23573138
]
Active components of complementary/alternative medicines and natural supplements are often anionic compounds and flavonoids. As such, organic anion transporters (OATs) may play a key role in their pharmacokinetic and pharmacological profiles, and represent sites for adverse drug-drug interactions.
METHODS AND RESULTS:
Therefore, we assessed the inhibitory effects of nine natural products, including flavonoids (catechin and epicatechin), chlorogenic acids (1,3-Dicaffeoylquinic acid and 1,5-dicaffeoylquinic acid), phenolic acids (ginkgolic acids (13 : 0), (15 : 1), and (17 : 1)), and the organic acids ursolic acid and 18 β -glycyrrhetinic acid, on the transport activity of the human OATs, hOAT1 (SLC22A6), hOAT3 (SLC22A8), and hOAT4 (SLC22A11). Four compounds, 1,3- and 1,5-dicaffeoylquinic acid, ginkgolic acid (17 : 1), and 18 β -glycyrrhetinic acid, significantly inhibited hOAT1-mediated transport (50  μ M inhibitor versus 1  μ M substrate). Five compounds, 1,3- and 1,5-dicaffeoylquinic acid, ginkgolic acids (15 : 1) and (17 : 1), and epicatechin, significantly inhibited hOAT3 transport under similar conditions. Only catechin inhibited hOAT4. Dose-dependency studies were conducted for 1,3-Dicaffeoylquinic acid and 18 β -glycyrrhetinic acid on hOAT1, and IC50 values were estimated as 1.2 ± 0.4  μ M and 2.7 ± 0.2  μ M, respectively.
CONCLUSIONS:
These data suggest that 1,3-Dicaffeoylquinic acid and 18 β -glycyrrhetinic acid may cause significant hOAT1-mediated DDIs in vivo; potential should be considered for safety issues during use and in future drug development.