Moreollic acid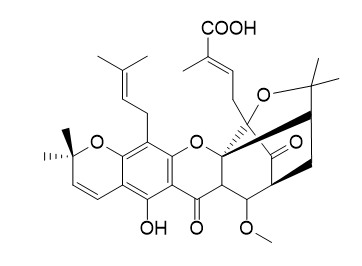 Moreollic acid has moderate antibacterial activity against methicillin-resistant Staphylococcus aureus with an MIC of 25 microg/ml. Moreollic acid has antitumor activity.
Inquire / Order: manager@chemfaces.com
Technical Inquiries: service@chemfaces.com
Tel: +86-27-84237783
Fax: +86-27-84254680

Address:
1 Building, No. 83, CheCheng Rd., Wuhan Economic and Technological Development Zone, Wuhan, Hubei 430056, PRC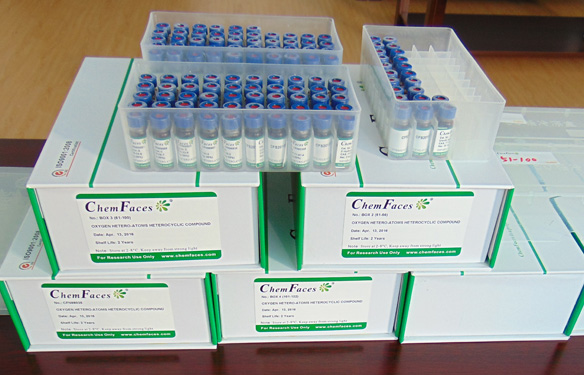 Providing storage is as stated on the product vial and the vial is kept tightly sealed, the product can be stored for up to
24 months(2-8C)
.
Wherever possible, you should prepare and use solutions on the same day. However, if you need to make up stock solutions in advance, we recommend that you store the solution as aliquots in tightly sealed vials at -20C. Generally, these will be useable for up to two weeks. Before use, and prior to opening the vial we recommend that you allow your product to equilibrate to room temperature for at least 1 hour.
Need more advice on solubility, usage and handling? Please email to: service@chemfaces.com
The packaging of the product may have turned upside down during transportation, resulting in the natural compounds adhering to the neck or cap of the vial. take the vial out of its packaging and gently shake to let the compounds fall to the bottom of the vial. for liquid products, centrifuge at 200-500 RPM to gather the liquid at the bottom of the vial. try to avoid loss or contamination during handling.
J Biomed Sci.2020, 27(1):60.
Appl. Sci.2020, 10(4),1304
Dent Mater J.2020, 39(4):690-695
Pharmacognosy Magazine2017, 13(52):868-874
Food Funct.2022, 13(14):7638-7649.
Molecules.2019, 24(2):E343
Chemistry of Vegetable Raw Materials2019, 3:119-127
TCI CO.2019, US20190151257A1
Front Pharmacol.2021, 12:615157.
J Anal Toxicol.2021, bkab015.
Molecules . 2022 Jan 13;27(2):482.
Structural Optimization and Improving Antitumor Potential of Moreollic Acid from Gamboge[Pubmed:
35056797
]
Moreollic acid, a caged-tetraprenylated xanthone from Gamboge, has been indicated as a potent antitumor molecule. In the present study, a series of Moreollic acid derivatives with novel structures were designed and synthesized, and their antitumor activities were determined in multifarious cell lines. The preliminary screening results showed that all synthesized compounds selectively inhibited human colon cancer cell proliferation. TH12-10, with an IC50 of 0.83, 1.10, and 0.79 μM against HCT116, DLD1, and SW620, respectively, was selected for further antitumor mechanism studies. Results revealed that TH12-10 effectively inhibited cell proliferation by blocking cell-cycle progression from G1 to S. Besides, the apparent structure-activity relationships of target compounds were discussed. To summarize, a series of Moreollic acid derivatives were discovered to possess satisfactory antitumor potentials. Among them, TH12-10 displays the highest antitumor activities against human colon cancer cells, in which the IC50 values in DLD1 and SW620 are lower than that of 5-fluorouracil.
Chem Pharm Bull (Tokyo). 2005 Jul;53(7):850-852.
Antibacterial caged-tetraprenylated xanthones from the fruits of Garcinia hanburyi[Pubmed:
15997152
]
A new caged-tetraprenylated xanthone, hanburinone (1), was isolated from the fresh fruits of Garcinia hanburyi together with four known caged-tetraprenylated xanthones; isomoreollin B (2), morellin (3), Moreollic acid (4) and morellic acid (5). Their structures were elucidated by analysis of spectroscopic data and comparison of the NMR data with those reported previously. Compounds 4 and 5 showed moderately antibacterial activity against methicillin-resistant Staphylococcus aureus with a MIC value of 25 microg/ml.
Phytochemistry . 1996 Feb;41(3):815-820.
Cytotoxic xanthones from Garcinia hanburyi[Pubmed:
8835458
]
Eleven novel cytotoxic xanthones, gambogin, morellin dimethyl acetal, isomoreollin B, Moreollic acid, gambogenic acid, gambogenin, isogambogenin, desoxygambogenin, gambogenin dimethyl acetal, gambogellic acid and hanburin were isolated together with four known xanthones, gambogic acid, isomorellin, morellic acid and desoxymorellin, from the dry latex of Garcinia hanburyi. The structures were elucidated by a detailed spectroscopic analysis.