Caftaric acid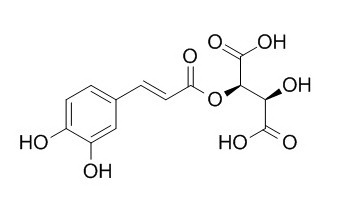 Caftaric acid is an inhibitor of the protein-protein interactions mediated by the Src-family kinases, which has anti-mutagenicity. Caftaric acid is the major dietary polyphenol present in various foods, it before methamphetamine injections can prevent liver toxicity and oxidative stress.
Inquire / Order: manager@chemfaces.com
Technical Inquiries: service@chemfaces.com
Tel: +86-27-84237783
Fax: +86-27-84254680

Address:
1 Building, No. 83, CheCheng Rd., Wuhan Economic and Technological Development Zone, Wuhan, Hubei 430056, PRC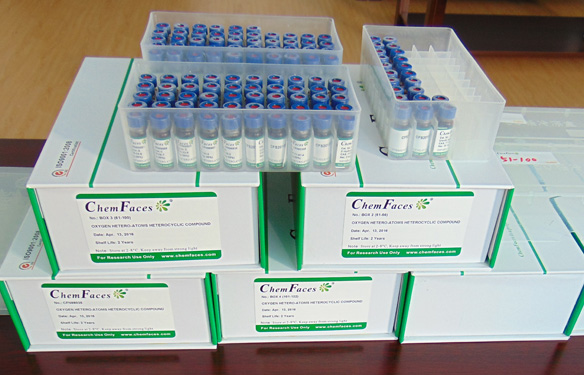 Providing storage is as stated on the product vial and the vial is kept tightly sealed, the product can be stored for up to
24 months(2-8C)
.
Wherever possible, you should prepare and use solutions on the same day. However, if you need to make up stock solutions in advance, we recommend that you store the solution as aliquots in tightly sealed vials at -20C. Generally, these will be useable for up to two weeks. Before use, and prior to opening the vial we recommend that you allow your product to equilibrate to room temperature for at least 1 hour.
Need more advice on solubility, usage and handling? Please email to: service@chemfaces.com
The packaging of the product may have turned upside down during transportation, resulting in the natural compounds adhering to the neck or cap of the vial. take the vial out of its packaging and gently shake to let the compounds fall to the bottom of the vial. for liquid products, centrifuge at 200-500 RPM to gather the liquid at the bottom of the vial. try to avoid loss or contamination during handling.
Int Immunopharmacol.2019, 71:22-31
Nutrients2020, 12(2):488
Analytical sci. & Tech2016, 186-193
Korean Journal of Medicinal Crop Science2018, 26(5):382-390
Genes Genomics.2020, 10.1007
Chemistr of plant2016, 2016021195
Exp Biol Med (Maywood).2019, 244(18):1665-1679
Biochem Biophys Res Commun.2019, 518(4):732-738
Acta Physiologiae Plantarum2016, 38:7
Pharmacognosy Journal2019, 11,6:1235-1241
J Agric Food Chem. 2007 Feb 21;55(4):1604-11.
The fate of trans-caftaric acid administered into the rat stomach.[Pubmed:
17300159
]
trans-Caftaric acid is the most abundant nonflavonoid phenolic compound in grapes and wines. It occurs in chicory and is one of the bioactive components of Echinacea purpurea. In order to fill the gap of knowledge about its bioavailability in mammals, we investigated its absorption, tissue distribution, and metabolism in rats.
METHODS AND RESULTS:
Assuming that the stomach is a relevant site of absorption of dietary polyphenols, a solution of trans-Caftaric acid was maintained in the ligated stomach of anaesthetized rats for 20 min. Intact trans-Caftaric acid was detected in rat plasma at both 10 and 20 min (293 +/- 45 and 334 +/- 49 ng/mL, respectively), along with its O-methylated derivative trans-fertaric acid, whose concentration rose over time (from 92 +/- 12 to 185 +/- 24 ng/mL). At 20 min, both trans-Caftaric acid and trans-fertaric acid were detected in the kidney (443 +/- 78 and 2506 +/- 514 ng/g, respectively) but not in the liver. Only trans-fertaric acid was found in the urine (33.3 +/- 12.8 microg/mL). In some rats, trans-Caftaric acid was detected in the brain (180 +/- 20 ng/g).
J Toxicol. 2014; 2014: 583494.
Chlorogenic and Caftaric Acids in Liver Toxicity and Oxidative Stress Induced by Methamphetamine.[Pubmed:
25136360
]
Methamphetamine intoxication can cause acute hepatic failure. Chlorogenic and Caftaric acids are the major dietary polyphenols present in various foods. The aim of this study was to evaluate the protective role of chlorogenic and Caftaric acids in liver toxicity and oxidative stress induced by methamphetamine in rats.
METHODS AND RESULTS:
Thirty-two male albino rats were divided into 4 equal groups. Group 1, which was control group, was injected (i.p) with saline (1 mL/kg) twice a day over seven-day period. Groups 2, 3, and 4 were injected (i.p) with methamphetamine (10 mg/kg) twice a day over seven-day period, where groups 3 and 4 were injected (i.p) with 60 mg/kg chlorogenic acid and 40 mg/kg Caftaric acid, respectively, one day before methamphetamine injections. Methamphetamine increased serum aspartate aminotransferase, alanine aminotransferase, alkaline phosphatase, bilirubin, cholesterol, low-density lipoprotein, and triglycerides. Also, malondialdehyde in serum, liver, and brain and plasma and liver nitric oxide levels were increased while methamphetamine induced a significant decrease in serum total protein, albumin, globulin, albumin/globulin ratio, brain serotonin, norepinephrine and dopamine, blood and liver superoxide dismutase, and glutathione peroxidase levels. Chlorogenic and Caftaric acids prior to methamphetamine injections restored all the above parameters to normal values.
CONCLUSIONS:
In conclusion, chlorogenic and Caftaric acids before methamphetamine injections prevented liver toxicity and oxidative stress where chlorogenic acid was more effective.
Mutat Res. 2011 Aug 16;723(2):182-9.
Anti-genotoxic activity of Vitis coignetiae Pulliat towards heterocyclic amines and isolation and identification of caftaric acid as an antimutagenic component from the juice.[Pubmed:
21601008
]

METHODS AND RESULTS:
Our study demonstrated that the formation of DNA adducts in liver, lungs, colon and kidneys of mice given a carcinogenic heterocyclic amine, 2-amino-3,8-dimethylimidazo[4,5-f]quinoxaline (MeIQx) or 2-amino-1-methyl-6-phenylimidazo[4,5-b]pyridine (PhIP), in the diet significantly decreased following the administration of the juice of Vitis coignetiae, purple berries from a vine tree. The juice of V. coignetiae significantly inhibited the clastogenicity and mutagenicity of heterocyclic amines in the micronucleus assay and the Ames test, and was an effective inhibitor of the activities of phase I enzymes (cytochrome P450 1A1 and cytochrome P450 1A2) and enhancer of the activities of phase II enzymes (uridine 5'-diphospho-glucuronosyltransferase and glutathione S-transferase). We investigated the purification and isolation of an active compound in the juice of V. coignetiae using antimutagenicity as a separation marker. Caftaric acid, a polyphenolic compound, was identified as a component responsible for antimutagenicity in the juice of V. coignetiae towards the carcinogenic heterocyclic amine 3-amino-1-methyl-5H-pyrido[4,3-b]indole (Trp-P-2).
CONCLUSIONS:
This is the first report of antimutagenicity of Caftaric acid. Caftaric acid was reported as an inhibitor of the protein-protein interactions mediated by the Src-family kinases. The impact of the juice of V. coignetiae and its constituents on tumor initiation and promotion thus warrants further study.