6''-O-acetylsaikosaponin A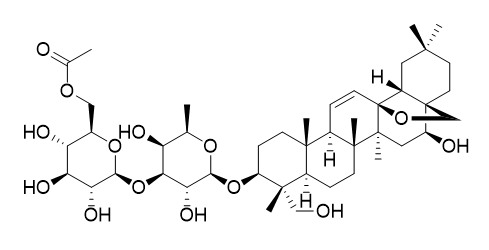 Reference standards.
Inquire / Order: manager@chemfaces.com
Technical Inquiries: service@chemfaces.com
Tel: +86-27-84237783
Fax: +86-27-84254680

Address:
1 Building, No. 83, CheCheng Rd., Wuhan Economic and Technological Development Zone, Wuhan, Hubei 430056, PRC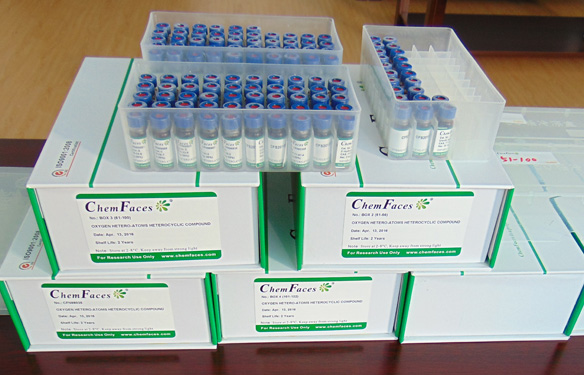 Providing storage is as stated on the product vial and the vial is kept tightly sealed, the product can be stored for up to
24 months(2-8C)
.
Wherever possible, you should prepare and use solutions on the same day. However, if you need to make up stock solutions in advance, we recommend that you store the solution as aliquots in tightly sealed vials at -20C. Generally, these will be useable for up to two weeks. Before use, and prior to opening the vial we recommend that you allow your product to equilibrate to room temperature for at least 1 hour.
Need more advice on solubility, usage and handling? Please email to: service@chemfaces.com
The packaging of the product may have turned upside down during transportation, resulting in the natural compounds adhering to the neck or cap of the vial. take the vial out of its packaging and gently shake to let the compounds fall to the bottom of the vial. for liquid products, centrifuge at 200-500 RPM to gather the liquid at the bottom of the vial. try to avoid loss or contamination during handling.
Front Cell Dev Biol.2021, 9:588093.
Drug Des Devel Ther.2020, 14:5189-5204.
Saf Health Work.2019, 10(2):196-204
J Korean Soc Food Sci Nutr2020, doi: 10.3746.
Daru.2022, 30(2):273-288.
Sci Rep. 2018, 1-9
J Ethnopharmacol.2017, 206:327-336
Pharmaceuticals (Basel).2021, 14(7):633.
Int J Pharmacol2020, 16:1-9
Biomedicine & Pharmacotherapy2022, 153:113404.
J Pharm Biomed Anal. 2009 May 1;49(4):1048-55.
Fast determination of saikosaponins in Bupleurum by rapid resolution liquid chromatography with evaporative light scattering detection.[Pubmed:
19201128
]
A rapid resolution liquid chromatography coupled with evaporative light scattering detection method was established for simultaneous determination of six saikosaponins, namely saikosaponin a, saikosaponin c, saikosaponin d, 6''-O-acetylsaikosaponin A, 3''-O-acetylsaikosaponin d and 6''-O-acetylsaikosaponin d in Bupleurum.
METHODS AND RESULTS:
The analysis was performed by using an Agilent Zorbax SB-C18 column (1.8 microm, 3.0 mm x 50 mm i.d.) at gradient elution of water and acetonitrile, and the saikosaponins were well separated within 12 min, which provided about a fourfold reduction in analysis time by comparing a conventional high performance liquid chromatography method. Owing to their low ultraviolet absorption, the saikosaponins were detected by evaporative light scattering. The standard curves to quantify the saikosaponins were constructed by the log-log plot, which showed good linearity with the correlation coefficients exceeding 0.9954. The detection limits and quantification limits ranged in 8.38-25.00 microg/mL and 25.13-45.00 microg/mL, respectively. Satisfactory intra-day and inter-day precisions were achieved with the relative standard deviation (R.S.D.) less than 6.58%, and the average recoveries obtained were in the range of 96.9-100.4%. In addition, MeOH-1.0% (v/v) pyridine was found to be the best the extraction solvent when compared to MeOH and MeOH-1.0% (v/v) ammonia water. A total of 23 samples of roots of Bupleurum from different species or locations were examined with this analytical method, and their chemical profiles provided information for the chemotaxonomic investigation.
CONCLUSIONS:
The results demonstrated that the analytical method is highly effective for the quality evaluation of Bupleurum species.