Curculigoside B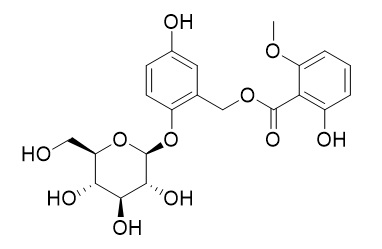 Curculigoside B shows antioxidative and antiosteoporotic activities, it can decrease area of bone resorption pit, osteoclastic formation and TRAP activity.
Inquire / Order: manager@chemfaces.com
Technical Inquiries: service@chemfaces.com
Tel: +86-27-84237783
Fax: +86-27-84254680

Address:
1 Building, No. 83, CheCheng Rd., Wuhan Economic and Technological Development Zone, Wuhan, Hubei 430056, PRC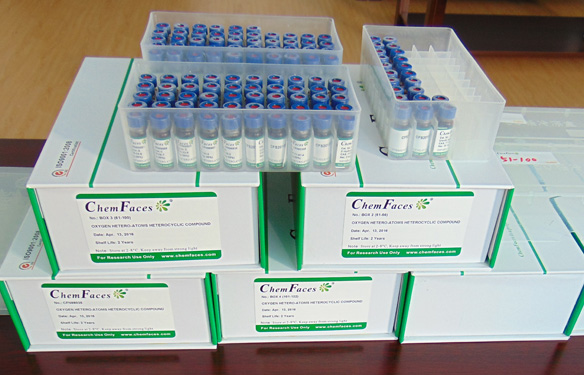 Providing storage is as stated on the product vial and the vial is kept tightly sealed, the product can be stored for up to
24 months(2-8C)
.
Wherever possible, you should prepare and use solutions on the same day. However, if you need to make up stock solutions in advance, we recommend that you store the solution as aliquots in tightly sealed vials at -20C. Generally, these will be useable for up to two weeks. Before use, and prior to opening the vial we recommend that you allow your product to equilibrate to room temperature for at least 1 hour.
Need more advice on solubility, usage and handling? Please email to: service@chemfaces.com
The packaging of the product may have turned upside down during transportation, resulting in the natural compounds adhering to the neck or cap of the vial. take the vial out of its packaging and gently shake to let the compounds fall to the bottom of the vial. for liquid products, centrifuge at 200-500 RPM to gather the liquid at the bottom of the vial. try to avoid loss or contamination during handling.
Chemistry of plant raw materials2021, 1:pp 139-150
Arch Toxicol.2017, 91(10):3225-3245
Life Sci.2021, 286:120019.
Metabolites.2019, 9(11):E271
Ann Transl Med.2019, 7(23):731
J Ethnopharmacol.2017, 198:87-90
JEJU National University2022, 24032.
Saudi Pharm J.2019, 27(1):145-153
Food Science and Biotechnology2022, 10.1007.
Adaptive Medicine 2020, 12(1): 4-10
Phytomedicine. 2009 Sep;16(9):874-81.
Antiosteoporotic activity of phenolic compounds from Curculigo orchioides.[Pubmed:
19328665
]
Six phenolic compounds isolated from Curculigo orchioides, including 2,6-dimethoxy benzoic acid (1), curculigoside A (2), Curculigoside B (3), curculigine A (4), curculigine D (5) and 3,3',5,5'-tetramethoxy-7,9':7',9-diepoxylignan-4,4'-di-O-beta-D-glucopyranoside (6), together with the ethanol extract of Curculigo orchioides were evaluated for their activity on osteoblasts in neonatal rat calvaria cultures and multinucleated osteoclasts derived from rat marrow cells so as to characterize the antiosteoporotic components of this plant and explore the relationship of chemical structure with antiosteoporotic activity.
METHODS AND RESULTS:
The proliferation of osteoblast was assayed by MTT methods. The activity of ALP (alkaline phosphatase) and TRAP (tartrate-resistant acid phosphatase) was measured by p-nitrophenyl sodium phosphate assay. The TRAP stain was used to identify osteoclast in morphology. The resorption pit area on the bone slices formed by osteoclast was measured by computer image processing. The ethanol extract exhibited stimulatory effect on both the osteoblast proliferation and the ALP activity. Six compounds all increased the osteoblast proliferation, and compounds (1), (2) and (4) also slightly increased the osteoblastic ALP activity. Compounds (1), (2), (3), (6) and the ethanol extract decreased area of bone resorption pit, osteoclastic formation and TRAP activity.
CONCLUSIONS:
These results indicated that phenolic compounds are antiosteoporotic chemical constituents from Curculigo orchioides, and their activities are related with chemical structures.
Chem Pharm Bull (Tokyo). 2005 Aug;53(8):1065-7.
Antioxidative phenols and phenolic glycosides from Curculigo orchioides.[Pubmed:
16079552
]
A new orcinol glucoside, orcinol-1-O-beta-D-apiofuranosyl-(1-->6)-beta-D-glucopyranoside (3), was isolated from the rhizomes of Curculigo orchioides GAERTN., together with seven known compounds: orcinol glucoside (1), orcinol-1-O-beta-D-glucopyranosyl-(1-->6)-beta-D-glucopyranoside (2), curculigoside (4), Curculigoside B (5), curculigoside C (6), 2,6-dimethoxyl benzoic acid (7), and syringic acid (8).
METHODS AND RESULTS:
The structures of these compounds were elucidated using spectroscopic methods. The antioxidant activities of these isolated compounds were evaluated by colorimetric methods based on their scavenging effects on hydroxyl radicals and superoxide anion radicals, respectively.
CONCLUSIONS:
All the compounds showed potent antioxidative activities and the structure-activity relationship is discussed.