Homaloside D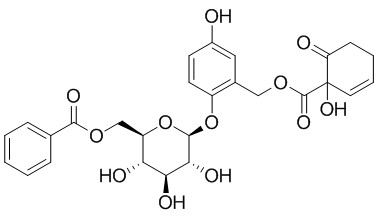 Homaloside D has antiplasmodial activity.
Inquire / Order: manager@chemfaces.com
Technical Inquiries: service@chemfaces.com
Tel: +86-27-84237783
Fax: +86-27-84254680

Address:
1 Building, No. 83, CheCheng Rd., Wuhan Economic and Technological Development Zone, Wuhan, Hubei 430056, PRC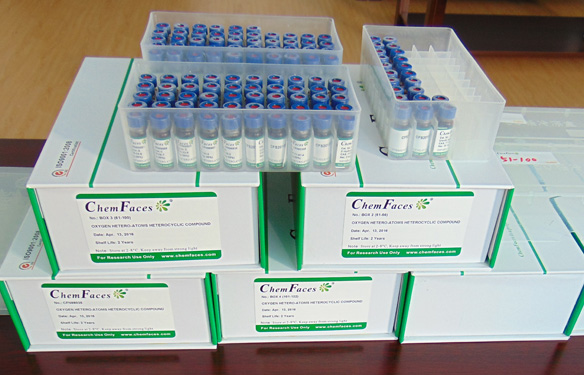 Providing storage is as stated on the product vial and the vial is kept tightly sealed, the product can be stored for up to
24 months(2-8C)
.
Wherever possible, you should prepare and use solutions on the same day. However, if you need to make up stock solutions in advance, we recommend that you store the solution as aliquots in tightly sealed vials at -20C. Generally, these will be useable for up to two weeks. Before use, and prior to opening the vial we recommend that you allow your product to equilibrate to room temperature for at least 1 hour.
Need more advice on solubility, usage and handling? Please email to: service@chemfaces.com
The packaging of the product may have turned upside down during transportation, resulting in the natural compounds adhering to the neck or cap of the vial. take the vial out of its packaging and gently shake to let the compounds fall to the bottom of the vial. for liquid products, centrifuge at 200-500 RPM to gather the liquid at the bottom of the vial. try to avoid loss or contamination during handling.
Evid Based Complement Alternat Med.2021, 2021:5585692.
Clin Transl Med.2021, 11(5):e392.
Biol Pharm Bull.2018, 41(11):1645-1651
Biochem Pharmacol. 2020, 177:114014.
Iranian J. Pharm. Res.2021, 20(4):59-70
Evid Based Complement Alternat Med.2021, 2021:5023536.
Dicle Tip Dergisi2020, 47(2),423-430.
Integr Med Res.2017, 6(4):395-403
Indian J Pharm Sci.2022, 84(3):144-151
Appl. Sci.2020, 10,1304
J Ethnopharmacol. 2010 Jul 20;130(2):272-4.
Antimalarial compounds from the aerial parts of Flacourtia indica (Flacourtiaceae).[Pubmed:
20457242
]
In the Comoros Islands, the aerial parts of Flacourtia indica are used in traditional medicine to treat malaria. Because of the important use of this plant, the phytochemistry of the aerial parts was investigated.
METHODS AND RESULTS:
Three compounds were isolated from the decoction of this plant material, pyrocatechol, Homaloside D and poliothrysoside. The in vitro antiplasmodial activity on the chloroquine-resistant strain (W2) of Plasmodium falciparum and the cytotoxicity on two complementary human cell lines (THP1, HepG2), of AcOEt extract obtained after liquid/liquid extraction of the decoction and pure compounds, were evaluated. The poliothrysoside isolated from the AcOEt extract presented a strong antiplasmodial activity (IC(50)=7.4 microM) and a good selectivity index (>28) similar to chloroquine.
CONCLUSIONS:
This study reports for the first time antiplasmodial activity for Flacourtia indica, for its AcOEt extract and the three major constituents and confirms its traditional use.
J Nat Prod. 1993 May;56(5):699-707.
A phytochemical investigation of Homalium ceylanicum.[Pubmed:
8326319
]

METHODS AND RESULTS:
Vacciniin [4] (6-O-benzoyl-D-glucopyranoside) and two new benzenoid glucosides, homaloside A [1] (1''-O-benzyl-3''-O-benzoyl-alpha-L-arabinopyranosyl(1'''-->4'')- beta-D-glucopyranoside) and Homaloside D [2] [1-(1'-hydroxy-6'-oxocyclohex-2'-ene-carboxymethyl)- 5-hydroxyphenyl-6''-O-benzoyl-beta-D-glucopyranoside], were isolated from the n-BuOH fraction of Homalium ceylanicum (Flacourtiaceae). A novel cyclohexenone carboxylic acid ester, 1-hydroxy-6-oxocyclohex-2-enoic acid methyl ester [3], was also isolated from this fraction.
CONCLUSIONS:
The structures were elucidated by chemical and nmr (COLOC, FLOCK, and selective INEPT) techniques.