Iristectorin A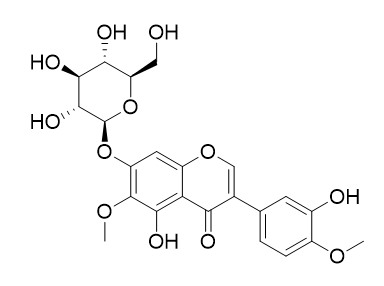 Iristectorin A is a natural product from Iris tectorum.
Inquire / Order: manager@chemfaces.com
Technical Inquiries: service@chemfaces.com
Tel: +86-27-84237783
Fax: +86-27-84254680

Address:
1 Building, No. 83, CheCheng Rd., Wuhan Economic and Technological Development Zone, Wuhan, Hubei 430056, PRC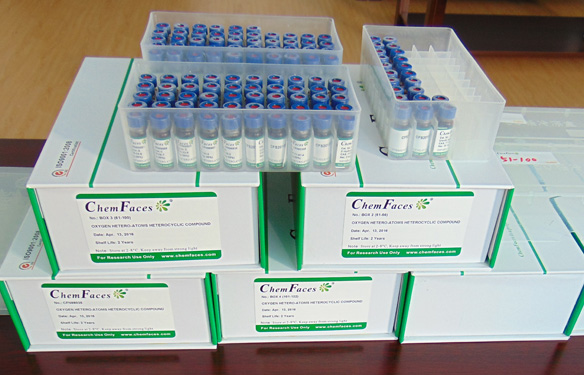 Providing storage is as stated on the product vial and the vial is kept tightly sealed, the product can be stored for up to
24 months(2-8C)
.
Wherever possible, you should prepare and use solutions on the same day. However, if you need to make up stock solutions in advance, we recommend that you store the solution as aliquots in tightly sealed vials at -20C. Generally, these will be useable for up to two weeks. Before use, and prior to opening the vial we recommend that you allow your product to equilibrate to room temperature for at least 1 hour.
Need more advice on solubility, usage and handling? Please email to: service@chemfaces.com
The packaging of the product may have turned upside down during transportation, resulting in the natural compounds adhering to the neck or cap of the vial. take the vial out of its packaging and gently shake to let the compounds fall to the bottom of the vial. for liquid products, centrifuge at 200-500 RPM to gather the liquid at the bottom of the vial. try to avoid loss or contamination during handling.
Dicle Tip Dergisi2020, 47(2),423-430.
Int J Mol Sci.2019, 20(14):E3538
Phytomedicine.2022, 110:154597.
Food Sci Biotechnol.2016, 25(5):1437-1442
Phytomedicine Plus2022, 2(1):100207.
Biochem Biophys Res Commun.2020, 530(1):4-9.
Int J Mol Sci.2022, 23(11):6172.
FEMS Microbiol Lett.2017, 364(11)
J Clin Med.2019, 8(10):E1664
Molecules.2016, 21(6)
J Nat Prod. 2005 Mar;68(3):361-4.
Phenolic constituents of the rhizomes of the Thai medicinal plant Belamcanda chinensis with proliferative activity for two breast cancer cell lines.[Pubmed:
15787436
]

METHODS AND RESULTS:
From the rhizomes of Belamcanda chinensis, three new compounds, belalloside A (1), belalloside B (2), and belamphenone (3), along with 13 known compounds, resveratrol (4), iriflophenone (5), irisflorentin (6), tectorigenin (7), irilin D (8), tectoridin (9), Iristectorin A (10), iristectorin B (11), hispiduloside, androsin, irigenin, iridin, and jaceoside, have been isolated and characterized.
CONCLUSIONS:
Isolates were evaluated for their cell proliferation stimulatory activity against the MCF-7 and T-47D human breast cancer cell lines. Along with 4, 5, 7, and 9, 3 was shown to stimulate not only MCF-7 but also T-47D human breast cancer cell proliferation.
J Sep Sci. 2016 Dec;39(23):4533-4543.
Ultrafiltration-LC-MS combined with semi-preparative HPLC for the simultaneous screening and isolation of lactate dehydrogenase inhibitors from Belamcanda chinensis.[Pubmed:
27734585
]
Stroke represents the fourth leading cause of death in the USA and the second leading cause of death worldwide. Lactate dehydrogenase inhibitors are widely used in the treatment of ischemic stroke and natural products are considered a promising source of novel lactate dehydrogenase inhibitors.
METHODS AND RESULTS:
In this study, we used PC12 cells to determine the protective effect of extracts from the herb Belamcanda chinensis following toxic challenge. Using ultrafiltration high-performance liquid chromatography coupled with photo-diode array detection and electrospray ionization mass spectrometry, we screened and identified isoflavonoids from Belamcanda chinensis extracts. Semi-preparative high-performance liquid chromatography was then applied to separate and isolate the active constituents. Using these methods, we identified six major compounds in Belamcanda chinensis as lactate dehydrogenase inhibitors: tectoridin, Iristectorin A, iridin, tectorigenin, irigenin, and irisflorentin, which were then isolated to >92% purity. This is the first report that Belamcanda chinensis extracts contain potent lactate dehydrogenase inhibitors.
CONCLUSIONS:
Our results demonstrate that the systematic isolation of bioactive components from Belamcanda chinensis guided by ultrafiltration high-performance liquid chromatography coupled with photo-diode array detection and electrospray ionization mass spectrometry represents a feasible and efficient technique that could be extended for the identification and isolation of other enzyme inhibitors.