Canthin-6-one N-oxide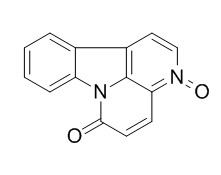 Canthin-6-one N-oxide has broad spectrum antifungal, leishmanicidal and trypanocidal activities.
Inquire / Order: manager@chemfaces.com
Technical Inquiries: service@chemfaces.com
Tel: +86-27-84237783
Fax: +86-27-84254680

Address:
1 Building, No. 83, CheCheng Rd., Wuhan Economic and Technological Development Zone, Wuhan, Hubei 430056, PRC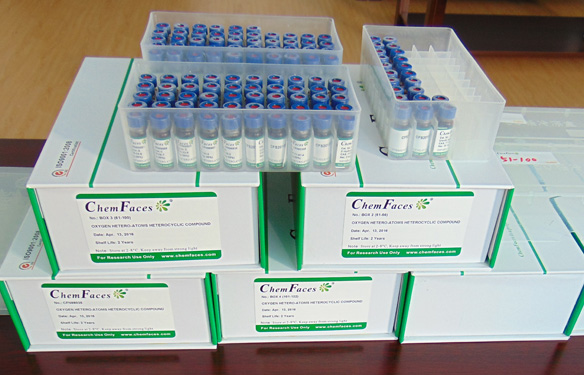 Providing storage is as stated on the product vial and the vial is kept tightly sealed, the product can be stored for up to
24 months(2-8C)
.
Wherever possible, you should prepare and use solutions on the same day. However, if you need to make up stock solutions in advance, we recommend that you store the solution as aliquots in tightly sealed vials at -20C. Generally, these will be useable for up to two weeks. Before use, and prior to opening the vial we recommend that you allow your product to equilibrate to room temperature for at least 1 hour.
Need more advice on solubility, usage and handling? Please email to: service@chemfaces.com
The packaging of the product may have turned upside down during transportation, resulting in the natural compounds adhering to the neck or cap of the vial. take the vial out of its packaging and gently shake to let the compounds fall to the bottom of the vial. for liquid products, centrifuge at 200-500 RPM to gather the liquid at the bottom of the vial. try to avoid loss or contamination during handling.
Sci Rep.2017, 7(1):3249
Biomed Pharmacother.2019, 111:262-269
Sci Rep. 2017, 12953(7)
Nutrients.2018, 10(10)
Cytotechnology.2017, 69(5):765-773
Int Immunopharmacol.2019, 71:361-371
Biochem Biophys Res Commun.2018, 505(1):261-266
Food and Fermentation Industries2018, 44(371)
Life Sci.2018, 209:498-506
J Sep Sci.2018, 41(11):2488-2497
J Ethnopharmacol. 2007 Jan 19;109(2):258-63.
Effects of canthin-6-one alkaloids from Zanthoxylum chiloperone on Trypanosoma cruzi-infected mice.[Pubmed:
16949231
]
Canthin-6-one (1), isolated from Zanthoxylum chiloperone (Rutaceae), possesses a broad sprectum of antifungal and leishmanicidal activities.
METHODS AND RESULTS:
In this study, we have examined the antiparasitic effects of canthin-6-one (1), 5-methoxycanthin-6-one (2), Canthin-6-one N-oxide (3), as well as that of the total alkaloids of Zanthoxylum chiloperone stem bark, in Balb/c mice infected either acutely or chronically with Trypanosoma cruzi. The compounds were administered orally or subcutaneously at 5mg/kg/day for 2 weeks, whereas the alkaloidal extract was given at 50mg/kg/day for 2 weeks. The antiparasitic activity was compared with that of benznidazole given at 50mg/kg/day for 2 weeks. In the case of acute infection, parasiteamia was significantly reduced following oral treatment with canthin-6-one (1). Moreover, the total alkaloids of Zanthoxylum chiloperone stem bark led to high levels of parasitological clearance. Seventy days post-infection, the serological response in the acute model was significantly different between oral canthin-6-one (1) and benznidazole-treated mice. Chronic model of the disease showed that both canthin-6-one (1) and the alkaloidal extract at the above dosage induced 80-100% animal survival compared to untreated controls.
CONCLUSIONS:
These results indicate that canthin-6-one (1) exhibits trypanocidal activity in vivo in the mouse model of acute or chronic infection. This is the first demonstration of anti-Trypanosoma cruzi activity for a member of this chemical group (canthinones). Considering the very low toxicity of canthin-6-one (1), our results suggest that long-term oral treatment with this natural product could prove advantageous compared to the current chemotherapy of Chagas disease.