Meliotocarpan D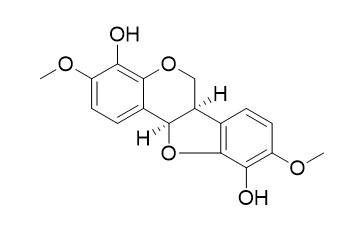 Meliotocarpan D exhibited strong antioxidant and anti-inflammatory effects.
Inquire / Order: manager@chemfaces.com
Technical Inquiries: service@chemfaces.com
Tel: +86-27-84237783
Fax: +86-27-84254680

Address:
1 Building, No. 83, CheCheng Rd., Wuhan Economic and Technological Development Zone, Wuhan, Hubei 430056, PRC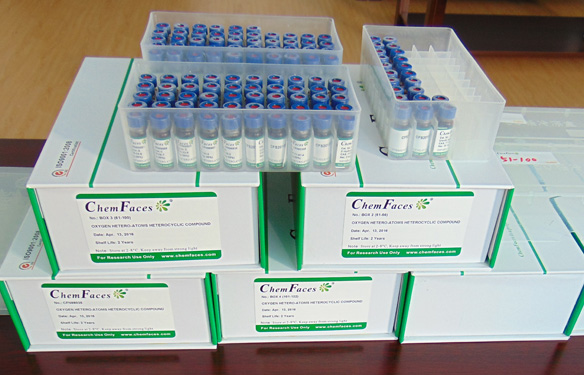 Providing storage is as stated on the product vial and the vial is kept tightly sealed, the product can be stored for up to
24 months(2-8C)
.
Wherever possible, you should prepare and use solutions on the same day. However, if you need to make up stock solutions in advance, we recommend that you store the solution as aliquots in tightly sealed vials at -20C. Generally, these will be useable for up to two weeks. Before use, and prior to opening the vial we recommend that you allow your product to equilibrate to room temperature for at least 1 hour.
Need more advice on solubility, usage and handling? Please email to: service@chemfaces.com
The packaging of the product may have turned upside down during transportation, resulting in the natural compounds adhering to the neck or cap of the vial. take the vial out of its packaging and gently shake to let the compounds fall to the bottom of the vial. for liquid products, centrifuge at 200-500 RPM to gather the liquid at the bottom of the vial. try to avoid loss or contamination during handling.
PLoS One.2021, 16(6):e0248479.
JPC-Journal of Planar Chromatography 2017, 30(2)
Univerzita Karlova2022, 173245.
Int. Conference on Med. Sci. and Bio.2017, 17973
Molecules. 2013, 18(7):7376-88
J Biochem Mol Toxicol.2022, e23211.
Oxid Med Cell Longev.2021, 2021:4883398.
Pharmaceuticals (Basel).2021, 14(7):633.
Molecules.2021, 26(8):2161.
Chin J Pharm Anal.2019, 39(7):1217-1228
Food Chem . 2020 May 30;313:126092.
Bioactive pterocarpans from Trigonella foenum-graecum L[Pubmed:
31923866
]
Trigonella foenum-graecum L. (fenugreek) is used as a leafy vegetable and spice in China and North African countries. However, the biochemical components of its aerial parts were rarely explored. In this study, the bioactivities of the various extract fractions from the aerial parts of this edible plant were assessed, the ethyl acetate extract fraction exhibited strong antioxidant and anti-inflammatory effects. Through bioassay-guided isolation, one new pterocarpan (1), as well as twelve known pterocarpans (2-13) were obtained, nine of them (5-13) were first reported in the fenugreek, four pterocarpans (9, 11-13) had strong antioxidant activity, eleven pterocarpans (1-3, 5-12) possessed obvious anti-inflammatory activity. This study indicates that pterocarpans are main bioactive components of this edible plant. Apart from its nutritional value as food, the aerial parts of this plant can also be further explored as functional foods or antioxidants in food industry.
Nat Prod Res . 2022 Feb 17;1-8.
Atricephenols A and B, two phenolic compounds from Indigofera atriceps Hook.f. (Fabaceae)[Pubmed:
35175885
]
The phytochemical investigation of a previously unstudied species of the genus Indigofera, I. atriceps Hook.f. was undertaken and two new phenolic compounds, atricephenols A (1) and B (2) were isolated, along with nine known secondary metabolites viz., (-)-melilotocarpan D (3), genistein (4), melilotocarpan A (5), maackiain (6), p-hydroxybenzaldehyde (7), bornesitol (8), β-sitosterol (9), sitosterol-3-O-β-D-glucopyranoside (10) and stigmasterol-3-O-β-D-glucopyranoside (11). Their structures were elucidated by extensive NMR spectroscopic analyses and HRESIMS, and by comparing their data with those reported in the literature. Compounds 1, 4, 7-11 were tested for their antibacterial efficacies and for their potential to inhibit the enzyme urease. Compounds 7 and 9 showed significant antibacterial activity against Salmonella typhi (ZOIs of 13 and 15 mm, respectively), while the best urease inhibition was measured for compound 9 with an IC50 value of 18.6 μM, which is higher than that of the potent inhibitor, thiourea (IC50 = 21.5 μM).