10-Hydroxycanthin-6-one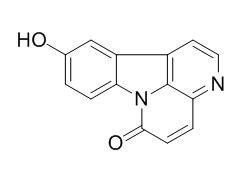 10-Hydroxycanthin-6-one has potential to be an antimicrobial agent. 10-Hydroxycanthin-6-one has in vitro antimalarial activity; it also has cytotoxic activity, it could be a plant anticancer agent.
Inquire / Order: manager@chemfaces.com
Technical Inquiries: service@chemfaces.com
Tel: +86-27-84237783
Fax: +86-27-84254680

Address:
1 Building, No. 83, CheCheng Rd., Wuhan Economic and Technological Development Zone, Wuhan, Hubei 430056, PRC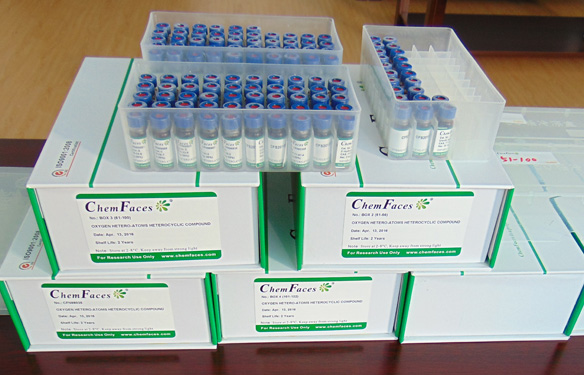 Providing storage is as stated on the product vial and the vial is kept tightly sealed, the product can be stored for up to
24 months(2-8C)
.
Wherever possible, you should prepare and use solutions on the same day. However, if you need to make up stock solutions in advance, we recommend that you store the solution as aliquots in tightly sealed vials at -20C. Generally, these will be useable for up to two weeks. Before use, and prior to opening the vial we recommend that you allow your product to equilibrate to room temperature for at least 1 hour.
Need more advice on solubility, usage and handling? Please email to: service@chemfaces.com
The packaging of the product may have turned upside down during transportation, resulting in the natural compounds adhering to the neck or cap of the vial. take the vial out of its packaging and gently shake to let the compounds fall to the bottom of the vial. for liquid products, centrifuge at 200-500 RPM to gather the liquid at the bottom of the vial. try to avoid loss or contamination during handling.
Int Immunopharmacol.2019, 71:22-31
BMB Rep.2018, 51(5):249-254
Ann Transl Med.2019, 7(23):731
J Pharm Biomed Anal.2019, 164:119-127
Exp Ther Med.2019, 18(6):4388-4396
Biochem Pharmacol.2017, 130:10-20
Tumour Biol.2015, 36(12):9385-93
Neuropharmacology.2018, 131:68-82
J Drug Target.2016, 24:1-28
Pharm Biol.2016, 54(7):1255-62
Molecules, 2016, 21(3):390
Synthesis and Evaluation of Ester Derivatives of 10-Hydroxycanthin-6-one as Potential Antimicrobial Agents.[Pubmed:
27007362
]
As part of our continuing research on canthin-6-one antimicrobial agents, a new series of ester derivatives of 10-Hydroxycanthin-6-one were synthesized using a simple and effective synthetic route.
METHODS AND RESULTS:
The structure of each compound was characterized by NMR, ESI-MS, FT-IR, UV, and elemental analysis. The antimicrobial activity of these compounds against three phytopathogenic fungi (Alternaria solani, Fusarium graminearum, and Fusarium solani) and four bacteria (Bacillus cereus, Bacillus subtilis, Ralstonia solanacearum, and Pseudomonas syringae) were evaluated using the mycelium linear growth rate method and micro-broth dilution method, respectively. The structure-activity relationship is discussed. Of the tested compounds, 4 and 7s displayed significant antifungal activity against F. graminearum, with inhibition rates of 100% at a concentration of 50 μg/mL. Compounds 5, 7s, and 7t showed the best inhibitory activity against all the tested bacteria, with minimum inhibitory concentrations (MICs) between 3.91 and 31.25 μg/mL.
CONCLUSIONS:
Thus, 7s emerged as a promising lead compound for the development of novel canthine-6-one antimicrobial agents.
Nat Prod Res. 2015 Feb;29(3):253-61.
Isolation, structural elucidation and cytotoxicity evaluation of a new pentahydroxy-pimarane diterpenoid along with other chemical constituents from Aerva lanata.[Pubmed:
25348942
]
Aervalanata possesses various useful medicinal and pharmaceutical activities.
METHODS AND RESULTS:
Phytochemical investigation of the plant has now led to the isolation of a new 2α,3α,15,16,19-pentahydroxy pimar-8(14)-ene diterpenoid (1) together with 12 other known compounds identified as β-sitosterol (2), β-sitosterol-3-O-β-D-glucoside (3), canthin-6-one (4), 10-Hydroxycanthin-6-one (aervine, 5), 10-methoxycanthin-6-one (methylaervine, 6), β-carboline-1-propionic acid (7), 1-O-β-D-glucopyranosyl-(2S,3R,8E)-2-[(2'R)-2-hydroxylpalmitoylamino]-8-octadecene-1,3-diol (8), 1-O-(β-D-glucopyranosyl)-(2S,3S,4R,8Z)-2-[(2'R)-2'-hydroxytetracosanoylamino]-8(Z)-octadene-1,3,4-triol (9), (2S,3S,4R,10E)-2-[(2'R)-2'-hydroxytetracosanoylamino]-10-octadecene-1,3,4-triol (10), 6'-O-(4″-hydroxy-trans-cinnamoyl)-kaempferol-3-O-β-D-glucopyranoside (tribuloside, 11), 3-cinnamoyltribuloside (12) and sulfonoquinovosyldiacylglyceride (13). Among these, six compounds (8-13) are reported for the first time from this plant.
CONCLUSIONS:
Cytotoxicity evaluation of the compounds against five cancer cell lines (CHO, HepG2, HeLa, A-431 and MCF-7) shows promising IC50 values for compounds 4, 6 and 12.