Canthin-6-one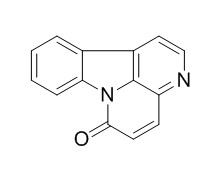 Canthin-6-one has antimicrobial, cytotoxic, antiproliferative and proapoptotic effects, possibly by interfering with the G2/M transition; it also has antiinflammatory activity by interfering with the transcription factors NF-κB and AP-1 at transcriptional level.
Inquire / Order: manager@chemfaces.com
Technical Inquiries: service@chemfaces.com
Tel: +86-27-84237783
Fax: +86-27-84254680

Address:
1 Building, No. 83, CheCheng Rd., Wuhan Economic and Technological Development Zone, Wuhan, Hubei 430056, PRC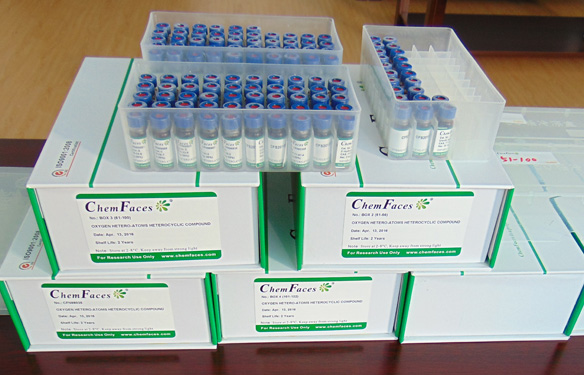 Providing storage is as stated on the product vial and the vial is kept tightly sealed, the product can be stored for up to
24 months(2-8C)
.
Wherever possible, you should prepare and use solutions on the same day. However, if you need to make up stock solutions in advance, we recommend that you store the solution as aliquots in tightly sealed vials at -20C. Generally, these will be useable for up to two weeks. Before use, and prior to opening the vial we recommend that you allow your product to equilibrate to room temperature for at least 1 hour.
Need more advice on solubility, usage and handling? Please email to: service@chemfaces.com
The packaging of the product may have turned upside down during transportation, resulting in the natural compounds adhering to the neck or cap of the vial. take the vial out of its packaging and gently shake to let the compounds fall to the bottom of the vial. for liquid products, centrifuge at 200-500 RPM to gather the liquid at the bottom of the vial. try to avoid loss or contamination during handling.
Sci Rep.2019, 9(1):4342
Evid Based Complement Alternat Med.2017, 2017:1401279
Cell Physiol Biochem.2017, 44(4):1381-1395
Pharmacognosy Journal.2020, 12(2), p232-235.
Nutrients.2019, 12(1):E40
Kor. J. Pharmacogn.2016, 47(1):62-72
Molecules.2020, 25(21):5087.
Molecules. 2013, 18(11):14105-21
J Funct Foods2019, 54:449-456
Molecules.2019, 24(17):E3127
J Asian Nat Prod Res. 2008 Nov-Dec;10(11-12):1009-12.
Canthin-6-one alkaloids from Picrasma quassioides and their cytotoxic activity.[Pubmed:
19031238
]

METHODS AND RESULTS:
A new alkaloid, 4,5-dimethoxy-10-hydroxyCanthin-6-one (1), was isolated from the stem of Picrasma quassioides Bennet (Simaroubaceae) together with four known Canthin-6-one alkaloids, 8-hydroxyCanthin-6-one (2), 4,5-dimethoxyCanthin-6-one (3), 5-hydroxy-4-methoxyCanthin-6-one (4), and 3-methylcanthin-5,6-dione (5). Their structures were elucidated on the basis of spectroscopic data. The cytotoxic activity of the Canthin-6-one alkaloids was evaluated using human nasopharyngeal carcinoma (CNE2) and human liver cancer (Bel-7402) cell lines.
CONCLUSIONS:
Among these isolates, compounds 1-4 exhibited significant cytotoxic activity against CNE2 cell line.
J Ethnopharmacol. 2011 Apr 12;134(3):630-6.
Pharmacological mechanisms underlying the anti-ulcer activity of methanol extract and canthin-6-one of Simaba ferruginea A. St-Hil. in animal models.[Pubmed:
21236329
]
Simaba ferruginea A. St-Hil. (Simaroubaceae) is a subshrub typical of the Brazilian Cerrado, whose rhizomes are popularly used as infusion or decoction for the treatment of gastric ulcers, diarrhea and fever. To evaluate the pharmacological mechanism(s) of action of the antiulcer effects of the methanol extract of Simaba ferruginea and its alkaloid Canthin-6-one.
METHODS AND RESULTS:
Rhizome of Simaba ferruginea was macerated with methanol to obtain the methanol extract (MESf) from which was obtained, the chloroform fraction. Canthin-6-one alkaloid (Cant) was purified and then isolated from the chloroform fraction (CFSf). The isolated Cant was identified by HPLC. Anti-ulcer assays were determined using ethanol and indomethacin-induced ulcer models in mice and rats respectively. In order to determine the probable mechanisms of actions of MESf and Cant animals were pretreated with l-NAME prior to anti-ulcer agent treatments and ulcer induction and nitric oxide (NO) level determined in order to assess NO involvement in the gastroprotective effects. Assays of malondialdehyde (MDA), myeloperoxidase (MPO), pro-inflammatory cytokines: interleukin 8 (IL-8) and tumor necrosis factor-alpha (TNF-α) and prostaglandin E(2) (PGE(2)) were also carried out according to previously described methods. The results indicate that the antiulcerogenic effects of MESf and Cant in ethanol-induced ulcer is mediated in part through increase in the production of protective endogenous NO as the antiulcerogenic activity of MESf and Cant was reduced in animals pre-treated with l-NAME. In indomethacin-induced ulcer pre-treatment with MESf and Cant showed reduction in the levels of MPO and MDA in the gastric tissue, thus indicating the participation of the antioxidant mechanisms on the gastroprotective effects. The plasma levels of IL-8 in ulcerated rats with indomethacin were also reduced by Cant, but not by MESf, indicating that inhibition of this cytokine contributes to the gastroprotective effect of Cant. However MESf and Cant had no effect on the mucosal membrane levels of PGE(2), indicating that the gastroprotective effects of these agents is independent of PGE(2) modulation.
CONCLUSIONS:
The results obtained in this study with MESf and Cant added insights into the pharmacological mechanisms involved in their mode of antiulcer action. The results indicate that Cant is one of the compounds responsible for these effects. Such findings are of extreme importance in the strive for future development of potent, safer and effective antiulcer agent. The efficacy of MESf and Cant in gastroprotection shows that Simaba ferruginea might be a promising antiulcer herbal medicine, in addition to confirming the popular use of this plant against gastric ulcer models utilised in this study.
FEBS Lett. 2013 Sep 17;587(18):3045-51.
The MFS-type efflux pump Flr1 induced by Yap1 promotes canthin-6-one resistance in yeast.[Pubmed:
23912082
]

METHODS AND RESULTS:
Screening for suppressors of Canthin-6-one toxicity in yeast identified Yap1, a transcription factor involved in cell response to a broad range of injuries. Although Canthin-6-one did not promote a significant oxidative stress, overexpression of YAP1 gene clearly increased resistance to this drug.
CONCLUSIONS:
We demonstrated that Yap1-mediated resistance involves the plasma membrane major-facilitator-superfamily efflux pump Flr1 but not the vacuolar ATP-binding-cassette transporter Ycf1. FLR1 overexpression was sufficient to reduce sensitivity to the drug, but strictly dependent on a functional YAP1 gene.
J Nat Prod. 2014 Nov 26;77(11):2481-7.
Canthin-6-one displays antiproliferative activity and causes accumulation of cancer cells in the G2/M phase.[Pubmed:
25379743
]
Canthinones are natural substances with a wide range of biological activities, including antipyretic, antiparasitic, and antimicrobial. Antiproliferative and/or cytotoxic effects of canthinones on cancer cells have also been described, although their mechanism of action remains ill defined.
METHODS AND RESULTS:
To gain better insight into this mechanism, the antiproliferative effect of a commercially available Canthin-6-one (1) was examined dose-dependently on six cancer cell lines (human prostate, PC-3; human colon, HT-29; human lymphocyte, Jurkat; human cervix, HeLa; rat glioma, C6; and mouse embryonic fibroblasts, NIH-3T3). Cytotoxic effects of 1 were investigated on the same cancer cell lines by procaspase-3 cleavage and on normal human skin fibroblasts. Strong antiproliferative effects of the compound were observed in all cell lines, whereas cytotoxic effects were very dependent on cell type. A better definition of the mechanism of action of 1 was obtained on PC-3 cells, by showing that it decreases BrdU incorporation into DNA by 60% to 80% and mitotic spindle formation by 70% and that it causes a 2-fold accumulation of cells in the G2/M phase of the cell cycle.
CONCLUSIONS:
Together, the data suggest that the primary effect of Canthin-6-one (1) is antiproliferative, possibly by interfering with the G2/M transition. Proapoptotic effects might result from this disturbance of the cell cycle.
Nat Prod Commun. 2010 Jan;5(1):17-22.
Canthin-6-one alkaloids and a tirucallanoid from Eurycoma longifolia and their cytotoxic activity against a human HT-1080 fibrosarcoma cell line.[Pubmed:
20184012
]
Phytochemical investigation of the stems of Eurycoma longifolia Jack led to the isolation of two new Canthin-6-one alkaloids, 4,9-dimethoxyCanthin-6-one (1) and 10-hydroxy-11-methoxyCanthin-6-one (2), and a new tirucallane-type triterpenoid, 23,24,25-trihydroxytirucall-7-en-3,6-dione (3), along with 37 known compounds. Among these, an oxasqualenoid (4) was isolated as a natural product for the first time. The structures of the isolates were elucidated by spectroscopic and mass spectrometric means.
METHODS AND RESULTS:
All the isolates were evaluated for their cytotoxic activity against a HT-1080 human fibrosarcoma cell line. Among them, 9,10-dimethoxyCanthin-6-one (14, IC50 = 5.0 microM), 10-hydroxy-9-methoxyCanthin-6-one (15, IC50 = 7.2 microM), dihydroniloticin (18, IC50 = 8.2 microM), and 14-deacetyleurylene (34, IC50 = 3.2 microM) displayed stronger activity than the positive control 5-FU (IC50 = 9.2 microM).