9-Methoxycanthin-6-one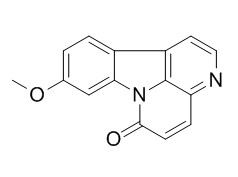 9-Methoxycanthin-6-one has anti-tumour activity, exhibits cytotoxic activity towards KB, LU-1, LNCaP, HL-60 cancer cells and other human cancer cell lines with IC50 values around 1-4 μg/mL.
Inquire / Order: manager@chemfaces.com
Technical Inquiries: service@chemfaces.com
Tel: +86-27-84237783
Fax: +86-27-84254680

Address:
1 Building, No. 83, CheCheng Rd., Wuhan Economic and Technological Development Zone, Wuhan, Hubei 430056, PRC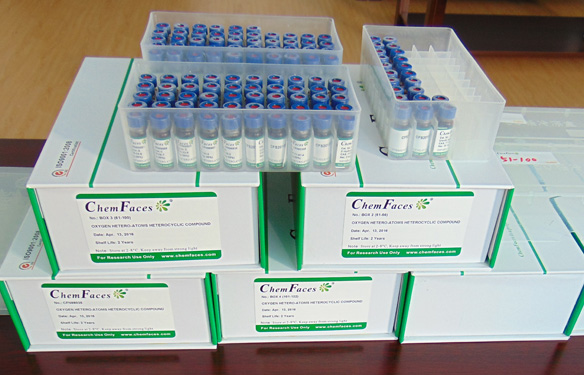 Providing storage is as stated on the product vial and the vial is kept tightly sealed, the product can be stored for up to
24 months(2-8C)
.
Wherever possible, you should prepare and use solutions on the same day. However, if you need to make up stock solutions in advance, we recommend that you store the solution as aliquots in tightly sealed vials at -20C. Generally, these will be useable for up to two weeks. Before use, and prior to opening the vial we recommend that you allow your product to equilibrate to room temperature for at least 1 hour.
Need more advice on solubility, usage and handling? Please email to: service@chemfaces.com
The packaging of the product may have turned upside down during transportation, resulting in the natural compounds adhering to the neck or cap of the vial. take the vial out of its packaging and gently shake to let the compounds fall to the bottom of the vial. for liquid products, centrifuge at 200-500 RPM to gather the liquid at the bottom of the vial. try to avoid loss or contamination during handling.
Chem Pharm Bull (Tokyo).2017, 65(9):826-832
Front Pharmacol.2019, 10:1355
ACS Chem Biol.2019, 14(5):873-881
Polytechnic University of Catalonia2017, 105826
Korean J of Medicinal Crop Science2018, 220-226
Biol Pharm Bull.2018, 41(11):1645-1651
Int J Mol Sci.2017, 19(1)
J Drug Target.2016, 24:1-28
Nutrients.2019, 12(1):E40
Psychopharmacology (Berl).2020, 10.1007
Methods Mol Biol. 2009;547:359-69.
The Production of 9-methoxycanthin-6-one from Callus Cultures of (Eurycoma longifolia Jack) Tongkat Ali.[Pubmed:
19521859
]
Plant cell culture technology is potentially useful in producing high-valued secondary metabolites. Eurycoma longifolia root extracts are consumed as a health tonic but more popularly used as an aphrodisiac. Studies on the aphrodisiac properties and the possible compounds involved have been widely studied.
METHODS AND RESULTS:
There are many potentially useful compounds reported from the root extracts of E. longifolia. However, studies on the in vitro production of useful compounds from this plant have not been reported. This chapter will describe methods of callus induction and extraction of 9-Methoxycanthin-6-one from E. longifolia Jack explants with emphasis on the tap and fibrous roots. This compound, known to have anti-tumour activity, is present in intact plant parts and in callus tissues of different explants.
Planta Med. 2002 Apr;68(4):355-8.
HPLC analysis of plasma 9-methoxycanthin-6-one from Eurycoma longifolia and its application in a bioavailability/pharmacokinetic study.[Pubmed:
11988862
]

METHODS AND RESULTS:
A new and simple HPLC method using fluorescence detection was developed to determine 9-Methoxycanthin-6-one, an active compound of Eurycoma longifolia Jack in rat and human plasma. The method entailed direct injection of plasma sample after deproteinization using acetonitrile. The mobile phase comprised acetonitrile and distilled water (55 : 45, v/v). Analysis was run at a flow rate of 1.0 ml/min with the detector operating at an excitation wavelength of 371 nm and emission wavelength of 504 nm. The method was specific and sensitive with a detection limit of 0.6 ng/ml and a quantification limit of approximately 1.6 ng/ml.
CONCLUSIONS:
The method was applied in a pilot pharmacokinetic/bioavailability study of the compound in rats. Less than 1 % of the compound was found to be absorbed orally.