Perlolyrine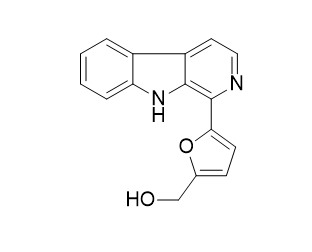 Perlolyrine was identified as the most potent and selective PDE5 inhibitors.
Perlolyrine induces the activation of hTRPV1 and hTRPA1.
Inquire / Order: manager@chemfaces.com
Technical Inquiries: service@chemfaces.com
Tel: +86-27-84237783
Fax: +86-27-84254680

Address:
1 Building, No. 83, CheCheng Rd., Wuhan Economic and Technological Development Zone, Wuhan, Hubei 430056, PRC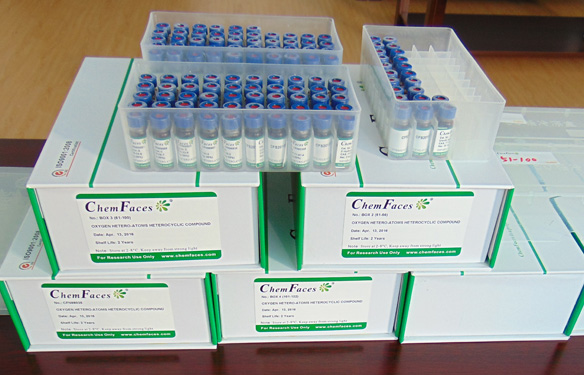 Providing storage is as stated on the product vial and the vial is kept tightly sealed, the product can be stored for up to
24 months(2-8C)
.
Wherever possible, you should prepare and use solutions on the same day. However, if you need to make up stock solutions in advance, we recommend that you store the solution as aliquots in tightly sealed vials at -20C. Generally, these will be useable for up to two weeks. Before use, and prior to opening the vial we recommend that you allow your product to equilibrate to room temperature for at least 1 hour.
Need more advice on solubility, usage and handling? Please email to: service@chemfaces.com
The packaging of the product may have turned upside down during transportation, resulting in the natural compounds adhering to the neck or cap of the vial. take the vial out of its packaging and gently shake to let the compounds fall to the bottom of the vial. for liquid products, centrifuge at 200-500 RPM to gather the liquid at the bottom of the vial. try to avoid loss or contamination during handling.
Antioxidants (Basel).2020, 9(7):581.
Evidence-based Compl.&Alternative Med.2023, 5417813
Antioxidants (Basel).2020, 9(2):E120
Biomed Pharmacother.2022, 156:113929.
Antioxidants (Basel).2020, 9(4):284.
Biomedicines.2021, 9(8):996.
J of Food Quality2020, 8851285.
Molecules.2019, 24(10):E1926
Int J Mol Sci.2019, 20(21):E5488
Molecules.2022, 27(5):1675
Biosci Biotechnol Biochem . 2017 May;81(5):987-994.
Isolation and identification of a humanTRPV1 activating compound from soy sauce[Pubmed:
28095752
]
Transient receptor potential vanilloid 1 (TRPV1) was identified as a receptor of capsaicin, which is a pungent ingredient in hot red peppers. Due to its relevance for nociception, a physiological and pharmacological study of TRPV1 has also been developed. Therefore, it is important to enrich scientific knowledge regarding the TRPV1 activating or inhibiting compounds. In this study, we fractionated soy sauce based on the human TRPV1 (hTRPV1) activity using column chromatography and purified 5-(9H-pyrido[3,4-b]indol-1-yl)-2-furanmethanol (Perlolyrine) as an hTRPV1-activating compound. Additionally, Perlolyrine activates the human transient receptor potential ankyrin 1 (hTRPA1). The EC50 of hTRPV1 and hTRPA1 were 2.87 and 1.67 μmol L-1, respectively. HPLC quantification of soy sauces showed that they contain 2.22-12.13 μmol L-1 of Perlolyrine. The sensory evaluation revealed that Perlolyrine has taste modification effect. The results of this study, for the first time, suggest that Perlolyrine induces the activation of hTRPV1 and hTRPA1.
Zhongguo Yi Xue Ke Xue Yuan Xue Bao . 2000 Apr;22(2):154-8.
Studies on urinary metabolites of perlolyrine in rats[Pubmed:
12903518
]
Objective: To study the metabolism of Perlolyrine in rats, which is an active ingredient from the traditional Chinese herb, Ligusticum Wallichii Franch. Methods: After administration of Perlolyrine and deuterated Perlolyrine, the rat urines were hydrolyzed with glucuronidase, basified with NaHCO3-Na2CO3, extracted with ethyl ether--iso-propyl alcohol. The organic phases (neutral and basic fractions) were concentrated for trimethylsilyl (TMS) derivatives. The aqueous phase were acidified with sulfuric acid, taken to dryness and extracted with methanol (water soluble acidic fractions) and concentrated for TMS derivatives. The TMS derivatives were determined by gas chromatograph mass spectrometry (GC-MS). Results: Perlolyrine and one metabolite were found from the neutral and basic fractions, and two different metabolites were found from the water soluble acidic fractions. Conclusions: It was proposed that the major metabolic pathways of Perlolyrine were that the hydroxylation of Perlolyrine and the oxidation of its hydroxylmethyl group.
Eur J Med Chem . 2018 Apr 25;150:30-38
Design and synthesis of furyl/thineyl pyrroloquinolones based on natural alkaloid perlolyrine, lead to the discovery of potent and selective PDE5 inhibitors[Pubmed:
29505934
]
Based on Perlolyrine (1), a natural alkaloid with weak PDE5 potency from the traditional Chinese aphrodisiac plant Tribulus terrestris L., a series α-substituted tetrahydro-β-carboline (THβC) derivatives were synthesized via T+BF4--mediated oxidative C-H functionalization of N-aryl THβCs with diverse potassium trifluoroborates. Following Winterfeldt oxidation afforded the corresponding furyl/thienyl pyrroloquinolones, of which 5-ethylthiophene/ethylfuran derivatives 20a-b were identified as the most potent and selective PDE5 inhibitors. Among the enantiomers, (S)-20a and (S)-20b (IC50 = 0.52 and 0.39 nM) were found to be more effective than their (R)-antipode, display favorable pharmacokinetic profiles, exert in vitro vasorelaxant effects on the isolated thoracic aorta, and exhibit in vivo efficacy in the anesthetized rabbit erectile model.
Acta Pharmacol Sin . 2000 Jul;21(7):660-2.
Pharmacokinetics of perlolyrine in rats by stable isotope dilution in conjunction with GC-MS[Pubmed:
11360678
]
Aim: To determine the pharmacokinetics of Perlolyrine in rats. Methods: The plasma concentration and pharmacokinetic parameters of Perlolyrine were determined by gas chromatography-mass spectrometry (GC-MS) with selected ion (m/z 247 and m/z 248) and [2-(15) N] Perlolyrine (m/z 248) as internal standard. Results: The concentration-time profile of Perlolyrine after ig Perlolyrine 2 mg.kg-1 fitted a two-compartment open model in rats. The pharmacokinetic parameters were T1/2 alpha = 0.33 h, T1/2 beta = 4.52 h, T1/2 (ka) = 0.14 h, Tmax = 0.35 h, Cmax = 18.84 micrograms/L, K12 = 0.88 h-1, K21 = 0.42 h-1, K10 = 0.32 h-1, V/F = 109.22 L.kg-1, AUC = 112.68 micrograms.h.L-1. Conclusion: The method was constant, sensitive, and accurate. It provides a useful method for the determination of pharmacokinetics of Perlolyrine which are important for clinical use of Perlolyrine.
Planta Med . 1988 Oct;54(5):472-3.
Perlolyrine: a beta-carboline alkaloid from Codonopsis pilosula[Pubmed:
17265328
]