Bocconoline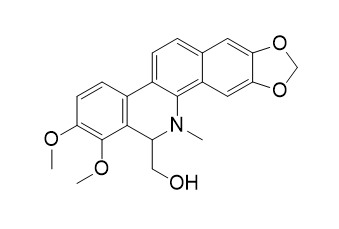 Bocconoline strongly perturbs various cellular components of human olfactory neurosphere-derived (hONS) cell lines. Bocconoline exhibited good inhibitory activity in the leukaemia cell line HEL.Bocconoline has anticancer activity .
Inquire / Order: manager@chemfaces.com
Technical Inquiries: service@chemfaces.com
Tel: +86-27-84237783
Fax: +86-27-84254680

Address:
1 Building, No. 83, CheCheng Rd., Wuhan Economic and Technological Development Zone, Wuhan, Hubei 430056, PRC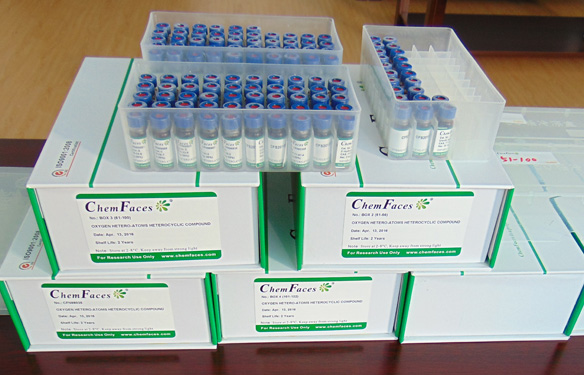 Providing storage is as stated on the product vial and the vial is kept tightly sealed, the product can be stored for up to
24 months(2-8C)
.
Wherever possible, you should prepare and use solutions on the same day. However, if you need to make up stock solutions in advance, we recommend that you store the solution as aliquots in tightly sealed vials at -20C. Generally, these will be useable for up to two weeks. Before use, and prior to opening the vial we recommend that you allow your product to equilibrate to room temperature for at least 1 hour.
Need more advice on solubility, usage and handling? Please email to: service@chemfaces.com
The packaging of the product may have turned upside down during transportation, resulting in the natural compounds adhering to the neck or cap of the vial. take the vial out of its packaging and gently shake to let the compounds fall to the bottom of the vial. for liquid products, centrifuge at 200-500 RPM to gather the liquid at the bottom of the vial. try to avoid loss or contamination during handling.
Forensic Sci Int.2022, 341:111475.
Chem Res Toxicol.2023, 36(2):213-229.
Cells.2021, 10(11):2919.
Evid Based Complement Alternat Med.2021, 8855980.
Reprod Sci.2022,10.1007/s43032-022-01117-4.
Acta Physiologiae Plantarum2016, 38:7
Academic J of Second Military Medical University2018, 39(11)
Anticancer Res.2014, 34(7):3505-9
Molecules.2019, 24(2):E343
Molecules.2022, 27(2):451.
Bioorg Med Chem . 2020 Nov 1;28(21):115732.
Chemical constituents from Macleaya cordata (Willd) R. Br. and their phenotypic functions against a Parkinson's disease patient-derived cell line[Pubmed:
33065438
]
Cytological profiling (CP) assay against a human olfactory neuroshpere-derived (hONS) cell line using a library of traditional Chinese medicinal plant extracts gave indications that the ethanolic extract of Macleaya cordata (Willd) R. Br. elicited strong perturbations to various cellular components. Further chemical investigation of this extract resulted in the isolation of two new benzo[c]phenanthridine alkaloids, (6R)-10-methoxyBocconoline (1) and 6-(1-hydroxyethyl)-10-methoxy-5,6-dihydrochelerythrine (2). Their planar structures were elucidated by extensive 1D and 2D NMR studies, together with MS data. The absolute configuration for position C-6 of 1 and relative configurations for position C-6 and C-1' of 2 were assigned by density functional theory (DFT) calculations of ECD and NMR data, respectively. Also isolated were fourteen known metabolites, including ten alkaloids (3-12) and four coumaroyl-containing compounds (13-16). Cytological profiling of the isolates against Parkinson's Disease (PD) patient-derived olfactory cells revealed Bocconoline (3) and 6-(1-hydroxyethyl)-5,6-dihydrochelerythrine (4) significantly perturbated the features of cellular organelles including early endosomes, mitochondria and autophagosomes. Given that hONS cells from PD patients model some functional aspects of the disease, the results suggested that these phenotypic profiles may have a role in the mechanisms underlying PD and signified the efficacy of CP in finding potential chemical tools to study the biological pathways in PD.
Int J Mol Sci. 2013 Dec 2;14(12):23533-23544.
Identification and quantification of the main active anticancer alkaloids from the root of Glaucium flavum[Pubmed:
24317429
]
Glaucium flavum is used in Algerian folk medicine to remove warts (benign tumors). Its local appellations are Cheqiq el-asfar and Qarn el-djedyane. We have recently reported the anti-tumoral activity of Glaucium flavum root alkaloid extract against human cancer cells, in vitro and in vivo. The principal identified alkaloid in the extract was protopine. This study aims to determine which component(s) of Glaucium flavum root extract might possess potent antitumor activity on human cancer cells. Quantitative estimation of Glaucium flavum alkaloids was realized by HPLC-DAD. Glaucium flavum effect on human normal and cancer cell viability was determined using WST-1 assay. Quantification of alkaloids in Glaucium flavum revealed that the dried root part contained 0.84% of protopine and 0.07% of Bocconoline (w/w), while the dried aerial part contained only 0.08% of protopine, glaucine as the main alkaloid, and no Bocconoline. In vitro evaluation of the growth inhibitory activity on breast cancer and normal cells demonstrated that purified protopine did not reproduce the full cytotoxic activity of the alkaloid root extract on cancer cell lines. On the other hand, Bocconoline inhibited strongly the viability of cancer cells with an IC50 of 7.8 μM and only a low cytotoxic effect was observed against normal human cells. Our results showed for the first time that protopine is the major root alkaloid of Glaucium flavum. Finally, we are the first to demonstrate a specific anticancer effect of Glaucium flavum root extract against breast cancer cells, which can be attributed, at least in part, to Bocconoline.
BMC Chem . 2021 Jul 23;15(1):44.
Active constituents of Zanthoxylum nitidium from Yunnan Province against leukaemia cells in vitro[Pubmed:
34301301
]
Zanthoxylum nitidium (Roxb.) DC (Rutaceae) is well known for inhibiting the proliferation of human gastric, liver, kidney and lung cancer cells, though research on its potential use in treating leukaemia is relatively rare. Twenty-six compounds were isolated from the chloroform and petroleum ether extracts of the roots and leaves of Z. nitidium (Zanthoxylum nitidium). They were ( +)-9'-O-transferuloyl-5, 5'-dimethoxylaricriresinol (1), 8-(3'-oxobut-1'-en-1'-yl)-5, 7-dimethoxy-coumarin (2), 5, 7, 8-trimethoxy-coumarin (3), 5-(3', 3'-dimethyl-2'-butenyloxy)-7, 8-dimethoxy-coumarin (4), 2-(5-methoxy-2-methyl-1H-indol-3-yl) methyl acetate (5), 2'-(5, 6-dihydrochleletrythrine-6-yl) ethyl acetate (6), 6-acetonyldi-hydrochelerythrine (7), 6β-hydroxymethyldihydronitidine (8), Bocconoline (9), zanthoxyline (10), O-methylzanthoxyline (11), rhoifoline B (12), N-nornitidine (13), nitidine (14), chelerythrine (15), 4-hydroxyl-7,8-dimethoxy-furoquinoline (16), dictamnine (17), γ-fagarine (18), skimmianine (19), robustine (20), R-( +)-platydesmine (21), 4-methoxyl-1-methyl-2-quinoline (22), 4-methoxy-2-quinolone (23), liriodenine (24), aurantiamide acetate (25), 10-O-demethyl-12-O-methylarnottianamide (26). Four among them, compounds 4 - 6 and 16, were first confirmed in this study by UV, IR, 1D, 2D NMR and HR-ESI-MS spectra. Compounds 1 - 2 and 11 were isolated from Z. nitidium for the first time. Of the assayed compounds, 1, 2, 9, 10, 14, 15 and 24, exhibited good inhibitory activities in the leukaemia cell line HEL, whereas compound 14 (IC50: 3.59 μM) and compound 24 (IC50: 15.95 μM) exhibited potent inhibitory activities. So, to further investigate the possible mechanisms, cell cycle and apoptosis assays were performed, which indicated that compound 14 causes obvious S-phase arrest in HEL cells and induced apoptosis, whereas compound 24 only induced apoptosis. The present results suggested both compounds 14 and 24 are promising potential anti-leukaemia drug candidates.
Planta Med . 1983 Jun;48(2):77-80.
Further alkaloids from bark of Fagara mayu[Pubmed:
17404954
]
In addition to the alkaloids canthin-6-one; dictamnine, chelerythrine, gamma-fagarine, skimmianine, magnoflorine and 11-(2'-ketobutane)-dihydrochelerythrine, four further alkaloids were isolated from the bark of Fagara mayu (Bert. ex Hook et Arn.) Engler and edulinine, Bocconoline, tembetarine were identified. A new base, N-methylpseudolaudanine, was also isolated.