Aristolochic acid C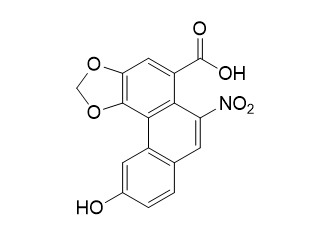 Aristolochic acid C could as the larval feeding stimulants.
Inquire / Order: manager@chemfaces.com
Technical Inquiries: service@chemfaces.com
Tel: +86-27-84237783
Fax: +86-27-84254680

Address:
1 Building, No. 83, CheCheng Rd., Wuhan Economic and Technological Development Zone, Wuhan, Hubei 430056, PRC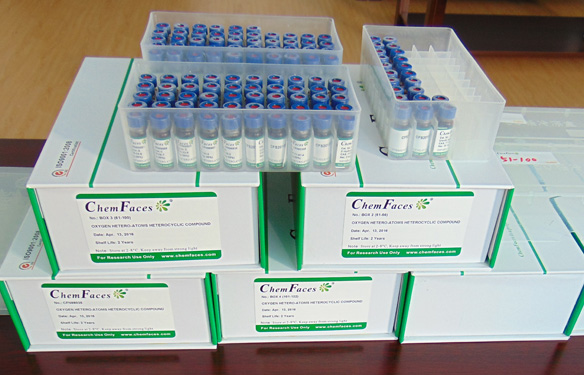 Providing storage is as stated on the product vial and the vial is kept tightly sealed, the product can be stored for up to
24 months(2-8C)
.
Wherever possible, you should prepare and use solutions on the same day. However, if you need to make up stock solutions in advance, we recommend that you store the solution as aliquots in tightly sealed vials at -20C. Generally, these will be useable for up to two weeks. Before use, and prior to opening the vial we recommend that you allow your product to equilibrate to room temperature for at least 1 hour.
Need more advice on solubility, usage and handling? Please email to: service@chemfaces.com
The packaging of the product may have turned upside down during transportation, resulting in the natural compounds adhering to the neck or cap of the vial. take the vial out of its packaging and gently shake to let the compounds fall to the bottom of the vial. for liquid products, centrifuge at 200-500 RPM to gather the liquid at the bottom of the vial. try to avoid loss or contamination during handling.
Phytomedicine.2016, 23(4):331-9
J Sep Sci.2018, 41(11):2488-2497
Toxicol In Vitro.2018, 52:94-105
Phytother Res.2019, 33(4):1104-1113
Journal of Third Military Medical University2018, 40(12):1073-1078
Biomed Chromatogr.2019, 8:e4774
Acta Biochim Pol.2015, 62(2):253-8
Srinagarind Medical Journal2019, 34(1)
J Sep Sci.2018, 41(9):1938-1946
Evid Based Complement Alternat Med.2018, 2018:1073509
Journal of Chemical Ecology, 1989, 15(11):2549-2563.
Ecological adaptation of an Aristolochiaceae-feeding swallowtail butterfly, Atrophaneura alcinous, to aristolochic acids.[Reference:
WebLink
]

METHODS AND RESULTS:
Seven analogs of aristolochic acid I, aristolochic acid II, aristolochic acid B, Aristolochic acid C, aristolochic acid D, aristolochic acid E were isolated from the leaves of Aristolochia debilis and characterized as the larval feeding stimulants of an Aristolochiaceae-feeding swallowtail butterfly, Atrophaneura alcinous. Aristolochic acids showed synergistic activity in combination with the water-soluble components in the leaf extract. Aristolochic acids were detected in the body tissues and specialized organs throughout all life stages ofA. alcinous. Larval osmeterial fluid contained aristolochic acids as high as 2% of the secretions, the compositions of which were similar to that found in the leaf extracts. In contrast, the eggs selectively contained aristolochic acids I and II.
CONCLUSIONS:
These two acids were present both in the egg yolk and egg coating material as well as in the collateral glands (glandulae sebaceae) of the adult females. The cannibalistic activity of the larvae against the eggs and pupae seemed to be triggered by aristolochic acids present on the egg surface and pupal cuticle, suggesting a possible adaptive mechanism in this species. Aristolocic acid I deterred feeding of tree sparrows, which suggested a defensive role against vertebrate predators.